Commentary
ACC dominates championship weekend
Originally Published:
May 29, 2011
By
Mark Winegardner
| Special to ESPN.com
BALTIMORE -- The game won't be played until Monday, but the outcome is certain: Whether Maryland or Virginia wins, the 2011 NCAA Men's Lacrosse Championship belongs to the ACC.
[+] Enlarge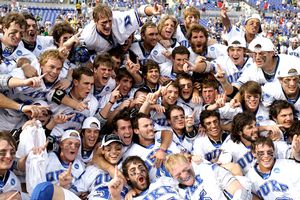 AP Photo/Rob CarrDuke added to the ACC's NCAA championship tally in 2010.
On one level, this is nothing new. This is the sport's 40th NCAA Division I championship. Twelve have been won by ACC schools -- more than any other conference. Only the Ivy League, with nine, is even close. The Big East formally entered the sport last year, but the only one of its seven schools to win a title is Syracuse, with 10, all as an independent. Johns Hopkins has won nine, also as an independent.
But a trend may be emerging. All nine Ivy League titles come 10 or more years ago and were won by just two schools: Princeton and Cornell. The 12 ACC titles include four in the past 10 years, including 2010 and '11. Each of the four ACC lacrosse schools has won a championship. If Maryland wins tomorrow, three of those schools will have won a title within the past decade.
With Michigan poised to field a team next season, isn't it inevitable that the BCS conference schools -- along with the cash they carry and the concomitant institutional clout they command -- will gradually come to dominate the sport?
Granted, the Denver Pioneers pioneered the presence of a western team in the Final Four this year, and, yes, DU is about the same size as longtime small-school powers Cornell, Princeton and Hopkins. But the Pioneers were dispatched in the semifinals by Virginia, whose players were bigger, stronger and faster, and whose roster was deep enough to withstand the suspension of perhaps its two best players.
Also it's arguable that Denver is, in ways other than geography, an outlier -- that its success speaks to the coaching and recruiting skills of Hall of Famer Bill Tierney, a six-time winner at Princeton, but says little about the continued ability of small schools to field elite lacrosse programs.
Tom Calder, the athletics director at Johns Hopkins, isn't worried.
"No doubt it's a challenge to compete against schools that have enormous resources, like a Michigan, like the ACC schools," Calder says. "We recognize that. But having these schools in our sport is good for the game."
"Michigan's adding lacrosse is the biggest piece of news in lacrosse since the Final Four concept," says Virginia's Dom Starsia, the winningest Division I coach of all time. "It's the first BCS school to add in 25 years. The growth at that level has been very, very slow, but this signals the BCS people that maybe [adding lacrosse] is possible."
Even if that happens, Calder says, it shouldn't pose much of a threat to the Johns Hopkinses of the lacrosse world -- or any other school already playing in Division I.
"Only 61 schools play Division I lacrosse," Calder points out. "What's going on is that there are so many more kids playing lacrosse now, in so many parts of the country, that the talent at the prep level is improving at a much greater rate than the number of Division I schools adding the sport."
[+] Enlarge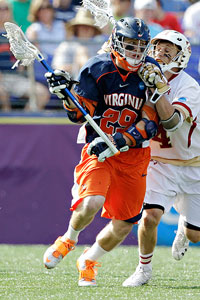 Robb Carr/Getty ImagesVirginia is a win away to adding to its already impressive collection of championship trophies.
Starsia agrees. "In our sport, there's so much growth at the youth and high school levels that there are more players than there are colleges for them to go to. Denver and the smaller schools aren't going to have problems finding talent."
And, while Denver symbolizes the rise of the sport outside the BosWash Megapolis, the Pioneers are by no means the only school benefitting from it. Players from places such as Ohio, Illinois, Colorado, California, Florida and Texas are starting to show up on the rosters of almost every DI program large and small.
Starsia acknowledges that the best programs in the sport, whatever the size of the schools that field them, still dominate. But -- counterintuitively, perhaps -- not as much as in the past.
"It used to be there were four or five good teams, and they'd beat everybody else," Starsia says. "Now there are eight to 10 of those teams."
He's standing on the sidelines at M&T Bank Stadium, fresh off his team's semi-final win over Denver and watching Maryland outrun, outgun and outmuscle Duke, the defending national champion. "Maryland is a No. 9 seed," he marvels.
"The biggest change," he adds, "is that the teams from, say, 10 to 30, are a hell of a lot better than they used to be."
Does this growth mean that other ACC member schools are likely to add the sport? Boston College, which once had a team? Florida State, as a nod not just to the growing talent base there but also to the real Seminole tribe, who played the game for centuries?
Starsia hopes so. "Personally, I look at Virginia Tech. We've got a lot of high school lacrosse in Virginia. You would think Virginia Tech might want a spring presence. Tell me about Va. Tech baseball? Nothing, right?
"If you want a presence from Washington, D.C., to Boston, in the spring …" Starsia raises his arms toward the 45,039 people in the stadium. "Well, look around. What other sport does this?"
Mark Winegardner is the author of "The Godfather's Revenge" and a creative writing professor at Florida State.
Follow ESPN.com's college sports coverage on Twitter: @ESPN_College and on Facebook.
MORE COLLEGE SPORTS HEADLINES
MOST SENT STORIES ON ESPN.COM