Commentary
Four years of life last forever at OU
Sooners are inspired by the memory of volleyball coach's young son
Updated:
September 23, 2009, 4:56 PM ET
By
Dave Reed
| Special to ESPN.com
The Oklahoma women's volleyball team will play host to its biggest match of the season on Sept. 30, but it's only a coincidence that their opponent will be perennial Big 12 champion Nebraska in a match televised nationally on ESPNU.
[+] Enlarge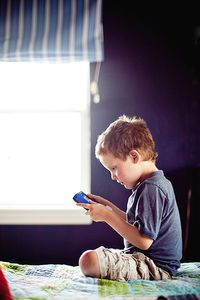 Shannon Ho/Shannon Ho PhotographyJavier Restrepo's love for life and his never-ending fight continues to inspire his family and the Sooners.
That's the night the Sooners will honor the memory of Javier Restrepo, coach Santiago Restrepo's son who lost a courageous three-year battle against acute lymphoblastic leukemia (ALL) on July 31 at age 4.
As part of Leukemia Awareness Night, fans will be asked to participate in the Pledge for a Cure fundraiser by making a donation for every kill, ace, dig and/or block recorded by OU during the match.
While the Sooners battle to stay near the top of the conference standings, the funds raised that night will be donated to the Jimmy Everest Center for Cancer and Blood Disorders at the Children's Hospital at OU Medical Center, the front line in the battle to find a cure for the disease that claimed Javi's life. It's a facility the Restrepo family came to know all too well.
"Everyone at Children's Hospital has been great," Santiago Restrepo said. "The doctors and nurses are very knowledgeable and are trying to find a breakthrough. When that will come, who knows? Everything involves money, and the more money they have, the more research they can do, and hopefully they can find a cure."
One of the things the Oklahoma athletic department will do on Wednesday night is hand out orange bracelets that say "Javi" on one side and "Fight Like A Champion" on the other. The goal is to inspire volleyball fans the same way Javi still inspires the Oklahoma volleyball team.
"I definitely wear mine during the matches," said junior middle blocker Francie Ekwerekwu, OU's captain who first met Javi during her recruiting visit in 2005. "Sometimes it comes out of my sleeve, and to me, it symbolizes Javi is coming out and wanting us to win. That's really special.
"His trademark was to always fight. He was such a strong little boy that he would fight for anything. He is definitely an inspiration for us. We think about him and remember him every day we hit the court."
Javi, who was born on Jan. 11, 2005, was first diagnosed with leukemia when he was just 1½ years old. His prognosis looked good after heavy doses of chemotherapy helped put the disease in remission, and the youngest of Santiago and Heidi's two boys began to feel and behave like any other toddler.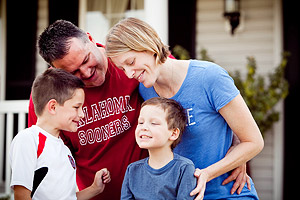 Shannon Ho/Shannon Ho PhotographyDiego Restrepo (front left) donated his bone marrow to his brother, Javier, following a relapse.
During the summer of 2008, Javi suffered a relapse and doctors prescribed a bone marrow transplant from his older brother, Diego. While the transplant appeared to be a success, Javi's liver was damaged by the second round of chemotherapy and he had to undergo yet another transplant.
Following a two-month stay at the Alfred I. duPont Hospital for Children in Wilmington, Del., Javi was strong enough to return to Oklahoma. But less than four months later, the leukemia returned and there was nothing left for the doctors to do.
"We were just shocked," Ekwerekwu said. "Javi was the team's little brother -- he still is our little brother. We thought for sure God would save Javi for us."
If there was any consolation to the devastating diagnosis the Restrepos received in mid-July, it was the outpouring of support they received from their friends within the Oklahoma athletic department, people from the area surrounding Norman, and the volleyball community within the Big 12 and across the nation.
"It has been incredible, the amount of support we have received," Restrepo said. "The athletic department is definitely a family to us. They really came through when we were in Javi's last weeks and trying to do as many things as he wanted to do.
"Not only the support here, but also the support of volleyball programs throughout the Big 12 and all over the country. It just shows you that volleyball is a big family."
That support allowed the Restrepos to make the most of Javi's precious remaining days by fulfilling one of his lifelong dreams of enjoying a day of activities at the Oklahoma athletic facilities, complete with varsity athletes and mascots.
[+] Enlarge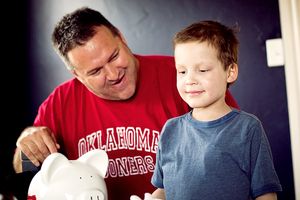 Shannon Ho/Shannon Ho PhotographySantiago said of his son: "He had the biggest smile and the biggest heart anybody could ask for."
Oklahoma football coach Bob Stoops, who had already provided a plane for the Restrepos to use while travelling to and from the hospital in Delaware, graciously offered use of his plane and condo in Florida so Javi could enjoy some time at the beach.
"Coach Stoops let us use his plane and his condo so we could have two days at the beach with Javi, which is one thing he really wanted to do," Restrepo said. "We never asked him [Stoops] to do that; he did it on his own. It was a great gift and we're very grateful for that."
The volleyball team presented the Restrepo family with another gift soon after the team started preseason training in July. The athletic department had already decided the team would wear a patch on its uniform during the 2009 season to honor Javi, and allowed the players to create some designs for the family to consider.
"[Coach Restrepo] knew the patch was going to be made, but it was a surprise that the players came up with the design," Ekwerekwu said. "When we presented the patches, it was a big moment in our locker room and everyone busted into tears.
"The patch is a 'J' with a halo and a sunflower on it. Javi's favorite flower was a sunflower and it represents the sunshine he brought to all of us."

The patch
With all the emotional and financial support the Restrepos received, Santiago and Heidi couldn't help thinking about the countless number of other families in similar situations who had to survive with far fewer resources.
"My wife and I were thinking, 'What happens to those families that don't have that support?'" Restrepo said. "We're trying to find which ways we can help those families have the memorable moment that we had at the last possible time."
That is why the Restrepos decided to share Javi's story. The ability to raise money for research or make another child's final days as enjoyable as possible gives the Restrepos and the OU volleyball team the strength and determination to use Javi's legacy to help others.
"Javi was the greatest gift ever that God could give us," Restrepo said. "He was the bravest boy ever. He had the biggest smile and the biggest heart anybody could ask for. We'll just continue to fight and pray that this doesn't happen to other families and that some day a cure can be found."
Dave Reed is a regular contributor to ESPN.com.
MORE COLLEGE SPORTS HEADLINES
MOST SENT STORIES ON ESPN.COM