Street paves way to Texas' title berth
Updated:
June 23, 2004, 11:15 PM ET
By
Wayne Drehs
| ESPN.com
OMAHA, Neb. -- As the College World Series game between Texas and Georgia rolled along here Wednesday afternoon, Bulldog pitcher Will Startup had a vision.
It involved the top two closers in college baseball, he and Texas' Huston Street. It involved the Bulldogs scoring the go-ahead run off Street in the top of the ninth and then Startup mowing down the Longhorns in the bottom of the inning to give Georgia the victory and extend his season another day.
"I wanted us both on the mound going after it," Startup said. "Me and Huston."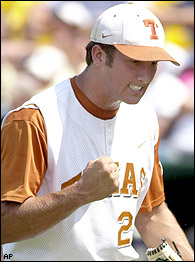 Huston Street limited the Bulldogs to one run in three innings.
With Texas leading 6-5 in the seventh, Startup got his wish. Street came in for the Longhorns. Startup came in for the Bulldogs. Only there was one problem -- after Street gave up the game-tying run in the top of the inning, Startup surrendered the game-winning run in the bottom of the inning.
Final Score: Texas 7, Georgia 6.
Neither closer was his typically invincible self, and only one came out on top. While Texas will play in a best-of-three national championship series that starts Saturday, Georgia is headed home.
Be careful what you wish for.
"It didn't turn out how I wanted it to," Startup said. "I hate for the season to end on a loss, but you have to tip your hat to (Huston). He's a competitor."
Texas head coach Augie Garrido took a gamble in using Street for three innings Wednesday. If Texas would have lost, forcing a win-or-go-home game on Thursday, Street might not have been available.
"It was a huge risk," Garrido conceded. "Lose today and it would have been interesting tomorrow."
Instead, the Longhorns couldn't be set up any better for the three-game national championship series that begins Saturday. They'll have two days of rest, and they can start the series with the top of their pitching rotation. And they largely have Street to thank.
It was hardly the first time a team has sat in the dugout, looked on the mound and seen the overpowering Street celebrate a Longhorn victory. Even on days like Wednesday, when the opposition seems to have his number, when they're ripping his slider all over the field, Street battles, only giving up one run in three innings of relief and leading Texas to victory.
There's a reason Texas moved to 49-1 when leading after seven innings. Unlike the major leagues, where closers are protected like a rare gem, Street often closes the door on the final two, if not three innings of a key game.
"When coach walks out there and brings [Huston] into the game, it's just a great feeling," said Texas left fielder Carson Kainer. "It's not lights out, but it's pretty close. You know he's going to battle every single time."
Street was the College World Series MOP when the Longhorns won the 2002 national championship. This year, he's even helped by being out of the lineup. He missed 24 games with a groin injury, and J. Brent Cox filled in as the Texas closer. Thursday, when Georgia jumped to a 5-0 third-inning lead off Longhorn starter Justin Simmons, Garrido turned to Cox, and then Street, to stop the bleeding.
| | | |
| --- | --- | --- |
| | " | When coach walks out there and brings [Huston] into the game, it's just a great feeling. It's not lights out, but it's pretty close. You know he's going to battle every single time. " |
| | | — Texas left fielder Carson Kainer |
The pair threw 6 1/3 innings of eight-hit, one-run ball. They gave the Longhorn offense time to bash four home runs and come back to win the game. Texas scored three in the third, one in the fifth, two in the sixth and one in the seventh.
"We knew that once we stopped the bleeding, our bullpen was going to stop those guys right there," second baseman Seth Johnson said. "They did what they always do."
Street picked up the win, sweet redemption from last year's College World Series, where blew the save and suffered the loss in a 5-4 season-ending defeat against eventual national champion Rice.
"Obviously, that was disappointing," Street said. "It's the last thing that you want to go out there and do. But when you're a reliever, on a big stage or a small stage, that's going to happen. You just have to block it out."
Helping Street put the devastating loss behind him was the fact that shortly after the 2003 College World Series, he joined Team USA and helped carry the team to the silver medal in the Pan Am Games. Street didn't allow a single run in 29 innings of international work, earning USA Baseball's Athlete of the Year honors. He struck out 33, walked 4 and was the most dominant pitcher in the tournament.
"I didn't have time to sit around and think about (the Rice loss)," Street said. "It was straight to the USA team. And that was a lift."
He's the Big XII career leader with 41 saves. He was the 40th overall pick by the Oakland A's in the recent amateur draft. But one goal remains. Street's father James led the Texas football team to its 1970 Cotton Bowl win against Notre Dame -- and the 1969 national championship.
The younger Street, who already has a national championship ring from 2002, wants the ultimate family bragging right: two titles.
"I love my Dad because he's my Dad, and he loves me because I'm his son, regardless of what we do on the field," Street said. "But there's no question there's a little competition there. I want to have two to his one."
Wayne Drehs is a staff writer at ESPN.com. He can be reached at wayne.drehs@espn3.com.
Senior writer for ESPN.com
Written for ESPN.com since 2000
Three-time Sports Emmy Award winner
SPONSORED HEADLINES
MORE COLLEGE SPORTS HEADLINES
MOST SENT STORIES ON ESPN.COM