Sellouts, wins commonplace for Huskers
Originally Published:
November 10, 2004
By
Joy Russo
| Special to ESPN.com
Tommy Lee climbed the stands without an entourage, without Pamela Anderson and without his usual VIP status.
The former Motley Crue drummer sat in the cheap seats, lucky enough to get any seat among yet another sellout crowd in Lincoln, Neb.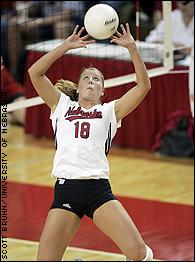 Dani Busboom went from cheering for the Huskers to playing for them.
Blending in to the sea of red, Lee, who is at Nebraska filming an upcoming reality show, and others were taking in one of the hottest sporting events on the Nebraska campus. And while there was a ball being tossed around, it was also being spiked and stuffed.
That's right -- Husker Nation wasn't only about football last week. The nationally ranked women's volleyball team recorded its 50th consecutive sellout last Wednesday night at Nebraska Coliseum as it continues to show it's one of the hottest tickets at NU and one of the best programs in the nation.
"If the volleyball gods wanted to build a volleyball court, the Coliseum would be it," Nebraska coach John Cook said. "It's a very intimate setting. Everyone feels part of the event."
And they've been part of it for years. Long gone are the days in the early 1980s when the program would try to lure new fans into the building with a football ticket stub. Now, it's hard to get season-ticket packages let alone a ticket in general in the 4,030-seat Coliseum.
The No. 3 Huskers (22-1) will reach 53 straight sellouts on Friday, the second-longest streak in any women's sports program. The Connecticut women's basketball team holds the longest run at 111 sellouts.
The team even has its own set of fan traditions inside the Coliseum. There's "Ace Man", who puts up a big ace playing card for every uncontested serve, similar to K's for strikeouts seen at baseball games. Then, there is the stuff-block chant of "roof, roof, roof."
Sophomore setter Dani Busboom was all too familiar with the fan frenzy before she played one match for Nebraska. She was a fan of the team since she was a girl, coming to the Coliseum at age 10, watching in awe and dreaming of playing volleyball for NU.
"I was one of the girls that stuck around an hour after the match to get an autograph," said Busboom, who grew up about 30 miles south of the university in Cortland, Neb. "It makes me appreciate the fans now. I know what it feels like because I was one of those little girls that are there now."
Around the nation
Let the games begin!
The NCAA Women's College Cup pairings were announced Monday, but there was quite the shakeup in the last weekend before the tournament. Virginia shocked top-ranked North Carolina in penalty kicks (5-4) to win its first ACC crown and keep UNC from its 16th conference title. The loss didn't keep the Tar Heels from taking the top seed in the Cup bracket, but we all know how important momentum is heading into the tournament. More to come from the pitch next week.

But wait, there's more
North Carolina took its No. 1 ranking into the NCAA Division I Field Hockey Tournament bracket, hosting Richmond in Saturday's opener. Two-time defending champion Wake Forest earned the No. 2 seed and must start on the road against Harvard.

What to watch
Many of the top collegiate women's hockey players will leave their programs to play for their countries this week. The Four Nations Cup begins Wednesday in Lake Placid, N.Y., where the United States, Canada, Finland and Sweden compete. Competing for Team USA: Minnesota's Lyndsay Wall, Natalie Darwitz, Kelly Stephens and Krissy Wendell; Harvard's Julie Chu, Wisconsin's Molly Engstrom, Dartmouth's Tiffany Hagge and Princeton's Liz Keady.
But what about sports fans
outside
of Lincoln and Nebraska? Most know Nebraska football and the Sea of Red. Cook is trying to branch out and find new ways to spread the word.
Along with posting matches and game reports on the school's Web site, all of the team's matches are broadcast live on local radio station B107.3 FM. Some of the matches also air on Nebraska Educational Television. And one of Cook's biggest goals was to host a premier volleyball tournament, particularly after he saw the benefits of such events for basketball and how bowl games boost football programs across the country. The end result: a four-team tournament in each of the next two seasons that will include powerhouses like Pepperdine and Minnesota.
Said Cook, "I feel like we're in a position to grow the sport, and we have to take leadership in that." As for this season, Nebraska's immediate goal is to win the Big 12 tournament. Last season, the Huskers lost the conference crown, snapping their streak of five consecutive titles. The home court will be an advantage. Nebraska hasn't lost a home match -- or any match at all -- since Sept. 10, a 3-1 decision against Florida A&M.
"It can be suffocating down there [for opposing teams]," Cook said. "I've been down there when you can feel the floor shake."
Said Busboom: "Other teams will miss a serve every now and then because of the crowd."
It's a crowd that continues to show that Husker Nation isn't just captivated by football.
Joy Russo is a frequent contributor to ESPN.com. Send your comments/questions to joy.e.russo@espn.com.
SPONSORED HEADLINES
MORE COLLEGE SPORTS HEADLINES
MOST SENT STORIES ON ESPN.COM