Postell powers Utes to No.1 ranking
Originally Published:
January 11, 2005
By
Joy Russo
| Special to ESPN.com
Coach Greg Marsden didn't know what he was going to get when he brought Ashley Postell to the University of Utah.
The 2002 world balance beam champion would be one of, if not the top, recruit to come to the Utes. But while her experience was the main reason for the accolades, it was also the reason for Marsden's uncertainty.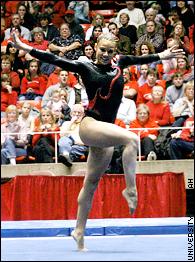 University of UtahAshley Postell has claimed three all-around victories this season.
"International (gymnastics) grinds you down physically and psychologically," Marsden said. "We were concerned that (the competition) might have taken the steam out of her and she might be burnt out and tired of it all."
Even the 18-year-old Postell didn't know what to expect.
"I had to decide if gymnastics was something I wanted to keep doing," Postell said. "It was hard for me to say at the beginning of the year. I wasn't familiar with the college atmosphere."
Postell was familiar, however, with winning. Utah (4-0) is undefeated and is the top ranked team in the country. Postell has been a big part of the run, posting three all-around victories in the four meets. She has also won at least one individual event in three out of the four meets.
Marsden thinks the differences in competing for a collegiate program have actually helped "re-inspire" Postell and her performance.
"You could see the fire coming back by the first meet," Marsden said. "She was as enthusiastic about competing as she could be."
But Postell did have quite the run before moving to Salt Lake City.
After watching the 1992 Barcelona Olympics as a child, Postell was hooked. She trained at Capital Gymnastics National Training Center (NTC) in Virginia and began competing at the national and international level in 1998 -- at age 12. She would keep up that pace for almost eight years, while she was home-schooled.
Around the nation
On the mat
After Big Ten duel-match wins over Wisconsin and Minnesota, Michigan jumped to No. 5 in the USA Today/National Wrestling Coaches Association's Division I poll. This Sunday, the Wolverines (11-3, 3-0 Big Ten) face another Big Ten rival when they host No. 2 Illinois (11-1, 2-0 Big Ten). Michigan captain Ryan Churella hasn't lost since this season's opener, winning 23 consecutive matches to move into the No. 2 spot among the national 165-pound rankings.

In the pool

The Stanford men's swimming and diving team (4-0, 2-0 Pac-10) improved to 5-0 on the year with a convincing, 155-82, win over Arizona last week in Tucson. Stanford has won its last 37 consecutive dual meets dating back to the 2000 season. The No. 2 Cardinal will have a big meet this weekend, when they face No. 7 USC.

Off track

The Texas Christian men's track and field team will not participate in the postseason because of NCAA violations uncovered by the university's own investigation. The specific violations were not in the school's report, but the team will not participate in the 2005 NCAA Indoor or Outdoor Championships, either as a team or as individuals, and the program will face a reduction in the number of on-campus visits from prospective student-athletes. The women's track team will not be affected by the announced disciplinary actions.
She competed for two U.S. World Championship teams (2002-03), winning the balance beam competition at the 2002 Worlds. At the 2003 USA Championships, she won the floor exercise, placed second on the balance beam and fourth in both the all-around and the uneven bars.
Postell was prepared for more success glory at the 2003 worlds, but she was hit with the flu. Suddenly on the sidelines, she was forced to watch the U.S. win its first world team gold without her. With nagging injuries delaying a national comeback, she returned to the U.S. championships last June before taking a much-needed break.
"I took a month off because I had been doing gymnastics for so long, I had not had a break from anything," Postell said. "It took me a while. International (competition) was fun, but stressful."
The Utes almost didn't get Postell. Ironically, the team Utah has been dueling with for the top of the rankings this season almost landed Postell. She originally gave a verbal commitment to UCLA, but with international competition taking time away from Postell's home-schooling, she fell a bit behind.
The Bruins decided not to take the gamble. Utah did.
When the two teams squared off in this season's opening meet, Postell led the Utes to a 197.675-197.300 victory. Postell and Utah senior All-American Annabeth Eberle both tied for wins in the floor exercise (9.950) and the all-around (39.625).
Now, the Utes have to keep focused over the next two months before April's NCAA Regionals. Their last win was last week over then-No. 3 Michigan. Out of their next 10 opponents, only two are not nationally ranked.
"We don't put a lot of stock into the rankings," Marsden said. "Being No. 1 is fun, but we really want to have that ranking in the last poll."
Right now, Postell isn't feeling any pressure. Right now, she's enjoying gymnastics again.
"Sure, I thought about other options," Postell said. "But since I've been here, I've had so much fun, I haven't thought about anything else but this."
Joy Russo is a frequent contributor to ESPN.com. Send your comments/questions to joy.e.russo@espn.com.
MORE COLLEGE SPORTS HEADLINES
MOST SENT STORIES ON ESPN.COM