Marsh builds versatile swimmers
Originally Published:
February 11, 2005
By
Joy Russo
| Special to ESPN.com
Eric Shanteau gave his coach the answer he was looking for.
With the SEC Championships starting Wednesday in Gainesville, Fla., the Auburn swimming and diving teams were preparing their lineups. Shanteau would swim both individual medleys, but his third event is still up in the air.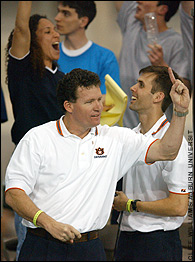 David Marsh coached Auburn's men and women to titles in 2004.
When coach David Marsh asked his swimmer what he thought, Shanteau said "I don't care ... whatever is best for the team."
Another swimmer had been converted.
While most collegiate programs have separate coaching staffs for their men's and women's swimming and diving teams, Marsh has taken on both at Auburn and has turned the program into one of the best in the country. In his 15th season as head coach of both teams, Marsh has led the Tigers to a combined seven national titles, including a sweep at last year's championships.
What makes the programs tick? Marsh and his staff's relentless efforts in turning each swimmer into a team player. It might seem simplistic, but the former Auburn swim star insists that it brings balance to the madness.
"When I swam here, we thought we were the tightest-knit team anywhere," Marsh said. "They were still a tight-knit group when I came back to coach. They rely on each other."
Like Shanteau, many of Auburn's swimmers came from elite club teams, but still had the individual dream of the Olympics. A total of 12 Tigers competed in the 2004 Athens Games and brought back five medals, including three for Kirsty Coventry (gold in the 200-meter backstroke, silver in the 100 back and bronze in the 200 IM).
Shanteau just missed an Olympic spot at last year's trials and then medaled at the FINA World Championships. But Shanteau needed a break from swimming and went on a six-week summer hiatus at his family's lakefront home in Georgia. When he returned, he was refreshed and ready. He also was ready to trust Marsh and his methods.
Around the nation
Beyond the pool
Coach David Marsh's dedication to his student athletes went beyond the pool earlier this week, when he visited former Auburn swimmer and team captain Dave Denniston. Denniston, 26, was recently injured in a snow-related accident in Wyoming that left him paralyzed from the waist down. Marsh went to visit Denniston and helped create the Dave Denniston Fund, which will help raise money for Denniston's mounting medical bills. Denniston's family has created a Web site for the fund at www.davedenniston.com .

On the ice

Harvard's Nicole Corriero and Julie Chu were among the 10 finalists for the 2005 Patty Kazmaier Memorial award, the Heisman of women's hockey. The list will be narrowed to three finalists on March 14. Minnesota's Krissy Wendell and Natalie Darwitz and Minnesota-Duluth captain Caroline Ouellette were also finalists. The only goaltender and first CHA player ever nominated for the award is Mercyhurst senior Desi Clark, who leads the nation in goals-against average (1.32) and ranks third in save percentage (.935).

On the mat

No. 3 Illinois has a tough road ahead in the next week as the Illini wrestlers face four ranked Big Ten opponents -- hosting No. 14 Penn State, No. 19 Indiana and No. 17 Northwestern, and traveling to No. 8 Minnesota. Illinois is 12-1-1, 3-0-1 in the Big Ten. Senior Mark Jayne (133 class), who is three wins away from his 100th career victory, is the heavy favorite against Penn State's Bryan Heller.
"He's one of the more interesting coaches I've been around," Shanteau said. "You've got to trust the man ... Sometimes he seems like he's totally crazy when he'll put something on the board, but then you'll say 'OK David, whatever you want me to do.'
"Most coaches can put yardages on the board and you don't worry about it. His style is different. He's about details and the fine points of technique."
That style and that level of trust have also helped Auburn become more versatile. Drawing comparisons to the Super Bowl-champion Patriots, Marsh thinks his swimmers will adapt to any situation. It's that type of swimmer that he wants in the pool.
"We get individuals that have an individual mindset, but we teach them (to change)," Marsh said. "It's a process that fits life. ... We move them to where it's best for them to be. It's not like they are being assigned.
"I know people think it's magic dust, but ..."
Now, it's hard for his critics to call Marsh's double duty a risk. Crediting his faith and his family for balance in his stressful schedule, Marsh now must ready his squads for the SEC Championships and the NCAAs.
The men's team is currently No. 1 in the CSCAA Division I men's swimming rankings. In the women's respective poll, Auburn is No. 2 behind heavily favored Georgia. The Tigers split their season-opening dual meets with Georgia on Nov. 12 -- the men won 145-96, while the women fell 138-105. The lone loss for the women was Auburn's only dual meet loss combined as the Tigers collectively posted a 14-1 record.
Despite the stellar record, Marsh thinks the "chase" will be good for the women's team, who has won the past three NCAA titles.
"We have to remind (our team) that we will not allow them to rest on their laurels," Marsh said. "In our sport, you stand up on the blocks and no one else can pull you along. It's going to be you in that lane."
But the team will give any Auburn swimmer everything he or she needs to get there.
Joy Russo is a frequent contributor to ESPN.com. Send your comments/questions to joy.e.russo@espn.com.
MOST SENT STORIES ON ESPN.COM