Osterman adjusting to being back on campus
Originally Published:
February 18, 2005
By
Joy Russo
| Special to ESPN.com
Cat Osterman had a hard time believing she belonged on the U.S. Olympic softball team.
At 21 years old, she was the youngest and only collegiate player named to the 2004 Olympic team. Osterman felt she had something to prove -- even after she started practicing with the team.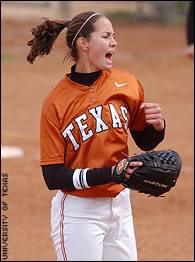 Left-handed junior Cat Osterman pitched a perfect game against Texas State this year.
"It didn't hit me until [U.S. Olympic coach Mike Candrea] told me I didn't need to prove it," Osterman said. "Coach said to me, 'You belong here.' That put me in my place."
Osterman appeared in several games, didn't allow a run in 14 2/3 innings and led the United States in strikeouts (23). The team took gold in one of the most impressive showings in Olympic history.
Then, Osterman came back to a familiar place. The 6-foot-2 left-hander returned to the University of Texas in the fall for her junior year. Despite Osterman's excitement to be part of the "Texas tradition" again, her return brought another adjustment period.
"It took awhile to get into going to class again, wanting to go to class again," Osterman joked. "Having a daily schedule again ... was different.
"But my focus is better than it was before I went to the Olympics. ... But I'm still the same when I got out there on the mound, it's all about taking care of business."
So far, it has been big business. Osterman is 2-0 in her first three starts for No. 3 Texas (5-0) and is already showing mental resolve. After a rough five innings against Houston on Feb. 6, Osterman bounced back with her fifth career perfect game in a 4-0 victory over Texas State.
Said Osterman of the transition: "I beat myself up for a couple of days. I wasn't going to let myself get away with that. I worked hard on a lot of pitching mechanics, and I was ready to go. Very rarely did I feel as prepared as I did for that Texas State game."
Around the nation
Give 'em a Buckeye
The Ohio State men's gymnastics team fell to No. 2 in the national rankings, but it still had a huge week. The Buckeyes' 215.350 score topped California and Stanford at the Kazuki Nakamori Invitational on Saturday at Haas Pavilion in Berkeley, Calif. The No. 7 Golden Bears were second (214.450), and the No. 8 Cardinal were third (213.950). It was Ohio State's first tri-meet victory since 2002. The Buckeyes tallied a score of 217.225 to defeat Iowa and Minnesota on March 9, 2002.

On the ice

Minnesota's Natalie Darwitz, Kelly Stephens, Lyndsay Wall and Krissy Wendell were named to the Team USA roster for the 2005 IIHF World Championships to be held April 2-9 in Sweden. The tournament will be the last IIHF event for the U.S. Women's National Team before the 2006 Olympic Games in Turin. Coach Ben Smith will announce an additional player and two goalies in March to complete his 20-player roster.

On the mat

No. 1 Oklahoma State posted five straight victories to fight a 9-6 deficit and top No. 4 Lehigh, 24-9, on Saturday. The win kept the Cowboys' perfect record (20-0) intact. Heavyweight Steve Mocco started the rally with a 21-6 technical fall over No. 17 Paul Weibel, and No. 10 Nathan Morgan upset No. 5 Matt Ciasulli, 6-4, at 133 pounds.

In the pool

There were only four events on Wednesday's first night of the SEC Championships, but the top-ranked Georgia women's swim team broke five school records, tied an American record and posted top-five finishes in each event. Samantha Arsenault, Sarah Poewe, Mary DeScenza and Kara Lynn Joyce set a school record (1:38.21) to win the 200-yard medley relay and give Georgia its second consecutive title in the event. The Bulldogs also tied the American record in the women's 800-yard freestyle relay (albeit in a runner-up finish to Florida's NCAA-record 7:00.25), and DeScenza posted the fastest 200-yard freestyle time (1:44.11) in the country this year.
Osterman said she also feels physically stronger since the Olympics experience. When she was on the Olympic team, she had time for her body to recover, to build endurance. After her opening weekend at Texas, Osterman said she felt like "an 18-wheeler ran me over." But she said her body is bouncing back and adjusting quicker than before.
It seems the only thing missing from Osterman's résumé is a national title. That gap has a strong chance of getting filled, not only because of Osterman but also because she has a talented staff around her.
No more waiting and staying warm for the second game of a doubleheader. Osterman can actually rest and enjoy it from the dugout.
"Sure, it means less innings," Osterman said, "but as long as we're still going at the end of the year, I'll be more fresh. If you're throwing and throwing all the time, you really have to push, and your body is saying, 'That's enough already.' It won't be like that [this season]."
A big reason is the success of freshman righty Meagan Denny, who has filled the second-game spot following Osterman. Denny, the top prep prospect out of Texas, is 2-0 with 31 strikeouts, one walk and two hits in 14 innings. Her powerful game complements Osterman's killer ball movement.
Four other pitchers round out the Longhorns' balanced staff. Senior Amy Bradford returns from a 2004 season-ending knee injury, and sophomore Christina Gwyn, heavily relied on by Texas in 2004 after Bradford's injury, is also back. Senior Lizi Sowers has one win this season, and freshman Desiree Williams was the top prep prospect out of Arizona.
"We have a good 1-2 punch, and we have four other solid pitchers," Osterman said. "We are going to be a force to be reckoned with."
Osterman almost didn't think she'd be any force for any team. She was a lanky fifth-grader when she decided on softball over soccer.
"I was teeny-tiny and couldn't throw the ball very hard," Osterman said. "If a girl can realize she can be as skinny as can be [and look to me] and say, "If she can do it, I can do it.' ... I think that would be great."
Joy Russo is a frequent contributor to ESPN.com. Send your comments/questions to joy.e.russo@espn.com.