Green Waves remember the Titans
Originally Published:
March 11, 2005
By
Will Kimmey
| Baseball America
Nine months have passed, but Brian Bogusevic remembers well how Cal State Fullerton ended his and Tulane's season last June in the super regionals.
"It was not a good feeling. They beat us pretty bad," Bogusevic said of the 9-0 and 10-7 losses.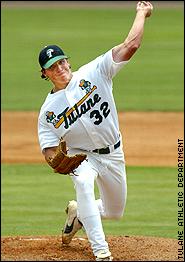 Brian Bogusevic enters the Fullerton series with a 3-0 record.
Bogusevic went on to describe how the experience will be beneficial to this year's team as it advances through the postseason. How it impacts this weekend's series between No. 1 Tulane and No. 3 Cal State Fullerton (12-2) in New Orleans also is intriguing. Remember, Fullerton remains the last team to win a series against Tulane, which improved to 14-1 with a 6-2 win at No. 5 LSU on Tuesday.
Each coaching staff has reviewed last year's games this week, refamiliarizing themselves with the opponent. They take notes on tendencies, remembering how pitchers attacked batters and recalling what was successful. They'll also make calls to other teams for more updated scouting reports, a common practice in college baseball.
"You also have to make sure you know what's changed," Tulane assistant Mark Kingston said. "Which guys got stronger? Which guys changed their approach?"
Good programs always make adjustments, so the coaches use the early portion of the series to revise even their most recent scouting reports.
"They definitely weren't overmatched by the eventual national champions, and we knew they'd be a top team this year with a lot of the same players," said Dave Serrano, the UC Irvine coach who served as Fullerton's pitching coach last year.
Fullerton's losses were more significant. Its top pitcher (Jason Windsor), top hitter (Kurt Suzuki), team leader (P.J. Pilittere) and Sunday starter (Mike Martinez) are all gone. Still, the Titans have posted a 3.01 team ERA (3.72 in 2004) and have better depth on the pitching staff overall, headed by junior left-handers Ricky Romero (4-0, 1.92) and Ryan Schreppel (2-0, 1.29). The offense hasn't dropped off either, averaging 8.8 runs per game this year after scoring 7.5 in 2004.
Tulane's offense is at least as good as last year's with the addition of two-way Georgia Tech transfer Micah Owings, who leads the club with six homers. Scott Madden is batting .460 after rarely playing a year ago. That a hamstring injury kept Bogusevic out of the batting order for nine games hardly was felt, and his return to the leadoff spot makes the lineup even deeper.
The biggest difference for Tulane comes on the mound. The Green Wave added Owings and freshman closer Sean Morgan and welcomed right-handers Brandon Gomes and Ricky Fairchild back from Tommy John surgery to give the staff four hard-throwing pitchers it didn't have a year ago. Plus, Bogusevic (3-0, 0.90) has improved immensely on the mound, becoming the Friday starter after beginning 2004 as the midweek guy. The result is a 2.53 ERA with a 4.3:1 strikeout-to-walk ratio after 4.24 and 2.6:1 numbers a year ago.
Extra Innings
Meaningful Matchup
New Orleans isn't the only city in Louisiana featuring a great inter-sectional matchup. Arizona State will face No. 5 LSU in Baton Rouge, just an hour and change north of New Orleans by car. Western Illinois will also play those two teams over the weekend, as each of the three will face the other two twice. But ASU-LSU is the sexy matchup. It's a chance for Arizona State, which beat North Carolina, East Carolina and Ohio State last weekend, to press over the .500 mark and force its way back into the national picture. LSU will use the opportunity to bounce back from a midweek loss to Tulane.

Midweek Monster

Oral Roberts senior right-hander/DH Dennis Bigley threw six scoreless innings and drove in seven runs in an 11-0 win against Southwest Missouri State. It marked the 33rd career victory for Bigley, who needs one more to tie Michael Rogers atop the Oral Roberts and Mid-Continent Conference career wins list.

We Didn't Make This Up
College of Charleston, the 20th-ranked team in the country, gets outfitted head-to-toe in Puma gear. Endorsements are common in college baseball, but this one comes for a more interesting reason. Puma president Jay Piccola's son Zach is a sophomore left-hander for the Cougars. On the field, 10-3 CofC faces 12-4 Elon this weekend in the first, but potentially best, Southern Conference series of the year.

Fun With Numbers
3 -- Three coaches have led three different schools to the College World Series. Two of them will be in Tucson, Ariz., this weekend as Ron Polk and Mississippi State face Andy Lopez and No. 12 Arizona. Polk has been to Omaha with Mississippi State, Georgia Southern and Georgia, and Lopez has made trips with Pepperdine, Florida and Arizona. Larry Cochell is the third coach, playing at Rosenblatt Stadium with Oklahoma, Oral Roberts and Cal State Fullerton.

Rest Of The Ranked
Purdue at (2) Texas
Michigan State at (6) Florida
Duke at (7) Miami
UT Arlington at (9) Texas A&M
(13) Georgia at Louisville
(14) North Carolina at Virginia Tech
Sam Houston State at Mississippi (16)
(17) Florida State at Hawaii
Eastern Illinois at (18) Arkansas
"In the past they were a huge offensive team with good defense and would try to pitch just enough to beat you. Now, they're strong in all three phases of the game," Pepperdine coach Steve Rodriguez said.
Rodriguez's club dealt Tulane its only loss of the year, a 5-2 contest two weekends back during the annual series between the two schools. The Waves played the Green Wave close in the other two games, 3-0 and 7-6 wins by Tulane. So Rodriguez clearly has the inside edge on how to beat Tulane, right?
"Pray a lot," he said with a laugh. "Honestly, you've got to pitch really well, play good defense and capitalize on their mistakes."
That's exactly the style Fullerton employs. And that's exactly why this series should be so even, and so exciting.
Around the Nation
Vanderbilt
coach Tim Corbin suspended junior left-hander Ryan Mullins indefinitely for violating team rules. The second-team preseason All-American was 2-0, 3.93 in 18 innings as the Friday starter for a team off to the best start in school history at 12-0. Mullins will miss No. 8 Vanderbilt's series against No. 19
Baylor
, the toughest test of the year for the Commodores.
Junior right-hander Jensen Lewis (3-0, 0.46) is moving up a day to Friday, and senior right-hander Jeff Sues (2-0, 0.75) is taking Lewis' Saturday spot after opening the year in the bullpen. Junior righty Matt Buschmann (2-0, 0.60) remains the Sunday starter.
"We are behind [Mullins] 100 percent," Lewis said. "We just have to go out this weekend and take the same approach we have all season."
Vanderbilt won a series last year at Baylor, sending the Bears to their fourth straight series loss. That same fate could await Baylor this year, as it lost series at Arizona State and against Long Beach State the last two weeks and has No. 2 Texas coming next weekend.
Additionally, for anyone in Nashville for this series, be aware Dayton and Oakland are also in town. The schools moved their series from Dayton to Jefferson City, Tenn., because of the threat of bad weather. That threat crept over to Jefferson City, so the teams moved to the Music City's Shelby Park.
• No. 25 Southern California plays host to the Public Storage Classic this weekend, where No. 22 Texas Tech, Wichita State and UC Irvine will join it.
USC junior catcher Jeff Clement hasn't started the season in the fashion his preseason All-America status might suggest. He's batting .265-2-11 following a two-run homer Sunday, though assistant coach Dave Lawn feels Clement is getting a tad anxious at being pitched around.
"I remember the same thing with Xavier Nady as a junior," said Lawn, who coached Nady at Cal. "He's not getting anything to hit. He takes two walks and then wants to hit, so he swings at bad pitches, so he's 0-2 with two walks."
With 33 career homers, Clement could tie Geoff Jenkins for second-most in school history if he hits 12 more. Mark McGwire's record of 54 appears out of reach.
Two preseason All-America pitchers join Clement in the event, though he won't have to face either. Ian Kennedy, a sophomore right-hander, is his teammate, while Wichita State junior right-hander Mike Pelfrey won't pitch against USC.
"I was checking my e-mail, looking at what the pitching matchups would be and saw USC was using Ian on Friday against Texas Tech, so that was a sigh of relief," Serrano said. "Then I look and the next one says we get to face Mike Pelfrey on Friday. At least we're not getting both."
• There's another interesting tournament taking place in nearby Malibu, Calif. Pepperdine welcomes Winthrop, No. 23 Oregon State and Cal State Northridge to town. Each team presents an interesting story line, with Pepperdine fresh off winning the Dairy Queen Tournament with wins against South Carolina, New Orleans and Minnesota last weekend. Winthrop beat in-state rival Clemson 8-2 on Wednesday behind a complete-game effort from No. 1 starter Kevin Slowey. Oregon State leads the Pacific-10 with a 2.05 ERA, more than a run better than any other team, and boasts four of the conference's top eight in individual ERA. Cal State Northridge junior outfielder Michael Paulk's active 27-game hit streak is a school record.
• No. 10 Rice plays No. 24 TCU in Houston this weekend in a matchup of Conference USA future (the Owls join that league next season) and CUSA present, but soon to be past (the Horned Frogs leave for the Mountain West next year). Friday offers a battle of the right-handed junior transfers, with Rice's Josh Geer (Navarro JC) facing TCU's Lance Broadway (Dallas Baptist). Saturday's expected starters are two of the nation's best freshmen: Owls lefty Joe Savery and Frogs righty Sam Demel.
• No. 15 Georgia Tech faces Wake Forest in an Atlantic Coast Conference series this weekend, and a sweep would give the Yellow Jackets 22 consecutive league wins and set an ACC record. Georgia Tech's offense has been scoring all kinds of runs lately, reaching double figures in its last six games. Junior outfielder Jeremy Slayden hit three home runs and drove in nine runs in a pair of midweek wins against William & Mary and Georgia Southern, as Tech scored 17 runs in each game.
• No. 4 South Carolina beat Charleston Southern 1-0 on Wednesday as Wynn Pelzer, Andrew Cruse, Forrest Beverly and Alan Bontya combined to pitch a one-hit shutout. South Carolina, however, managed just six hits in the 1-0 victory, which might give its fans pause as it enters a home-and-home series with Clemson this weekend.
• No. 21 Louisiana-Lafayette returns from a 4-1 week in Hawaii and must turn around and travel again, this time to Minneapolis and the Metrodome for games against Harvard, Minnesota and St. John's. Should the Ragin' Cajuns trail in any of those games, comebacks could be difficult given the caliber of closers at the event. St. John's junior right-hander Craig Hansen, a first-team All-American, and Minnesota sophomore left-hander John Gaub each averaged more than 13 strikeouts per nine innings a year ago.
• There's an interesting show-us-what-you've-got nonconference series outside the Top 25 this week, as Arkansas State (13-3) visits Southern Mississippi (9-3). Despite the gaudy records, neither team has faced great competition yet this year (though each lost a game to No. 16 Mississippi), so the result here should be instructive.
• No. 11 Stanford takes the week off to prepare for exams, which run March 14-18.
Editor's note: ESPN.com has entered a partnership with Baseball America, which will provide weekly updates, analysis and Friday notebooks on college baseball.
SPONSORED HEADLINES
MORE COLLEGE SPORTS HEADLINES
MOST SENT STORIES ON ESPN.COM