Colorado connection drives Vols' SEC rise
Originally Published:
April 21, 2005
By
Will Kimmey
| Baseball America
Tennessee coach Rod Delmonico felt confident a Colorado import would prove to be his best pitcher in 2005, and Fowler native Luke Hochevar has lived up to his preseason All-America status. But neither Delmonico nor anyone figured the Centennial State would also provide the Volunteers their top hitter.
Yet Fountain, Colo., product Chase Headley's .377-11-40 numbers have meant as much to Tennessee as Hochevar's 8-2 record. Both have helped Tennessee to a 9-5 Southeastern Conference record, just a half-game behind Florida for the league's best overall mark. The No. 16 Volunteers are 27-10 overall heading into this weekend's series at in-state rival Vanderbilt.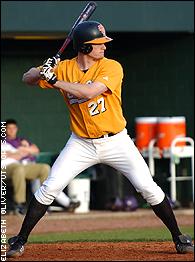 Chase Headley has clubbed 11 homers for the Vols in 2005.
"I think a lot of people thought we were going to be able to pitch a little bit, and it's not a surprise that we are throwing well with Luke and [freshman left-hander James] Adkins," said Headley, a junior listed at 6-foot-2 and 200 pounds. "But we're hitting more than some people expected."
Tennessee leads the SEC with a .333 batting average, .419 on-base percentage and .525 slugging percentage after batting .296/.372/.423 last year, precipitating an increase of nearly two runs per game. Several veteran players are producing better offensively than in 2004, including Eli Iorg, Josh Alley and Kelly Edmundson, while freshmen Julio Bourbon and J.P. Arencibia have stepped immediately into contributing offensive roles.
Headley credits each of his teammates, not mentioning his .462/.541/.923 numbers during 14 SEC games. "You're getting to where you expect him to hit it hard every time up there," Delmonico said. "He's on fire. When we need a big hit, he delivers."
That includes a home run in each of Tennessee's three games against Arkansas last weekend, leaving him with seven of the team's 13 SEC home runs.
"A lot of it has to do with being able to focus a little bit more," Headley said. "You get up so much more for conference games — not that you don't for other games. Plus, at the beginning of the year, I was getting about two at-bats per game and two walks. Now, I'm getting more pitches to hit and getting in a better rhythm."
Not that Headley minds taking walks. His 42 lead the SEC, as does his .556 on-base percentage. He's not afraid to take a first pitch, or hit in 0-1 or 0-2 counts. He wants pitchers to make three good pitches to retire him, not the one they'd need if he swung at the first offering.
Delmonico credits Headley's patience to the third baseman's team-first attitude, knowing others can drive him in once he gets on base. His selectivity also led Delmonico to believe Headley could improve after a 2004 season spent without the benefit of good health or a regular position in the lineup.
Headley started the first four games of his sophomore season at third base before a left hamstring injury knocked him out for 10 games. Headley attributes the hamstring struggles to missing practice the previous fall. He had surgery to repair a meniscus tear in his right knee, forcing him off the field and out of condition. He returned briefly from the hamstring before the hammy flared up again, and when Headley finally recovered, Kyle Norrid had won the third base job. Headley ended up starting 13 games at DH, 11 in right field, three at first base and one in left field to finish the season. He hit .295-2-23 in 112 at-bats.
"I've never experienced anything like last year," Headley said. "I've always been one of the main guys on a team. Not knowing what position or if I'd be in the lineup at all, I struggled with that.
"It really renewed my drive to get back to where I was before."
He set out the summer following his sophomore season to get stronger and stay healthy. He hit .242-3-17 and earned team MVP honors for Cotuit in the Cape Cod League before enjoying a full fall that boosted his confidence. Headley emerged as the top candidate at third base during that time, with his starting role solidified when Delmonico kicked Norrid off the team for violating team rules just before the season began.
Headley's junior success falls more in line with what he expected when he transferred from Pacific following a freshman season in which he batted .330-3-26 with a .453 on-base percentage thanks to a Big West Conference-leading 39 walks. After that season, in which Pacific went 27-27 (5-16 in the Big West), Headley decided he wanted to transfer to a program with a better shot of reaching the postseason. Denny Peterson, an assistant coach at Pacific, happened to sit next to Fred Corral, then Tennessee's pitching coach, at a California junior college tournament during the summer of 2003. Peterson mentioned he had a third baseman looking to transfer, and Corral said Tennessee needed one.
Headley spoke with Hochevar, against whom he had played baseball since the two were 8 years old growing up in Colorado, and the conversation helped Headley decide to become a Volunteer. It meant two players who lived about 60 miles from each other all their lives would finally become teammates — some 1,300 miles from home in Knoxville. They're actually joined by another Colorado native, senior right-hander Josh Andrews, who grew up in Englewood, just south of Denver.
"There are only X amount of great players coming out of there," Delmonico said, "and we're lucky to get two or three of them."
Around The Nation

Extra Innings
Meaningful Matchup
The first NCAA Tournament bid gets handed out this weekend in Orlando, where the Mid-Eastern Athletic Conference holds its tournament. Bethune-Cookman has won this tournament six consecutive seasons but enters as the No. 2 seed behind North Carolina A&T, which went 13-6 in conference compared with B-C's 11-6 mark.

The Wildcats missed a pair of chances to finish first, losing a series at A&T early in the year, then dropping two of three last weekend against Delaware State. The seeding looms large because the seven-team double-elimination format allows the top seed a first-round bye but forces all the other teams into immediate action.

Who's the favorite? B-C thinks it is, having already scheduled a series against Jacksonville next weekend and a single game with Stetson on May 21. That's not coach Mervyl Melendez's ego, just smart scheduling based on his team's past success and the need to play games to avoid a three-week layoff before the NCAA Tournament.

Midweek Monster

Left-hander J.R. Crowell and right-handers Billy Mohl and Daniel Latham combined for a no-hitter Wednesday as No. 3 Tulane topped Nicholls State 3-0. Crowell cut the start short, as he will start Sunday at South Florida in place of Brandon Gomes. He threw the first two innings, Mohl worked six and Latham earned a save with a perfect ninth. None walked a batter, though Mohl hit Josh Thomas with two outs in the eighth inning to end the perfect game.

"Pitching-wise and defensively, we were tremendous," Tulane coach Rick Jones said. "That's how we won the game. Three guys pitched it well. I've had no-hitters pitched, and while I've never been part of a perfect game, we came real close."

The Green Wave travel to South Florida for a Conference USA series this weekend.

We Didn't Make This Up
Brigham Young improved to 29-14-1 with a win Wednesday against Northern Colorado, surpassing its wins total from 2004. It stands tied with Nevada-Las Vegas atop the Mountain West Conference with a 14-4 record. The Cougars' success lies partly in the fact that they lead the league in runs per game and ERA while ranking second in fielding percentage.

The rest of the explanation comes from an idea pitching coach Bobby Applegate brought with him from the Air Force Academy. He had the entire team climb a mountain near the BYU campus. When they reached the white "Y" on the mountain, each player and coach received a coin to commemorate the climb. They carry the coins at all times, and if a team member shows his coin to another who doesn't have his with him, the offender must buy a drink for any team members who happen to be around.

"It sounds kind of corny," BYU coach Vance Law said. "But we rely on each other. We ran up to the 'Y' together and it was a total team effort. Guys didn't leave each other behind; we ran together."

BYU visits Air Force this weekend for a three-game league series.

Fun With Numbers
Speed is on the rise and power is on the decline, according to the midseason statistical trend report released by the NCAA this week. Home runs are down about 8 percent (0.74 per game at this point in 2004 compared with 0.68 this year), but stolen bases have increased by about 4 percent (1.19 per game in '04 vs. 1.24 this year). Those figures stood at 0.71 and 1.17 at the midpoint of 2003.

Teams still are scoring runs at about the same rate, with 6.19 runs per game this season compared with 6.23 last year, less than a 1 percent difference. Overall ERA has dropped about 3 percent, from 5.28 last year to 5.14, while fielding percentage remains basically the same (.957 this year and .958 last year).

Known for its offense, the Southeastern Conference led all leagues with a .306 batting average and 7.22 runs per game a year ago but doesn't appear among the top three in either category this season. The Mountain West has usurped it as the offensive juggernaut, with a collective .312 average and 7.31 runs per game.

The Big 12, Pac-10 and Big West rate as the top three fielding conferences for the second year running.

Rest Of The Ranked
(14) Missouri at (1) Texas
UC Santa Barbara at (2) Cal State Fullerton
Maryland at (5) Miami
(17) Arizona State at (6) Oregon State
Texas Tech at (11) Baylor
UC Davis at (12) Long Beach State
Fresno State at (15) Rice
Auburn at (19) South Carolina
(20) Stanford is idle
Arkansas-Little Rock at (21) Louisiana-Lafayette
(23) Arkansas at Kentucky
Virginia at (24) Florida State
• Three weeks ago,
Pepperdine
freshman Jason Dominguez was hit in the face with a ball against
San Francisco
. The right-hander returned to the field Tuesday night to make his first career start and limited defending national champion
Cal State Fullerton
to two unearned runs over seven innings. Dominguez earned his first career win in the 6-2 Waves win.
Pepperdine
(11-3 in the West Coast Conference) visits
Gonzaga
(10-4 WCC) this weekend in a matchup of the leaders of the West and Coast divisions in the conference. It could serve as a preview of the league's championship series, which pits the winners of each division.
• Cal State Fullerton has battled through a tough week. The No. 2 Titans lost to Pepperdine on Tuesday and took another loss Wednesday while playing the final two innings of a suspended Feb. 20 game against USC in which Fullerton trailed 7-2 and eventually lost 11-2. Things haven't gone well aside from the won-loss record, either. Junior outfielder/DH Felipe Garcia (.304-0-24) broke his right foot during batting practice prior to the USC game. Fullerton visits UC Davis this weekend.
• Baylor lost an 11-inning game 2-1 at TCU on Tuesday as the Crazy Eight Curse continued. Each team that has entered a week ranked No. 8 has lost at least two games except Florida, which dropped only one game. However, the 11-1 loss at home to Villanova remains the Gators' largest margin of defeat this year. Baylor closer Ryan LaMotta entered the TCU game with a 1-0 ninth-inning lead and allowed a game-tying homer to Matt McGuirk that snapped his scoreless innings streak at 28 2/3. It was the first homer LaMotta had allowed on the year, keeping the curse alive. Things almost got worse Wednesday as Baylor squeaked out a 4-3 win against Prairie View A&M. The Bears visit No. 11 Nebraska this weekend, putting their 12-3 Big 12 Conference-leading mark on the line.
• Arkansas second baseman John Henry Marquardt has driven in nine runs during a six-game hitting streak to raise his average to .370, second-best on the team. Not bad for a junior filling in for suspended senior Scott Bridges, who was batting .410 with 22 steals. This weekend, the No. 14 Razorbacks face No. 20 LSU, which offers a late-surging freshman infielder of its own. Chris Jackson, who also serves as the punter and place-kicker for the Tigers football team, has taken over the third base duties for LSU. He collected nine hits in 20 at-bats last week, including three on Saturday after participating in the spring football game. Jackson is batting 410-1-9 and atypically for a leadoff man has yet to register a walk, hit-by-pitch or steal.
• USC catcher Jeff Clement cracked his ninth home run of the year Tuesday in an 8-2 win against UC Santa Barbara. His 40th career homer tied him with Morgan Ensberg for fourth on USC's career list, four behind third-place Eric Munson. The No. 25 Trojans face California this weekend.
• How hot is Arizona left fielder Trevor Crowe? The junior collected three hits, including two homers, and three RBI Tuesday in a 14-3 thrashing of New Mexico. He's batting .524/.596/.905 in April with eight walks and one strikeout. Arizona takes its No. 6 ranking to Sacramento, Calif., this weekend for two games against UC Irvine and one versus Sacramento State.
• It's probably time to stop asking questions about North Carolina's offense. The Tar Heels posted 23 runs in three games against Miami over the weekend, then hung 18 on the board Tuesday in drubbing host East Carolina. Freshman shortstop Josh Horton drove in six runs on four hits, and four teammates homered.
Now, let the questions begin about the UNC arms, believed to be the team's strength entering the year. Preseason All-America right-hander Daniel Bard started the ECU game, allowing four earned runs on seven hits over four innings three days after he allowed five earned runs on four hits and three walks in 1 2/3 innings against Miami. No. 12 North Carolina should get things straightened out, and winnow its 2.67 team ERA this weekend against Duke, and Bard will start on Sunday.
• Oklahoma State junior first baseman Adam Carr hit his 17th home run of the year Tuesday; that's the best total in the Big 12 and nearly as many as the entire Texas team, which has hit 20 home runs. The No. 1 Longhorns visit Stillwater, Okla., for the first time since current pitching coach Tom Holliday served as the Cowboys head coach in 2003.
• Creighton has won 22 of its last 25 games for a 30-8 overall mark that represents the best start in school history. It leads the Missouri Valley Conference at the midpoint of league play and can all but end the conference race with a series win at defending champion Wichita State this weekend.
Things are about to get even better for the Bluejays as projected ace Eric Wordekemper returned to the mound Wednesday against Wisconsin-Milwaukee, retiring the side on 13 pitches in a predetermined one inning of work. The junior righty strained an elbow ligament against St. Louis on Feb. 25. If Wordekemper, who went 1-0, 2.92 in his first three starts on the year, works back into shape, a pitching staff that has lowered its ERA every season since 2001 stands to improve on its 3.70 mark even more.
• No. 19 College of Charleston is smeared all over the Southern Conference statistical leaderboard entering the week, with the league's best team batting average (.373) and five of the top 10 batters. The Cougars also led the league in on-base percentage (.453), slugging (.565), runs (346) and doubles (107). When CofC faces Davidson this weekend, the Cougars pitchers will face Wildcats junior Jay Heafner, whose .460/.539/.734 numbers all pace the SoCon.
Editor's note: ESPN.com has entered a partnership with Baseball America, which will provide weekly updates, analysis and Friday notebooks on college baseball.
SPONSORED HEADLINES
MORE COLLEGE SPORTS HEADLINES
MOST SENT STORIES ON ESPN.COM