Report: Player, father did not want coach removed
Updated:
May 2, 2005, 2:48 PM ET
ESPN.com news services
NORMAN, Okla. -- University of Oklahoma baseball coach Larry Cochell resigned Sunday, two days after reports surfaced of alleged racial remarks he made during two off-camera interviews to ESPN.
Tony Gwynn's thoughts
Queried during an ESPN.com SportsNation chat on Monday, former ESPN baseball analyst Tony Gwynn -- now baseball coach at San Diego State -- had some thoughts on the resignation of Oklahoma coach Larry Cochell ...


User: Tony, what is your reaction to the Oklahoma coach ... using racial slurs?
Tony Gwynn: Shocked. Absolutely shocked. On Saturday I heard about it but didn't know what was said. One of my players told me. In this day and age, I'm just shocked and disappointed. But it's not just in baseball. It's in everyday life. It's a shame. I'm stunned by it. My kids were asking me on Sunday morning about it and I told them about the experiences I had. Some parts of the country feel that way. As a black person you feel we have come a long way, but comments like that make you realize there is still a long way to go.


User: Tony, are you worried about the lack of young African-Americans playing baseball, particularly college baseball?
TG: I'm worried. I just talked to [ESPN analyst] Harold Reynolds about this the other night. We have played programs from all parts of the country this year. There just aren't many African-Americans playing at the college level. There are a lot in high school but they just aren't taking the opportunity to play college. You just don't see a lot of them playing in the playground; basketball and football [are] becoming more popular. But baseball is such a great game. I wish more would try to become the best baseball player they can be. They can be just as successful in baseball as basketball and football.

The longtime coach submitted a letter of resignation to president David Boren, who had met hours before with athletic director Joe Castiglione and members of the university's black community on the matter.
Boren accepted the letter and said Castiglione has designated Sunny Golloway as interim baseball coach for the rest of the season.
Tuesday, before the telecast of the Oklahoma-Wichita State game on ESPN2 and ESPNU, Cochell used a racially insensitive term in off-camera interviews with ESPN to describe Sooners freshman outfielder Joe Dunigan III, an African-American.
Cochell was speaking with play-by-play announcer Gary Thorne when he called Dunigan over to praise him for staying in school. When the freshman returned to the field, Cochell told Thorne, "There's no n----- in him." The network informed the school that Cochell used similar language in an interview with ESPN analyst Kyle Peterson.
"I just felt like [resigning] was the right thing to do," Cochell told The Oklahoman newspaper. "I don't know why I said it. I have never in my life used that kind of language. It was a phrase I heard a long time ago, and it just came out."
The interviews were not taped, and Thorne and Peterson didn't know Cochell had used similar language in both instances until they spoke with each other days later, ESPN director of media relations Josh Krulewitz said.
"We recognize that stories of this nature could have significant repercussions and we took great pains to bring the appropriate sensitivity and balance to our reporting," Krulewitz said Sunday.
The university, which didn't learn of the remarks until contacted Friday afternoon by ESPN, issued a statement that it was reviewing the matter and that Golloway would assume Cochell's duties on an interim basis. Cochell wasn't in the dugout during Oklahoma's Big 12 Conference series with Nebraska on Friday or Saturday.
Cochell, who led the Sooners to a 1994 College World Series victory, issued a statement apologizing for what he said and added that the remarks were not reflective of his own values.
He repeated that in his resignation letter.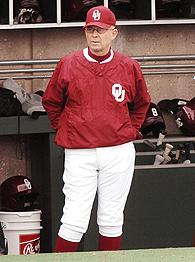 AP Photo/Jerry LaizureCochell, who led the Sooners to a 1994 College World Series victory, resigned Sunday.
"As I have said in a public statement, I deeply regret that I carelessly used language that is clearly contrary to the basic values of our university. Those words also created an impression contrary to my own personal values and my respect for all people," the letter released by the university read. "... I do not want to be the cause of any person having a mistaken impression about our university. Therefore I hereby request that I be allowed to resign as head baseball coach of the University of Oklahoma effective immediately."
In a statement, Boren said no one took any pleasure in what happened.
"A good and caring man has made a terrible mistake for which he must assume responsibility," Boren said.
According to a report in Sunday's The Oklahoman, Dunigan and his father said they forgave Cochell for his comments.
"He has apologized," Joe Dunigan Jr. told The Oklahoman. "Those words are powerful and derisive. They were inappropriate and offensive. But he is a man who has done so many good things in his life.
"He has treated us like family," he continued. "We have broken bread with him. I know he is a Christian man. We all say things that we don't mean, and I hope people down there don't color him as a racist because he made a mistake."
Both Dunigans and Charles Caufield, the father of Chuckie Caufield, the only other black player on the team, had told The Oklahoman they wanted Cochell to keep his job.
"He hasn't done anything where he deserved to be fired," Charles Caufield told the newspaper. "It's a small thing. I don't condone what he said. But I've been around the media and you got to watch what you say because they can twist it and make a story and then run with it."
In his statement, Cochell said he was honored to have been the caretaker of the Sooners program, which he took over in 1991.
"I love and respect the University of Oklahoma," Cochell said. "There is not a university in the country that has done more to create a true sense of family based upon mutual respect."
Information from The Associated Press was used in this report.
SPONSORED HEADLINES
MORE COLLEGE SPORTS HEADLINES
MOST SENT STORIES ON ESPN.COM