Bears feature solid weekend rotation
Originally Published:
May 12, 2005
By
Will Kimmey
| Baseball America
Statistics don't always tell the whole story, at least not without the right context.
Baylor's offense ranks 216th in the nation with 5.1 runs per game and sits dead last in the Big 12 Conference with a .269 overall batting average. It has scored four runs or fewer in 16 of its 18 losses.
But compare the Bears' offense to that of other Big 12 clubs in conference play and things look a bit different.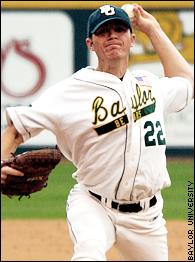 AP Photo/Jerry LaizureTrey Taylor is part of a Bears staff which has a 2.52 ERA in Big 12 play.
Baylor's 5.5 runs per game in conference play are tied for second with Nebraska (each has scored 116 runs in 21 games). And if it had only one more Big 12 hit, Baylor would lead the conference in batting as well.
"Offensively, it's really hard," Baylor coach Steve Smith said. "I don't think we're having a bad year offensively. We're leading the league in a few offensive categories, and this league as a whole is top heavy in pitching."
The Big 12 leads the nation in ERA as a conference, and Smith's club sits atop the Big 12 with a 31-18, 17-8 record largely because its 3.15 team ERA ranks 12th nationally. No. 10 Baylor has trimmed that figure to 2.52 in league play. Texas, which ranks third in the nation in overall ERA, has compiled a 3.05 Big 12 figure.
The Baylor staff's success starts with one of the nation's best weekend rotations. The three starters — junior right-hander Mark McCormick, senior left-hander Trey Taylor and sophomore left-hander Cory VanAllen — rank among the top 15 in conference ERA, and move into the first eight if relievers are removed from contention.
"That weekend it was as good of pitching as we've seen all year," said Texas center fielder Drew Stubbs, who went 2-for-11 with five strikeouts as Baylor swept Texas to open conference play. "VanAllen, McCormick and Taylor threw three great games. In hindsight, that probably was the three best pitchers in a row we've seen all year. Nobody has lined up and taken it to us like that all year."
Smith will move McCormick (6-2, 2.74) from Saturday to Friday this week against Texas A&M, angling to get the pitcher with the best stuff on his staff aligned to face Missouri's Max Scherzer next week and in the opening spot for when postseason play begins. He's 6-1, 1.58 with 65 strikeouts in his last 63 innings. (The move also allows McCormick to face A&M righthander Robert Ray on ESPN2 Friday night.)
Taylor (4-4, 3.27), who has allowed three or fewer runs in 19 of his last 23 starts, doesn't mind moving back a day to Saturday.
"I've been here long enough to quit worrying about personal goals," he said. "I came back for my senior year to help Baylor win."
The Bears have won much more frequently this year than they did in 2004, when a 29-31 overall record caused them to miss the NCAA Tournament for the first time since 1997. Baylor actually scored more runs per game last year (5.95), though its 3.89 ERA was higher than this year's.
While the pitching has improved, with McCormick and VanAllen becoming as reliable this season as Taylor has been since 2004, luck also has played a factor. Baylor went 7-16 in one-run games last year before posting a 9-6 record in such games this year.
"We basically have the same players back, but the whole team mentality is a little different," said VanAllen (6-4, 3.99), who worked mostly in relief during conference play as a freshman. "The one-run games we were losing last year, we're winning this year.
"Lately, we've been getting good run support, and I have plenty of confidence in our lineup."
A bullpen featuring three right-handers capable of closing in Ryan LaMotta (5-0, 1.74 with four saves), Abe Woody (6-3, 2.40 and eight saves) and Jeff Mandel (1-0, 2.08) also has helped to make those narrow leads stand up.
Extra Innings
Meaningful Matchup
No one could clearly pinpoint how often bragging rights actually get taken advantage of, but the press buildup to this weekend's series between No. 8 Arizona and No. 18 Arizona State informs us that exclusivity will be up for grabs or on the line or whatever. Arizona won two previous midweek games against Arizona State, so maybe the Wildcats have been boasting all spring.

The series winner likely will take more joy in where the victories put it in the Pac-10 standings. The 12-3 Wildcats hold a percentage points advantage on 14-4 Oregon State for first place in the league. Arizona State occupies third place at 10-5. Regional hosting opportunities may also fall to the winner here, as there figure to be at least three West Coast host sites, with Cal State Fullerton and Oregon State likely securing two of those.

Midweek Monster

Not many college players get promotional events built around them. Michigan State's Erik Morris did, and not because he's the son of former major league right-hander Jack Morris. The lone senior on the Spartans roster played all nine positions Wednesday in a 5-2 loss to Western Michigan on Erik Morris Day. He went 1-for-4 at the plate and struck out the only batter he faced to open the ninth inning. That marked Morris' first appearance on the mound for the year, but he's hitting .299-2-20 in 167 at-bats.

We Didn't Make This Up
Everyone named Joe will gain free admission Saturday at Long Beach State's Joe Day. The Dirtbags will honor popular supporter Joe Ballsinger, known for donning a wig and signing Elvis Presley songs between innings at Blair Field.

Meanwhile on the field, No. 12 Long Beach State (11-4) faces Cal Poly (9-3) in what looks like a series that will decide at least second place in the Big West Conference. Each club lost a series last week, with UC Santa Barbara taking out Long Beach while Fullerton (first place at 13-2) knocked off Poly. A series win would move the Dirtbags into a better position from which to earn a regional host slot, while the Mustangs could feel quite secure in making their first NCAA Tournament since moving to Division I in 1995 if they come away victorious.
"I think [because of] the nature of our sport, any team is only going to go as far as their pitching takes them," Smith said. "Nobody is going to swing their way all the way through."
Especially not against Baylor's staff.
Around The Nation
No. 1 Cal State Fullerton takes the weekend off to travel to Washington, D.C., to meet Friday afternoon with President George W. Bush in celebration of its 2004 College World Series title. The Titans also received good news Tuesday in a 13-4 win against Pepperdine as Ryan Schreppel made his first appearance since injuring his knee March 25. The junior left-hander, fresh off arthroscopic knee surgery, allowed a run on two hits in three innings and could return to his Saturday spot in the rotation next weekend against Long Beach State.
• Two of the best left-handers in the Southeastern Conference face each other Sunday in Baton Rouge, La. Junior Greg Smith (8-2, 2.31) takes the mound for No. 16 LSU and opposes freshman James Adkins (7-2, 2.66) of No. 9 Tennessee. The Tigers and Volunteers represent the SEC's two hottest teams, with LSU coming off four straight conference series wins to tie Alabama for first place in the SEC West at 14-10, while Tennessee's five wins in six series have it atop the entire conference with a 15-8 mark.
• The Big 10 race could move closer to getting sorted out after this weekend, when the top four teams face off in two series. Conference leader Illinois (18-6) plays four games at fourth-place Minnesota (13-11), while second-place Iowa (15-9) visits third-place Purdue (11-9). The Illini sit two games shy of setting a school record for conference wins in a season.
• This could be the weekend where the Western Athletic Conference race gains clarity. No. 15 Rice, the league's top team at 13-8, faces one of the three teams tied for second with 11-10 records in Nevada. The other such teams also face off with Fresno State visiting Hawaii. A Rice sweep would all but wrap up the automatic bid for the Owls in a league with no conference tournament.
• Harvard swept two games from Cornell to win the Ivy League's championship series and capture the second automatic berth in the NCAA Tournament. Either Harvard or Princeton has represented the Ivy in regionals every year since 1996, with the Crimson making appearances in 1997-99 and 2002. Harvard (26-15, 15-5) joins MEAC champ North Carolina A&T as automatic qualifiers.
• The Patriot League will award the season's third automatic NCAA bid this weekend. Second place Lehigh plays third-place Bucknell on Saturday, with the winner advancing to a best-of-three series against regular-season winner Army, the 2004 Patriot champion. Lehigh has never advanced to the NCAA Tournament.
Extra Innings
Fun With Numbers
An announced crowd of 20,011 watched Creighton beat Nebraska 5-3 on Tuesday at Rosenblatt Stadium, marking the largest single-game college crowd of 2005 and the ninth-largest single-game college crowd ever. The game out-drew four major league games on the night: White Sox at Devil Rays (9,389), Astros at Marlins (11,687), Padres at Reds (15,262) and Phillies at Brewers (12,082).

The win clinched Creighton's first season series victory against Nebraska since 1993. Now the two teams can refocus on winning their conference titles. The Bluejays have played — and swept — one more series than Wichita State, which holds second place in the Missouri Valley Conference. That gives Creighton an edge heading into its final conference series this weekend at fourth-place Evansville. No. 6 Nebraska sits a game behind first-place Baylor in the Big 12, with Texas Tech and Kansas State remaining in league play. The Bears face Texas A&M and Missouri.

Rest Of The Ranked
No.2 Tulane at St. Louis
No. 3 Oregon State at Washington
No. 4 Miami at Virginia
Dallas Baptist at No. 5 Texas
Virginia Tech at No. 7 Georgia Tech
Mississippi State at No. 11 Florida
Middle Tennessee State at No. 19 Louisiana-Lafayette
UCLA at No. 21 Stanford
South Carolina at No. 22 Mississippi
No. 23 NC State at Duke
Washington State at No. 24 USC
Fairleigh Dickinson at No. 25 St. John's
• Suspended
Arkansas
seniors Scott Bridges and Casey Rowlett won't play again this year after an NCAA subcommittee failed to grant their appeals. "I regret that Scott and Casey will not be able to rejoin our team," Arkansas coach Dave Van Horn said in a statement. "I wish them the best in the future. It is now time for everyone involved to move forward."
John Henry Marquardt, who replaced Bridges at second base, and outfielder Jake Dugger are questionable for this weekend's series at No. 13 Alabama with knee injuries. Marquardt had arthroscopic surgery May 2 and Dugger was injured May 4. The Crimson Tide might play down one man. Normal Friday starter T.J. Large, a junior right-hander, isn't listed among the probable starters. He's not hurt; coach Jim Wells just wants to get him some rest as he's thrown a team-high 83 innings after missing all but four innings of 2004 with an arm injury. Large could pitch Sunday. Sophomore left-hander Wade LeBlanc will move up a day to fill the Large void. LeBlanc finished 2004 and entered 2005 in this role, ceding it to Large when he missed a month with a shoulder injury.
• Florida State sophomore center fielder Shane Robinson became the first player in the country to record 100 hits, topping the century mark Wednesday against Stetson. He and the rest of the No. 17 Seminoles, who stole seven bases in as many attempts in that game, play host to No. 14 North Carolina this weekend. FSU ranks fourth in the Atlantic Coast Conference at 15-9, while UNC stands third at 15-6-1. One additional note: Tar Heels sophomore right-hander Daniel Bard will start Sunday instead of Saturday after throwing 64 pitches Wednesday against Coastal Carolina.
• No. 20 Missouri's leading hitter, junior center fielder James Boone, rates as a 50-50 proposition to take the field this weekend against Kansas. Boone leads the team in average (.357), on-base percentage (.492), slugging (.643) , RBI (63) and steals (13), but has not played since injuring his back April 29 against Texas.
• Coastal Carolina already has enjoyed quite a week, knocking off No. 7 Georgia Tech on Tuesday before topping North Carolina on Wednesday. The Chanticleers take a five-game win streak into this weekend's Big South Conference series at UNC Asheville. Coastal and Winthrop each stand 16-2 in BSC play and face off next weekend to decide the league's regular-season title. That is unless third-place Birmingham-Southern (14-4) beats up Winthrop this weekend in Rock Hill, S.C.
• The College of Charleston needs one win in its Southern Conference series against Georgia Southern to clinch its second consecutive league title. Georgia Southern was the last SoCon team to win consecutive titles, in 2000-01. The Cougars (39-9, 22-2) seek to become the first team in conference history to win 43 games or more in back-to-back seasons after going 47-16 in 2004.
Editor's note: ESPN.com has entered a partnership with Baseball America, which will provide weekly updates, analysis and Friday notebooks on college baseball.
SPONSORED HEADLINES
MORE COLLEGE SPORTS HEADLINES
MOST SENT STORIES ON ESPN.COM