Tulowitzki upholding Dirtbag SS tradition
Originally Published:
May 19, 2005
By
Will Kimmey
| Baseball America
The first time Troy Tulowitzki put on his Long Beach State hat, someone called him Crosby Jr. The reference was to Bobby Crosby, his predecessor as Dirtbags shortstop and the 2004 American League rookie of the year winner with the Athletics.
Tulowitzki admits the comparisons to a 2001 first-round draft pick were flattering at first, but he wanted to sculpt his own image rather than live up to someone else's. The junior has accomplished that task during his college career, though he has met and befriended Crosby along the way. Most scouts add that Tulowitzki also has surpassed him.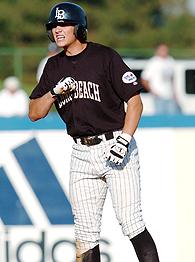 Matt. A. BrownTroy Tulowitzki leads the Dirtbags in homers with seven.
"He's better than Bobby Crosby," a National League scout said. "He could play in the big leagues right now. He can hit, hit for power and he's the whole package defensively with a plus-plus arm."
That skill set and an impressive 6-foot-3, 205-pound frame could vault Tulowitzki into the first five picks of the draft. He credits Crosby, with whom he speaks over the phone twice a week, for helping him hone his game with tips that include learning to read grounders and to make decisions on coming in quickly, waiting back or darting into the hole to pick them. The rest of the credit goes to Tulowitzki's natural athleticism and his own work ethic.
"He's got serious range, first-step quickness; he can cut the angle down," coach Mike Weathers said. "I don't think he can play his way out of the position like some guys talk about because of his size.
"Most of the plays I am amazed about, the balls up the middle, he runs through a ball to his right and comes in and throws off balance as good as I've ever seen. That play to me is what separates him from most shortstops."
Weathers also raves about Tulowitzki's grind-it-out mentality and leadership abilities. That's why the shortstop found things so difficult when a broken hamate bone in his left hand pushed him to the bench for 20 games from early February through late March. For a Long Beach State offense already limited by the hitter's graveyard that is Blair Field, losing a player whose seven home runs in 124 at-bats (and .363/.444/.637 numbers) this year lead the team was difficult.
Tulowitzki, a baseball rat who said his life away from the field mostly includes lifting weights and playing baseball video games, sat helplessly on the bench as the Dirtbags lost five of their first six games without him in the lineup. That stretch included getting swept by California in a weekend series in which they scored seven total runs.
"I'm so competitive, I want to help my teammates," said Tulowitzki, who took a call from Crosby reminding him to stay positive. "When we got swept by Cal, we left a lot of runners on base; I wish one of those at-bats I could have gone up there."
Tulowitzki's desire to return carried him back into the lineup at least a week earlier than expected. Trainer Nate Peck cleared him to swing a bat the same Friday the team played its late March nonconference series against rival Cal State Fullerton.
Tulowitzki hit from the tee, then took some soft toss and finally moved into live batting practice before telling Weathers he was ready to play. Peck found no reason to hold the shortstop out. He collected one hit in the series, an RBI double in the opener, but his return to the lineup gave the team the spark it needed to hand Fullerton its only series loss of the year.
"Just the presence he brings to the game is uplifting," left-hander Cesar Ramos said.
"He's always grinding and wanting to win. It's always good to have a guy that's going to be a high first-round pick back. When he was out, he was really frustrated at not being able to play. He wanted to rip off his cast."
Tulowitzki and No. 10 Long Beach State face Fullerton again this weekend, and again the Titans hold the No. 1 ranking entering the series between the top two teams in the Big West Conference. Another series win would give the Dirtbags a great shot at serving as a regional host. Tulowitzki's hand has improved since that first series, though he's had to limit the number of swings he takes in practice because he still feels some soreness at times.
"Playing-wise, I'm where I need to be, but I'm not as strong because I can't lift weights the way I want to," Tulowitzki said. "It was difficult going through the injury, not knowing what was going to happen when I came back or if I was going to be the same player, but it's worked out."
It looks as though the draft will work out fine for him, as well. Initially, there were questions about how he would return from the injury, but he has pulled through nicely. He's showing the power to all fields that drew attention last year when he hit two homers to right-center field in helping Long Beach State win a regional at Stanford.
Extra Innings
Meaningful Matchup
Ball State and Miami (Ohio) clinched their divisions in the Mid-American Conference last weekend, but their series this week will determine which team gets to play host to the conference tournament, a right awarded to the team with the best conference record. Miami, which won a series at Alabama in early March, must sweep a series at Kent State to prevent Ball State from serving as the MAC host for the third time since 1999. Then again, maybe playing the tournament at home is overrated. Just four of the previous 15 hosts have won the event.

Midweek Monster

Freshman right-hander Josh Fields entered Georgia's Wednesday game at Winthrop with the score tied in the ninth inning. He struck out the first eight batters he faced before yielding an infield single and inducing a popup to earn the decision in a 10-6 win in 11 innings. Despite a 3-1, 7.00 ERA in 27 innings overall, Fields has pitched well in his last two appearances, recording seven scoreless innings and 13 strikeouts. He should get the ball again this weekend at Tennessee, a series Georgia needs to win to keep its SEC and NCAA tournament hopes alive.

We Didn't Make This Up
That Northwestern State title alluded to completed a rare triple crown for the Demons, who also won SLC titles in football and basketball during the 2004-05 academic year. It marks the first time a Southland school has swept the three sports titles in the conference's 41-year history.

"In any league at any time, that's pretty amazing," Northwestern State coach Mitch Gaspard said. "It's quite an accomplishment to win a conference championship in any sport, but to sweep all three of those sports is almost unheard of, especially considering the competitive balance in Division I athletics these days."

Stanford most recently turned the trick – in the Pac-10 during the 1999-2000 academic year, and Nevada won all three titles in the Big West, which no longer sponsors football, in 1996-97.
He backed up that performance by winning Team USA's starting shortstop job over Georgia Tech's Tyler Greene and capped it with eight hits and several sparkling defensive plays in a season-opening series at Arizona State this year.
"At this point, he's proved who he is and who wanted him," Weathers said. "I don't think he has to prove anything more, especially to the pro people — they already know. They've all been in here the last couple weeks, and everybody's asking about him. He's going to go real well."
Tulowitzki, who grew up an Athletics fan near the Bay Area in Sunnyvale, looks like a good bet to reach his goal of playing in the major leagues, though he hopes that opportunity comes for any other team.
"Bobby's already playing there, so they don't need me," he said. "Hopefully, I'll be somewhere else and we can start a friendly little rivalry."
Around The Nation
Two more teams will join Army (Patriot), Harvard (Ivy) and North Carolina A&T (MEAC) in earning automatic NCAA tournament bids this weekend upon the conclusion of the Northeast and Southwestern Athletic conference tournaments. The top four NEC teams (Quinnipiac, Sacred Heart, Monmouth and Wagner) meet in a double-elimination event at First Energy Park in Lakewood, N.J., the home of the low Class A Lakewood Blue Claws.
Six SWAC teams play a double-elimination tournament at Rickwood Field in Birmingham, Ala. Top seeds Mississippi Valley State and Southern earned first-round byes and will face the winners of the Alcorn State-Texas Southern and Jackson State-Prairie View A&M games.
The three conferences that do not have postseason tournaments could award their automatic bids this weekend, though regular-season play in each league extends into next weekend.
Cal State Fullerton can end the Big West race with a sweep of Long Beach State. Oregon State's magic number in the Pacific-10 sits at four with a 17-4 conference record compared with second-place Arizona's 14-4 mark. A sweep by the Beavers and one loss for Arizona would end the race and send OSU to its first NCAA Tournament since 1986.
Fans in Corvallis, Ore., are going bonkers for the No. 3 Beavers (and we're claiming copyright on that phrase). Oregon State has added bleachers at each end of Goss Stadium's grandstand, increasing capacity to 2,200 for this weekend's series against No. 21 USC. Expect the series attendance record of 5,923 and single-game mark of 2,120 (both set during the Arizona State series the first weekend in May) to fall.
"We've really gotten a lift playing at home this season," Beavers coach Pat Casey said. "And an awful lot of that has been because of our fans. That series against ASU was one of the most electric atmospheres I can remember at a college ballpark."
Extra Innings
Fun With Numbers
Let's salute schedule makers across the land for delivering some excellent action in what is the final week of league play in most conferences. A whopping 16 members of the Top 25 play road games over the weekend (that figure includes No. 5 Texas visiting Texas A&M on Friday before playing the final two games of the series at home). Five of those teams are visiting other ranked teams.

Additionally, there are six series pitting a conference's first- and second-place teams against each other. TCU can win the Conference USA title with a sweep at No. 3 Tulane. Big West leader Cal State Fullerton takes the nation's No. 1 ranking into play against No. 10 Long Beach State. No. 23 Coastal Carolina, ranked for the first time in its history, visits Winthrop with a one-game lead in the Southern Conference.

Outside the Top 25, Ohio Valley co-leaders Jacksonville State and Austin Peay State, both 16-8, will decide the champion in a three game series at Austin Peay. San Francisco and Pepperdine both own 19-8 West Coast Conference records, and they will play three in Malibu to determine which club wins the West Division and advances to the WCC championship series.

Texas Arlington, one of three teams tied for second in the Southland, visits first-place Northwestern State, but the series means little as the Demons already have clinched the title.

Rest Of The Ranked
Kansas State at No. 7 Nebraska
No. 8 Arizona at Stanford
No. 20 Missouri at No. 9 Baylor
No. 13 LSU at Mississippi State
No. 16 Alabama at Auburn
No. 17 Arizona State at Washington
No. 18 Louisiana-Lafayette at Western Kentucky
No. 19 Mississippi at Arkansas
No. 25 St. John's at Villanova
Friday night looks like the best evening to attend, with the top two pitchers in the Pac-10 taking the mound in sophomore right-handers Dallas Buck (10-1, 1.83) and Ian Kennedy (10-1, 2.26), both of whom have topped 100 strikeouts and are holding opponents to a .196 average.
School officials will haul even more seats into the park if Oregon State earns the right to serve as a regional host; that would boost capacity to between 2,600 and 2,800 fans.
Rice's magic number in the Western Athletic Conference stands at three. Two series wins against second-place Fresno State means a sweep of Hawaii at home this weekend would clinch Rice's ninth WAC title in nine years in the league. The No. 12 Owls move to Conference USA in 2006.
• Right-hander Lance Broadway transferred to TCU to serve as the Horned Frogs' ace as a junior and has done just that. He leads Conference USA's pitching triple crown race with league-best marks in wins (12), strikeouts (125) and starter's ERA (1.94). His toughest test of the year comes Friday at No. 2 Tulane, where he'll face an offense that boasts a .419 team on-base percentage and six starters at .443 or better. Tulane shortstop Tommy Manzella's OBP is just .411, but his .372 average leads the club and ranks third in the conference.
• No. 11 Tennessee enters its final SEC series against Georgia a half-game behind No. 15 Florida (which is at Vanderbilt) for first-place in the league. Coach Rod Delmonico knows winning the regular season crown could ensure his club a No. 1 seed in the NCAA Tournament and allow it to serve as a regional host.
Delmonico also knows a blister on the left hand of James Adkins has caused the freshman to struggle on the mound the last two weeks. Adkins is slated to work Sunday, but Delmonico won't use him if that game won't bear meaning on the final standings.
Finally, Delmonico knows not to expect the final game to be meaningless, and said he will let Adkins rest during the SEC Tournament if he's forced to pitch this weekend.
• Don't expect many fastballs slower than 90 mph in the series opener between No. 20 Missouri and No. 9 Baylor. Right-handers Max Scherzer (8-2, 1.22) and Mark McCormick (6-2, 3.48) boast the best power repertoires in the conference. Scherzer has recorded a league-best 117 strikeouts in 89 innings, while McCormick has notched 75 K's in 75 innings.
Missouri played the final two of its three wood bat games Tuesday and Wednesday, dropping a 7-0 decision to Southern Illinois before topping Big Ten leader Illinois 6-2 behind four hits from freshman right fielder Jacob Priday. Junior center fielder James Boone, out with a back injury since April, returned to the lineup for those games, collecting two hits in each.
• No. 4 Miami visits Clemson this weekend, where it needs a sweep and some help from North Carolina to overtake Georgia Tech to win the ACC title in its first year in the league. Clemson enters the weekend with junior right-hander Kris Harvey not listed among its probable starters for the first time all season. He injured his left wrist when hit by a pitch at Wake Forest last weekend. (Josh Cribb earns the start in his place.)
Harvey missed Sunday's game versus Wake but returned to the lineup as the DH in Tuesday's win against College of Charleston. Clemson needs to win the Miami series to strengthen its hopes to serve as a regional host. Its RPI ranks 13th in the country, but that's the fifth-best mark in the conference.
No. 24 North Carolina features a rotation change in its home series with No. 6 Georgia Tech, moving sophomore Robert Woodard into the series-opening spot ahead of Andrew Miller and Daniel Bard. Woodard is 2-0, 1.89 in his last four appearances. Down the road at No. 23 NC State, newfound ace Andrew Brackman will start the second game of the series against No. 14 Florida State. The media crush for the right-hander who also played on the Wolfpack hoops team has developed into a severe enough situation that coach Elliott Avent has restricted access to the freshman to once before the series plus after his starts.
• Oral Roberts already has clinched its eighth Mid-Continent Conference title in as many years. Still, intrigue surrounds the ORU series at Chicago State because senior right-hander Dennis Bigley looks to become the 25th pitcher in NCAA history to win 40 career games. Consider him a good bet to reach the mark: He has yet to allow a run in conference play, last yielding an earned run 42 1/3 innings ago on March 24.
• This preview is packed with information about conference races and tournament chases, but we don't want to leave out the independents. Northern Colorado plays host to the Division I Independent Invitational this weekend in Greeley, Colo., the home of Rockies starter Shawn Chacon. New York Institute of Technology, South Dakota State and Utah Valley State will participate in the round-robin event, with the title going to the club with the best record.
Editor's note: ESPN.com has entered a partnership with Baseball America, which will provide weekly updates, analysis and Friday notebooks on college baseball.
MORE COLLEGE SPORTS HEADLINES
MOST SENT STORIES ON ESPN.COM