Parker, Terriers eager to get season started
If Boston University can find an offensive identity, coach Jack Parker's team will once again do damage in the wide-open Hockey East.
Updated:
October 6, 2005, 2:52 PM ET
By
David Albright
| ESPN.com
BOSTON -- A crowd of nearly 1,000 lined up along Commonwealth Ave. waiting for the doors to open on the no longer new but still sparkling Agganis Arena.
According to Jack
Jack Parker is entering his 33rd season behind the Terrier bench, and his 715 wins mark the most of any college hockey coach at the same institution. He is currently second on the active wins list behind Boston College's Jerry York (723). Parker offers his thoughts on the current college hockey landscape:

On the national picture: "Until somebody beats [Denver], they're the team to beat or the league [WCHA] to beat. There's no question that they are that. In that league, [Denver and Minnesota] are going to be favored, but I also think that Colorado College is the best in the league. And I think the team that will be the surprise there is Wisconsin."

On the length of the season: "It's ridiculous. These kids don't get a chance to be regular college students. They come in September and have off-ice training, start practice on Oct. 1, and if you have a decent year you're going to the end of March. If you have a great year you're going to the second week in April. There's no season as long as our season, in terms of the amount of time, so it's a real grind."

On the lack of offense: "The NHL is going to have to do it first, but the inability to score goals has been a problem in our league as well as the NHL. I think we've done a good job of cleaning up the clutching and grabbing, so there's more opportunity to score goals. But I really, truly believe that the goalies are too good. I don't want to change the game but I want to make the game the way it used to be and make the nets bigger so you can actually see something to shoot at. I think that's something the NHL will come to in the next couple of years and we'll follow suit."

On face shields: "One thing that I think has absolutely ruined the game is the full facemask. It's made the game much more dangerous to play and much more physical. Players can't see and now they get blindsided and get hurt more because they can't prepare for the hits. The idea of the full face shield was to help somebody from losing an eye. If you lose an eye, you're not blind.

Your quality of life may diminish quite a bit, but you're not blind. Now what we've got isn't people losing eyes but we have people ending up in wheelchairs and with injuries that in reality are much more severe than losing an eye. It's changed the game in terms of how physical it is, how less finesse it is, how the players don't keep their sticks down. I think it was a big mistake. The day will come when lawyers will change it. The only reason we have it is because of lawyers, and somebody is going to roll down the aisle in a wheelchair and sue the NCAA and then they're going to change it."
As the sunlight began to fade on the first Saturday in October, Boston University students -- many of whom wore the red and white hockey sweaters with the simple but familiar "Boston" across the front -- chose to spend at least a portion of their night waiting in line to watch … practice?
And not even a real practice, but a skills competition and a 10-minute, 4-on-4 scrimmage. OK, so it was free to get in and there was free food and drinks too. And a free T-shirt. And a chance to win prizes.
But in addition to all the giveaways it was also about the chance to sit behind the north goal and practice what will become the verbal abuse of the visiting goalie. And about getting the first look at this year's team. And about realizing that the 181-day wait between the end of the last Frozen Four and the next drop of the puck had entered its final week.
Welcome to another college hockey season.
At nearly 60 rinks across America Saturday, Division I hockey players took the ice as a team and began the formal preparation for the 2005-06 season. Most schools hit the ice early in the morning and some even went for a double session on day one.
At BU, Parker threw a party at the rink that bears his name to thank the students for their past and future support.
"I was ready to go to practice today," Parker said after his team finished the scrimmage portion of the festivities. "I told some of the guys that I was real excited to see how some of the sophomores and juniors will make jumps this year and interested to see how the freshmen fit in. But most important it's always a different team because six guys leave, six new guys come in and automatically it's a different climate."
There wasn't much expected from Parker's Terriers last season, but he coaxed them to a 23-14-4 finish during his 32nd season behind the BU bench -- including second place in Hockey East and a trip to the NCAA Tournament (a 4-0 loss to eventual runner-up North Dakota).
For his efforts, Parker was named both Hockey East and New England coach of the year.
This fall, Parker's team is ranked No. 12 and 13 in the two national preseason polls and is predicted to finish fifth in Hockey East by the coaches -- behind Boston College, New Hampshire, Maine and UMass-Lowell -- despite receiving two first-place votes.
"It's hard to tell yet where we are," Parker said. "We know what we've got coming back, we have a pretty good idea of what our strengths will be. Our strengths should be in goal and on defense because we've got a lot of experience in both of those positions.
"Although we have enough skill up front, we haven't proven that we can put the puck in the net, so it will be interesting to see who emerges as our go-to guys in those goal-scoring situations."
Making the offense an even bigger question mark is four of BU's top seven scorers from last season won't be in the lineup on Oct. 15, when the Terriers host Lowell to open the season.
Lost to graduation are Bryan Miller (26 points) and Brian McConnell (21 points). Gone to the Washington Capitals' organization after a single college season is Chris Bourque (23 points).
Also missing from the lineup is David Van der Gulik, who led BU with 18 goals and 31 points last year. The senior co-captain from Abbotsford, British Columbia, who is also a Calgary Flames draft choice, is out with a pelvic bone injury that he originally sustained last season.
"He can't skate yet and probably won't skate for another month," Parker said. "He hasn't done a thing since the last game of the year last year. We're hoping that he's back by December or January at the latest."
That means the first couple months of the season the Terriers will be relying on the likes of senior John Laliberte (12 goals, 18 assists, 30 points), sophomore Peter MacArthur (13-14-27) and senior co-captain Brad Zancanaro (10-13-23).
And maybe one of the six freshmen -- all forwards -- will find a way to contribute as Van der Gulik works his way back to the lineup and the offensive identity of this team develops.
"We're still young up front but we have guys that can put the puck in the net," Zancanaro said. "It hasn't gone in as much as we would have liked in the three years I've been here, but that's something we've been working on. I think we have the talent to put the puck in the net. The guys have done it a level below this, so I think that it's going to carry over sooner or later."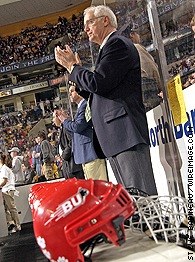 This will be Jack Parker 33rd season with the Terriers.
If it's the latter, it could put even more pressure on junior goalie John Curry, a walk-on who came out of nowhere to post an 18-11-3 record with a 1.97 goals-against average and a .923 save percentage last season. The Shorewood, Minn., native was the third goaltender when the Terriers opened the year but was quickly pressed into duty when BU got drilled by Miami-Ohio (5-1) and Michigan (7-2) at the Lefty McFadden Tournament.
"It's always a learning experience at the beginning of the year," Zancanaro said. "Last year we went out to Ohio and got killed those first two games against Michigan and Miami. You don't always get your systems in correctly and you don't have enough time to practice with the younger guys, so there's always an adjustment period in that first month."
BU doesn't get any favors in the scheduling department, as seven of its first eight games are Hockey East contests.
Add to that mix a league lineup that has three new coaches (Merrimack, Northeastern, Providence) and a new member (Vermont), and it could be a very unpredictable year in Hockey East.
"I really think that there's six or seven teams that could finish in the top four in our league," Parker said. "This is probably as competitive as we've ever been for the home-ice situation. We don't have a super team that we've had in the past, so anybody can emerge.
"In adding not just a 10th team, but a team of Vermont's stature -- they're coming off a great year in the ECAC; they've had great years in the past in college hockey; they've got great support with great fans and it's a great place to go to -- I think we're bringing in a really first-class organization into the league."
David Albright is a senior editor at ESPN.com and can be reached at david.albright@espn3.com.
MORE COLLEGE SPORTS HEADLINES
MOST SENT STORIES ON ESPN.COM