Pitching, slugging balance key to Beavers' success
Oregon State was mired in Pac-10 obscurity until Brianne McGowan matriculated. Now that the Beavers boast the bats to back McGowan up, they have their sights set on Oklahoma City.
Updated:
May 11, 2006, 3:39 PM ET
By
Graham Hays
| ESPN.com
From the coffee-drinking, indie-rock-loving, 20-somethings strolling the streets of Portland's trendy Nob Hill to the farmers and fishermen who rank among national leaders in the production of everything from Christmas trees to Dungeness crabs, there is more to Oregon than meets the eye.
So it's only fitting that the No. 9 Oregon State Beavers (35-7) from Corvallis, Ore., a sleepy college town with agricultural roots nestled between Portland and Eugene in the heart of the Willamette Valley, have emerged as one of nation's most balanced and underrated teams.
The Beavers can beat teams with pitching and defense, or they can beat them with doubles and home runs.
And they might finally be ready to prove it in Oklahoma City.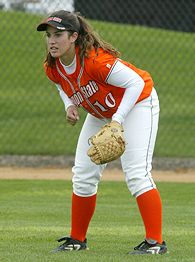 Oregon State Sports InformationCambria Miranda helped OSU upset UCLA, and in the process was named Co-Player of the Week.
A year after claiming a share of the Pac-10 title (earning the conference's automatic NCAA bid after posting the same 13-8 record as UCLA, Arizona and Stanford) for the first time in school history, Oregon State continues to prove it is no short-term wonder in a conference that is the nation's toughest softball proving ground. After sweeping a weekend road trip that featured a Friday encounter with top-ranked UCLA and games against Washington on Saturday and Sunday, the Beavers find themselves 7-4 in conference play, good enough for sole possession of second place behind the Bruins at 8-2.
The current lofty standing in the softball world is thanks not only to the talent on display, but also the work of coach Kirk Walker in shaping the program over more than a decade in Corvallis. Taking over a dormant program prior to the 1995 season, Walker's early teams took their lumps in a conference that was in the midst of 10 consecutive national titles and which currently boasts four of the six winningest teams in the history of the NCAA Tournament.
Faced with that kind of competition from schools that had their pick of the best talent in the softball hotbeds of Arizona and California, the Beavers won just 28 games in Walker's first two seasons. But by 1999, the team had won 47 games (the first winning season since 1984) and made its first appearance in the NCAA Tournament. And the winning hasn't stopped, with Walker's team making it's seventh consecutive trip to the NCAA Tournament last season, eventually falling to DePaul in a regional championship game.
Overall, the Beavers own a respectable 20-14 record in NCAA Tournament play.
But they haven't been to Oklahoma City. In fact, Oregon State is the only Pac-10 school competing in softball (Washington State and USC do not) never to have reached Oklahoma City and the Women's College World Series. Four times the Beavers have come within one game of that ultimate goal.
Enter Brianne McGowan.
The 6-foot-2 junior was around for each of Oregon State's last two postseason disappointments, but this year's team increasingly appears to have her signature on it. McGowan earned wins in all three games against UCLA and Washington, throwing two shutouts as a starter and coming in to earn a third win with scoreless relief against the Huskies on Saturday.
Not surprisingly, those performances earned her Pac-10 Pitcher of the Week honors. But the success was hardly out of character. For the season, McGowan is 22-4 with a 1.23 ERA and 166 strikeouts. Although effective immediately -- she was 10-6 with a 1.25 ERA as a freshman in a supporting role behind departed ace Monica Hoffman -- McGowan needed time to grow into a staff ace.
"The differences in pitching now compared to my freshman year are huge," McGowan said. "My freshman year I was not expected to start and was kind of following the lead of the senior pitcher [Hoffman] that was already here. Then the next year Ty [Ta'Tyana McElroy, 13-3 with a 2.62 ERA this season] and I had to carry the load and learn a lot as we went. This year we know the ropes and what is expected of us and what we need to do to help our team succeed."
And McGowan doesn't discriminate when picking apart opponents, doing almost as much damage with her bat as she does with her pitches. Playing first base when not in the circle, she boasts a .352 average and eight home runs (just two fewer home runs than she's allowed all season in the circle) at the plate.
McGowan came to Oregon State from Reno, Nev., where she was the Gatorade National Player of the Year and a member of the National Honor Society. In other words, McGowan was the bluest of blue-chip prospects.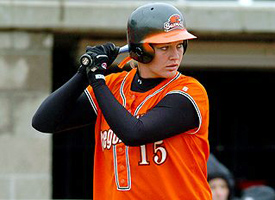 Oregon State Sports InformationIn addition to contributing at the plate, Brianne McGowan pitched two shutouts last weekend.
But when it came to choosing a college, the softball program's relatively lean history took a backseat to what McGowan perceived to be a bright future.
"The main reason I chose Oregon State was that I loved it when I took my trip here," McGowan said about her choice. "The team was amazing, and the town seemed like a great place to spend four years. And it turns out I was right."
It was the kind of decision that can turn around a struggling program or put a program searching for that one missing piece over the top.
In Oregon State's case, the bats around McGowan in the lineup prove there are plenty of other pieces.
Despite not having any of the 12 best individual batting averages among Pac-10 players, the Beavers are the conference's best hitting team with a .313 collective average. And they aren't all singles. Only UCLA and Arizona State have more home runs, and only Washington has more doubles.
Paced most of the season by 5-foot-1 sparkplug Mia Longfellow (hitting .364 with 15 extra-base hits), the Beavers have survived the typically tough transition to a steady diet of Pac-10 pitching thanks in large part to McGowan's pitching and sophomore Cambria Miranda's hitting.
As a freshman, Miranda led the team with a .324 average last spring, but that number hid a .175 average in conference play. But like any great hitter, Miranda made adjustments and is hitting .361 with five home runs in 11 conference games this season.
"Cambria is a huge part of our team's success," McGowan said of her teammate. "As the leadoff hitter, she goes up there and sets the tone for the game. She does an awesome job at it, too. It is tough to have to be the first one to go up there, but she does it with confidence. Her confidence is a major asset to the team because it spreads down the lineup."
After hitting three home runs, a double and driving in five runs against the Bruins and Huskies, Miranda was named co-national player of the week by USA Softball, just the third time an Oregon State player has been honored with the award.
Along with McGowan, Cambria and Longfellow, three other players are hitting better than .300 this season, including senior Adrienne Alo, who leads the team in RBI and was recently a first-round pick in the National Pro Fastpitch draft. It's a potent offense that should be able to score at least 250 runs for the fourth consecutive season.
Last weekend was arguably the most successful regular-season weekend the program has ever enjoyed, bringing national attention and honors to Corvallis. But it's not something the Beavers have much time to savor in the Pac-10.
"After the Bay Area trip, we came to practice and really concentrated on our hitting and getting out timing back," McGowan said of three losses to Cal and Stanford two weeks ago. "But overall, we really did not let it get to us. We know that there are ups and downs to the game, and we just had to get through it."
Wedged between mammoth weekends, Wednesday's doubleheader against rival Oregon (added to the schedule after earlier postponements because of the region's seemingly omnipresent precipitation) could easily have unraveled that focus. But the Beavers did just enough to put away the struggling Ducks, riding another Cambria home run and seven innings from McGowan to a 4-3 win in the opener and holding on for a 2-1 win behind a strong outing from McElroy in the nightcap.
Another big weekend looms, with Cal visiting for one game on Friday and Stanford setting up shop for a two-game set on Saturday and Sunday. In fact, for all of their success, the Beavers play seven of their final 10 games against teams ranked ahead of them in the polls.
Making that first trip to Oklahoma City won't be easy, but little has been for Walker in building a national power in a place that averages nearly 17 inches of precipitation during the first three months of the year (by comparison, famously rainy Seattle averages slightly more than 13 inches during the same span).
But with an ace like McGowan in the circle and the bats to back her up, the future indeed looks bright.
Softball country is what you make of it.
And these days, the Beavers have made quite a bit of it in Corvallis.
Graham Hays is a regular contributor to ESPN.com's softball coverage. E-mail him at Graham.Hays@espn3.com.
espnW.com
Graham Hays covers college sports for espnW, including softball and soccer. Hays began with ESPN in 1999.
MORE COLLEGE SPORTS HEADLINES
MOST SENT STORIES ON ESPN.COM