The NCAA's 100 most influential student-athletes
Originally Published:
April 12, 2006
Special to ESPN.com
In 2006, the NCAA celebrates its centennial anniversary. The following list was compiled by a panel the NCAA to salute the most influential student-athletes. Criteria included achievement both in the academic and athletic worlds, with emphasis on the individual's professional success and lasting legacy.
These student-athletes will be honored throughout the yearlong celebration. ESPNU will air Parts 1 and 2 of its series on the NCAA's 100 Most Influential Student-Athletes Tuesday at 10:30 p.m. ET. Part 1 will reair May 22 at 8 p.m. ET.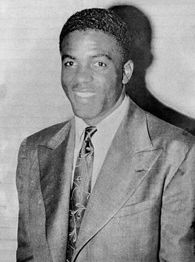 AP photoJackie Robinson's influence in college and major league baseball cannot be overstated.
1.
Jackie Robinson
, UCLA
Basketball, baseball, football, track
2. Arthur Ashe, UCLA
Tennis

3. Jesse Owens, Ohio State University '37
Track and Field

4. Dwight D. Eisenhower, U.S. Military Academy '15
Football

5. John R. Wooden, Purdue University '32
Basketball

6. Althea Gibson, Florida A&M University
Tennis, basketball, golf

7. Madeline Albright, Wellesley College
Swimming and Diving

8. Jack W. Nicklaus, Ohio State University '61 Golf
9. Eunice Kennedy Shriver, Stanford University
Swimming, track

10. Edward G. Robinson, Grambling State University
Football

11. Ronald Reagan, Eureka College '32
Swimming, football, track

12. Billie Jean King, Cal State, Los Angeles 1961-64
Women's Tennis

13. Tiger Woods, Stanford University
Golf

14. Gerald R. Ford, University of Michigan '35
Football

15. Rev. Jesse L. Jackson Sr., North Carolina A&T State University '64
Football

16. Kofi Annan, Macalester College
Track and Field, soccer

17. George H. W. Bush, Yale University '48
Baseball

18. Donna A. Lopiano, Southern Connecticut State University '68
Softball, basketball, volleyball, field hockey

19. Alan Page, University of Notre Dame 1963-67
Football

20. Pat Summitt, University of Tennessee-Martin '74
Basketball

21. Jim Thorpe, Carlisle Indian School
Football

22. Michael Jordan, University of North Carolina, Chapel Hill
Basketball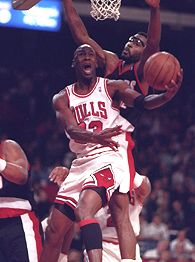 Jonathan Daniel/Getty ImagesMichael Jordan redefined the game of basketball.
23.
Paul Robeson
, Rutgers University
Football, basketball, track
24. Jerome "Brud" Holland, Cornell University 1934-38
Football

25. Arnold Palmer, Wake Forest University '54
Golf

26. Joseph V. Paterno, Brown University 1946-50
Football and basketball

27. Sally Ride, Stanford University '73
Tennis
28. Leroy T. Walker, Benedict College
Football, basketball, track and field

29. Donna de Varona, UCLA
Swimming and Diving

30. Bill Bradley, Princeton University '65
Basketball

31. Wilma Rudolph, Tennessee State University '63
Track

32. Dr. Denton A. Cooley, University of Texas '41
Basketball

33. Benjamin Spock, Yale University
Crew

34. Peter Ueberroth, San Jose State University '59
Swimming, water polo

35. Edwin Moses, Morehouse College
Track and Field

36. Robert J. Dole, Washburn University '52
Football, basketball, track

37. Patricia Berg, University of Minnesota
Golf

38. General Omar N. Bradley, U.S. Military Academy '15
Football, baseball

39. William "Bill" Cosby Jr., Temple University '64
Track and Field, football

40. Bill Russell, University of San Fransisco
Basketball

41. Byron R. White, University of Colorado, Boulder '38
Football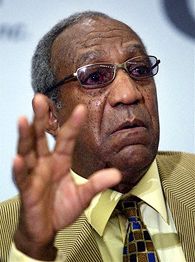 AP PhotoBill Cosby is an actor, comedian, activist and former student-athlete.
42.
Jackie Joyner Kersee
, UCLA
Track and Field, basketball
43. Dot Richardson, UCLA
Softball

44. Ann Meyers-Drysdale, UCLA 1974-78
Basketball, track and field and volleyball

45. Howard K. Smith, Tulane University '36
Track and Field

46. Roger T. Staubach, U.S. Naval Academy '65
Football, basketball, baseball

47. Knute Rockne, Notre Dame
Football, track

48. Richard Nixon, Whittier College
Football

49. Anita DeFrantz, Connecticut College '74
Rowing

50. Dean Smith, University of Kansas
Basketball

51. Mia Hamm, University of North Carolina, Chapel Hill
Soccer

52. Harold "Red" Grange, University of Illinois 1922-25
Football, track and field, baseball

53. Joan Benoit Samuelson, Bowdoin College '79
Indoor and outdoor track and field, field hockey

54. Rafer Johnson, UCLA 1955-59
Men's basketball and track and field

55. Dr. Cedric W. Dempsey, Albion College 1950-54
Football, basketball and baseball

56. Oscar P. Robertson, University of Cincinnati '60
Basketball

57. Val Ackerman, University of Virginia 1978-81
Basketball

58. Annika Sorenstam, University of Arizona
Golf

59. A. Lamar Alexander Jr., Vanderbilt University '62
Track

60. Betsy King, Furman University '77
Golf, basketball, field hockey

61. Norman Schwarzkopf, West Point University
Football, wrestling

62. Walter Jerry Payton, Jackson State University
Football

63. Kareem Abdul-Jabbar, UCLA '69
Basketball

64. Capt. Alan B. Shepard, Jr., U.S. Naval Academy '45
Crew

65. Judith Sweet, University of Wisconsin
Badminton

66. Mike Krzyzewski, West Point University
Basketball

67. Vince Lombardi, Fordham University
Football

68. Robert B. Mathias, Stanford University '53
Football, track and field

69. Bill Richardson, Tufts University '70
Baseball

70. Jack F. Kemp, Occidental College '57
Football

71. Calvin Hill, Yale University '69
Football

72. James Brown, Harvard University
Basketball

73. Larry Bird, Indiana State University
Basketball

74. Ervin "Magic" Johnson, Michigan State University
Basketball

75. Herman R. Frazier, Arizona State University '77
Track and Field

76. Dennis Hastert, Wheaton College
Wrestling

77. Otis Chandler, Stanford University '50
Track and Field

78. George P. Schultz, Princeton University '42
Basketball

79. Jerry West, West Virginia University 1959-60
Men's Basketball

80. Robert Kraft, Columbia University 1959-63
Football

81. William "Bill" V. Campbell, Columbia University 1958-62
Football

82. Kwaku Ohene-Frempong, Yale University '70
Soccer, track and field

83. William P. Lawrence, U.S. Naval Academy '51
Football

84. Arnold "Red" Auerbach, George Washington University
Basketball, baseball

85. Phil Knight, University of Oregon
Track and Field

86. Edward Temple, Tennessee State University
Track and Field

87. Archie Griffin, Ohio State University '76
Football

88. Thomas J. Hamilton, U.S. Naval Academy '27
Football, basketball, baseball

89. Dr. James Frank, Lincoln University
Basketball

90. Dawn Staley, University of Virginia 1989-92
Basketball

91. Michael H. Armacost, Carleton College '58
Football, basketball, baseball

92. Meg Whitman, Princeton
Lacrosse, soccer

93. Cheryl Miller, USC
Basketball

94. Wyomia Tyus, Tennessee State University
Track and Field

95. Theresa Edwards, University of Georgia
Basketball

96. Roosevelt "Rosey" Grier, Pennsylvania State University 1951-54
Football, track and field

97. Julie Foudy, Stanford University
Soccer

98. Robin Roberts, Southeastern Louisiana University
Basketball

99. Alpha A. Alexander, College of Wooster '76
Basketball, volleyball, tennis. lacrosse

100. Jerry Rice, Mississippi Valley State University
Football

SPONSORED HEADLINES
MORE COLLEGE SPORTS HEADLINES
MOST SENT STORIES ON ESPN.COM