The college softball cheat sheet
If you know nothing else about what's going on in college softball, Mary Buckheit urges you to scope this simple WCWS cheat sheet.
Saturday's games in the NCAA softball tournament's regional round featured 43 games between 64 teams at 16 sites across the nation. When the dust settled, the field had been pared down to 33 survivors, who were subsequently sent to bed with the tall task of falling asleep, knowing that more than half of them would play their last game of the season the next day.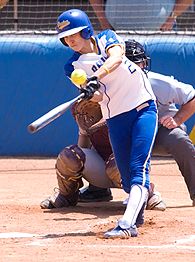 UCLA Sports InformationUCLA senior Andrea Duran is the Pac-10 Player of the Year and an Academic All-American.
Let's hope there were some sleep aids in those med kits.
Conversely, the University of Arizona and the University of Washington could enjoy visions of super regional sugar plums during Saturday night's slumber, as they had already punched their tickets to the next round.
Arizona is one of the favorites in this year's championship chase; they entered the tournament ranked No. 1 in the nation after knocking conference rival UCLA out of the top spot. Prior to the Wildcats storming the thrown, the UCLA Bruins had the No. 1 ranking under wraps for the previous five weeks.
The already super regional-bound Washington Huskies entered postseason play ranked 17th in the nation -- the lowest of their Top 25 Pac-10 conference counterparts.
Seven of the eight Pac-10 softball teams qualified for the NCAA Tournament -- two have already advanced to super regionals; four remain undefeated after two days of play (Arizona State, Cal, Oregon State and UCLA); and Stanford is still alive with one loss and a date with No. 22 Fresno State, who has already beaten the Cardinal once this weekend, 3-0.
The bracket was not as kind to little the fish as it was to the powerful Pac-10. All eight teams that were making their school's inaugural appearance (North Carolina State, Georgia Southern, Marist, Nevada, Portland State, Southern Utah, Tulsa and Youngstown State) were eliminated on Saturday.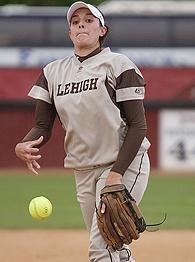 Mark CovelleSenior ace Kate Arico defeated A&M for the second straight day to improve to 15-6 on the season.
Top 25 teams who have already been knocked out of contention include No. 16 Texas A & M, No. 20 Baylor, No. 21 NC State, No. 23 North Carolina, No. 24 Kansas and No. 25 Auburn.
Hosts University of Florida and BYU have also been eliminated.
Some potential super regional blockbusters looming next weekend include Tennessee vs. Michigan, Arizona vs. Georgia, Texas vs. Washington and Alabama vs. Stanford.
Some of the most intriguing run-offs still left in this round include Michigan (undefeated in regional play) vs. Oklahoma, whose 1-0 loss came against the Wolverines on Saturday after nine innings of battle; LSU (undefeated in regional play) vs. Louisiana-Lafayette, whose single loss came against the women in purple after 10 innings on Saturday; and Stanford, who must take two from host Fresno State.
Finally, keep an eye on the little engine who could generate the biggest upset of the first round -- as Lehigh University (Bethlehem, Pa.) takes on UMass in the Amherst Regional. Mountain Hawk or Minutewoman, no matter -- we're certain to have Cinderella present in the super regionals.
Check out the full regional schedule for more results, information and game times, but give yourself some credit if you've already soaked up any of the action; you're ahead of the class with two weeks to go until eight teams pull into Oklahoma City for the 2006 Women's College World Series.
Let the cramming begin.
Mary Buckheit is a former college softball player and a regular contributor to ESPN.com. She can be reached at marybuckheit@hotmail.com
Page 2
Mary Buckheit started as ESPN.com's college intern in 2000. She signed on full-time as an editor in 2002 and became a Page 2 Columnist in 2006. She went west to cover life in California, the UFC, AVP, X Games and anything else she can dig up under the sun.
SPONSORED HEADLINES
MORE COLLEGE SPORTS HEADLINES
MOST SENT STORIES ON ESPN.COM