Cancer survivor model of strength to teammates
Rachael Donaldson was one of the most competitive players on Fresno State's softball team. That attitude -- and a little help from some friends -- was key in surviving cancer.
Updated:
September 9, 2006, 11:58 AM ET
By
Graham Hays
| ESPN.com
Do you define what you are, or are you defined by it?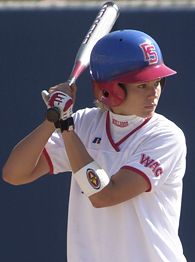 Joseph HollakRachael Donaldson's competitive nature helped her excel on the field and in the fight against cancer.
How do you ever really know, unless who you think you are is taken away?
Rachael Donaldson loved nothing more than crouching behind the plate while running the show for the Fresno State Bulldogs. But when cancer separated her from the game she loved, threatening to first take her leg and then her life, Donaldson took charge one more time, calling the best game of her life to beat the disease.
And although cancer ultimately left her unable to continue playing softball, Donaldson's courage and determination throughout her fight left an unequaled imprint on a Fresno State program that has produced national champions and Olympic gold medalists.
Before she found herself among the more than 1.2 million Americans diagnosed with cancer each year, softball was the defining demographic of Donaldson's life. The daughter of a woman who has coached and taught the game while raising a family and working full-time, Donaldson seemed to have the sport in her blood from the start.
"I've loved it since I was 5 and I started playing," Donaldson said. "I mean, I knew I wanted to play for a really long time. Once I got into high school, I started to notice a lot of the friends that I grew up playing with, they ended up quitting and not going on. But I knew that's not what I wanted to do, and I knew I wanted to take it and go further with it. And I think that was when I really realized that it was different for me than them."
Through a quirk of numbers, Donaldson's high school team found itself without a catcher during her sophomore season. She filled in; it turned out to be a perfect match. The unplanned position switch only increased her devotion to the sport by giving her a chance to be as involved as possible in every play.
"Once I started catching, I loved the control, I loved being the head person on the field," Donaldson said. "I directed, and I loved that feeling. I think that was the most important thing about being a catcher, and that's what I loved to do."
That's when Donaldson caught the eye of Fresno State coach Margie Wright. A veteran of 22 seasons at the school, Wright has amassed more than 1,000 wins and captured a national championship in 1998. Wright runs a program that is an annual contender for the nation's elite recruits. But as accustomed to top-tier talent as she was, she saw something in Donaldson that set her apart from her peers, even in the increasingly cutthroat world of big-time softball.
A Mother's Love
Sandy Baker, Rachael's mom, is the other star of this story. The woman who first coached Rachael on the intricacies of softball, Baker also coached her daughter during her fight against cancer.

"It's sort of like her mother took this disease on as though it were her own," Wright said. "And you know, you have four other children and you are a single parent and you're working, you're trying to do everything that a mother would do on a daily basis, even without knowing her child has cancer. I just have never seen someone remain so upbeat, so focused on getting Rachael through this. It was phenomenal.

"To me, when you see that kind of perseverance, you're motivated every day. Not only do you see it in Rachael every day, but she's clearly her mother's daughter."

Baker kept legions of concerned supporters updated with an online blog, through which her own remarkable odyssey serves as the background to Rachael's fight. Perhaps she was never actually in two places at the same time, but she may have come close.

"I've got brothers and sisters at home who also need her, and so she was just trying to be in so many places at one time, and I know it was so difficult for her," Donaldson said. "She did it, and she was amazing through the whole thing. She was just there for me in so many ways. … It helped out so much to have her there."

Having a coach who cared like a mom unquestionably helped Rachael, but nothing beats having a mom who can coach.
"She was such a competitive kid," Wright said. "She was just more competitive than any of the other kids out there at that point. And, you know, the competitive level has changed. You can see in a kid's eyes that winning is really important."
Donaldson, who said she sees some of her mom's traits reflected in Wright's toughness and attention to detail, knew instantly that she wanted to be part of the Fresno State softball family, even if that meant sacrificing some time behind the plate to fill a need in the outfield.
"When I came on my recruiting trip, I only took one trip and I verbaled on my trip," Donaldson said. "I knew I wanted to come here. My first impression of Coach Wright was she's tough but she knows what she's doing. I mean, you kind of just listen and go with it. But she is a tough coach."
Early on, the experience was everything the softball junkie could have dreamed of.
"Especially at Fresno State," Donaldson said. "Playing on our field and with our fans, the people here, and how much support you get, it was even more than I thought. It was huge. … The players, they're just like sisters. I mean, you see them so many times throughout your day. I don't know, it is like you are family; it's my second family, it really is."
All of which would make for a good story about a talented and committed player who made the right choice in the recruiting process and could earn her college degree while serving as a valuable part of a national contender. Just like hundreds (and thousands, if you take out the part about being a national contender) of other players every year.
But just as fate revealed to Donaldson where she truly belonged on the softball field, circumstances would again intervene to show her just how important her coach and softball family could be -- and show them a teammate with truly unique strength and character.
During the course of a routine physical before fall practice in 2004, the medical staff noticed a lump on the back of Donaldson's left knee. Concerned, they had her undergo an MRI that revealed what appeared to be a benign tumor. Donaldson said doctors told her it was unlikely to grow. Surgery was ruled out, given the proximity to nerves that could be damaged, and she continued training for the upcoming season.
But the lump began to grow and become more sensitive during the spring of 2005, producing pain when any degree of pressure was applied. More tests were scheduled for after the season, but first the Bulldogs had to get through the NCAA Tournament.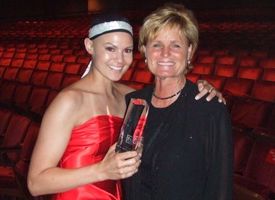 Rachael DonaldsonCoach Margie Wright was there to celebrate Donaldson's courage at the Central Valley ESPY award ceremony.
"It got really sore," said Donaldson, remembering her postseason experience. "It started to actually hurt a little bit just walking, just from vibration in my knee when I walked. That actually started to make it hurt."
The turning point came when Donaldson was hit by a pitch during the regionals.
"Rachael, you know, nothing ever bothered her," Wright said. "She just wanted to play and contribute and she just fought through [the pain]. And I remember then when we were playing in the regional game, and that day -- it was located right behind her left knee, on the side behind her left knee, and she's a right-handed batter, so the pitch hit her right on it. When she went to first base, the kid could hardly walk. And I called timeout, and I said, 'Rachael, I could get a runner in for you, this is not a big deal.'
"It wasn't really clicking into me that it hit her right where she had that knot until she said something to me."
Cal eventually ended Fresno State's season, sending the Bulldogs home, or in Wright's case, out on the recruiting trail.
Most important, the end of the season sent Donaldson to the doctor after the situation continued to worsen. At one point soon after the season, she called Wright and told her coach she couldn't feel the foot on that leg at all.
"And then I finally went to go see the doctor, and that was when he was just like, 'I think it's more aggressive than a benign tumor, and we're going to get you in to see Dr. O'Donnell,' who is an actual oncologist surgeon.
"And I went in to see him, and he said it was cancer. So it all happened pretty fast."
An athlete in the prime of her career and the prime of her youth, Donaldson couldn't immediately process exactly how the doctor's words were about to change her life. Prior to that moment, she hadn't known any family or friends afflicted by the disease that touches so many lives.
"My first thought, I mean, I was in shock. I really could not believe it, because when he first told me, it was just, 'All right, well, we're going to have to amputate your leg, it's cancer.' And I was just like, 'You're going to cut what off?'
"It didn't click to me, and finally he explained it. And I was in shock, I really couldn't believe it. I thought I was too young, I didn't ever think that it would happen to me. I just could not believe it."
Diagnosed as stage IV soft-tissue sarcoma, the cancer had progressed so much that doctors weren't initially sure they would be able to save the leg if they were to save her life. But even while pestering the doctors with questions about the specifics of her condition, Donaldson wasn't able to avoid a bit of denial.
"It took me a while to even believe that I really did have cancer," Donaldson said. "I'd go through the first three treatments and I'm like, 'I really don't think I do; I think they're just saying that.' But, I mean, a year later, obviously I did, but it was still really hard to believe and understand what was really going on."
For Wright, who prides herself on running a program that truly lives up to the concept of team as family, the news was a devastating blow. Unlike Donaldson, she had experience with the disease, having lost her mother to breast cancer.
"It was devastating to me to think that that could happen to someone so young and so vibrant, having so much to live for," Wright recalled.
But the same competitive spirit that initially drew Wright to Donaldson surfaced almost immediately, even if the coach knew better than the player that the challenge ahead dwarfed obstacles like hitting against former UCLA ace Keira Goerl.
Summing up Donaldson's resolve, Wright said, "She made up her mind, 'OK, I've got it and I'm going to beat it.' That's really how she approached it, and so the rest of us, we really had no choice but to approach it the same way. Even though the reality is a little closer to someone like me, when you've known people who have lost their lives and you've dealt with it yourself.
"Now it was a much bigger issue to me deep down inside, but I was never going to let anyone know that, because what Rachael wanted and needed was everybody to believe she was going to beat it. And we all did."
Although she was unable to handle telling her teammates about her cancer diagnosis -- Wright delivered the news at her request -- Donaldson soon found comfort in remaining a part of the team. With treatment taking place in San Francisco, far from her home in Southern California, Donaldson continued living in Fresno for as long as possible. And whether it was playing catch at practice -- while sitting on a bucket if rounds of chemotherapy had robbed her of too much energy -- or just watching movies with teammates in an effort to live as normal a life as possible, Donaldson found she was still very much part of the team.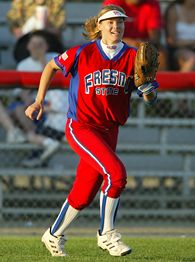 RPI Sports InformationDonaldson hopes to return to the field as a coach.
"There were a lot of times where -- I don't know, I think anybody my age, getting cancer at this age, you kind of sit there and see what people are doing at your age," Donaldson said. "You know, going out and having fun and playing softball -- what you want to do -- and it's kind of like you do have your lows at that point, because mentally it takes a huge toll on you, I think.
"You're sitting there doing something totally different from what everybody else will ever probably have to do in their life. And you just have a totally different look on things because of that. I don't know, there were a lot of highs and lows, but being up here at Fresno with my team and stuff, they all helped [me] get through everything. They helped out a lot."
Her friends on campus even helped her turn the loss of her hair into a memory she can cherish. Wright recalled how Donaldson grew self-conscious when she started losing her hair and didn't want to come to practice. But a friend on the baseball team stepped up and shaved his head in a show of support.
Donaldson usually speaks in a strong and confident voice, the kind of voice a pitcher might need to hear when she suddenly finds the bases loaded and a top hitter coming to the plate. But as she recounted the incident, just one of the many small moments that meant so much to her during the arduous process, Donaldson smiled and her voice softened: "He shaved before mine, and he came over and he was like, 'You shouldn't be the only one with a bald head.' And he made me shave it, and I cried the whole time, but I did [it]."
As much as sharing some of her burdens helped, Donaldson ultimately had to confront the biggest challenges on her own.
On March 6 of this year, which also happened to be her 21st birthday, Donaldson underwent more than six hours of surgery to replace her left knee, reconstruct muscles and remove portions of the tibia and fibula damaged by the cancer.
Once she had recovered sufficiently from that procedure, she returned to the hospital on May 22 for an extensive round of chemotherapy and a bone marrow transplant. Although she broke the hospital's record for recovery when she was discharged on June 15, the process pushed her to the limit.
"'Coach, I don't think it's a good time for visitors right now, and it would be such a hassle for you,'" Wright recalled Donaldson saying in the days after the transplant, when any visitors had to go through an extensive decontamination process. "And I said, 'OK, well, I'll just stay in touch.' And she goes, 'Probably texting me is better, because I really just don't have the energy to talk.' That's the one time that I was really a little concerned for her mental, for how she felt about it mentally and emotionally."
Of course, two days later, Wright recalled, Donaldson was back to her normal ebullient self. The disease could take away softball and it could take away a day or two of her cheerful personality, but at best it was fouling off pitches against a catcher who had its number.
With cancer now in remission, Donaldson still faces at least six more months of rehab for her leg, but after spending a year focusing exclusively on the daily struggle of fighting cancer, she's savoring the opportunity to start planning a future. And the young woman who said she was terrified of needles before going through an ordeal that involved things unimaginably more painful than a shot, doesn't want to leave the hospital for good.
"I've put a lot of thought into it, and I want to do nursing, I really do," Donaldson said. "And I want to do pediatric oncology, probably because I went through it and I just feel like it would be a very rewarding job because you work with so many kids every day. And it's kind of like I know what they're going through. That's what I really want to do, so I'm going to continue with school and go into the nursing program and go on from there and see where it takes me."
Not that softball is a part of her past. Once nursing school is squared away, Donaldson wants to coach. After all, first loves never fade away entirely.
"I will keep softball a part of my life, I always will," Donaldson said. "I know I'll be up here [at Fresno State] watching as many games as I can. The friends that I make here, they'll always be my teammates, even when they're done. It will just always be a part of my life, because it has been since I was 5."
And Donaldson will still be a part of the sport she loves, through the teachings of her coach at Fresno State.
The Bulldogs will continue to work on covering first on the bunt and laying off the rise ball, and somewhere along the line their coach will probably invoke the names of former legends in teaching them how to do those things the right way. But the inspiration for the most important lesson she can teach will be a player who doesn't hold any records for home runs or championships.
"Winning and losing sort of took on a different life for me, and I think that's sort of how I want to get that approach to anyone that I talk to," Wright said. "Because particularly with my players, without bringing this situation up, just making them understand that life is a lot more valuable than trying to create drama when it really isn't there. When you think about someone like Rachael, that now her softball career is over, these young people that I'm coaching now need to understand it could happen to them. It just puts everything in a different perspective."
Willing, but not entirely comfortable in the spotlight, Donaldson isn't sure what to make of her fame.
"If I was going to have to go through something like this, I would want someone else to kind of look at me, in any way, as motivation or inspiration, whatever it is," Donaldson said. "That's what I want out of it. It kind of takes the focus off of me in a way."
Leave it to a catcher, the player always involved in the play but rarely the focus of attention, to see things that way.
Graham Hays is a regular contributor to ESPN.com's college sports coverage. E-mail him at Graham.Hays@espn3.com.
espnW.com
Graham Hays covers college sports for espnW, including softball and soccer. Hays began with ESPN in 1999.
SPONSORED HEADLINES
MORE COLLEGE SPORTS HEADLINES
MOST SENT STORIES ON ESPN.COM