Yale star balances school, national powerhouses
English scholar, future doctor and Yale soccer legend Christina Huang has made the most of her time in New Haven. But she still has work left to do.
Updated:
September 14, 2006, 5:12 PM ET
By
Graham Hays
| ESPN.com
I have seen the moment of my greatness flicker,
And I have seen the eternal Footman hold my coat, and snicker,
And in short, I was afraid. …

Would it have been worth while,
To have bitten off the matter with a smile,
To have squeezed the universe into a ball
To roll it towards some overwhelming question
-- "The Love Song of J. Alfred Prufrock," T.S. Eliot
Tick. A pass slips through defenders and finds you suddenly all alone at the top of the box. Tick. Legs worn down after 90 minutes, you strain to help your team break an overtime tie. Tick. Games rolling by, you race to mesh new and old in time to battle conference rivals. Tick. Games become seasons, seasons become years and years become a career coming to a close.
Tick.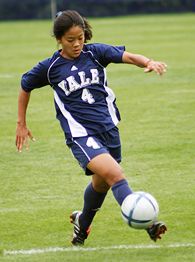 Yale AthleticsChristina Huang chose Yale based on the outcome of one game.
Choosing to play soccer in the Ivy League requires an early awareness of the passage of time, the same conscious recognition of the present's fleeting fragility that beguiled Eliot and poets from Virgil to Ani DiFranco.
Players at schools like Yale trade the present relief of athletic scholarships and big-time athletic budgets for what they hope will be the future reward of a degree from one of the nation's elite schools and the connections and opportunities that accompany it.
But trading away one piece of the present makes what remains no less meaningful.
Christina Huang chose Yale with an eye toward the future, but as the clock ticks down on the captain's final season, the weight of the past and the pressure of the present are just as real for her as they are for players from Santa Clara to Florida State. No matter your awareness of it, time passes at the same rate for all of us. Even for an English major with an affinity for the verse of Wordsworth and Keats and a future in medicine. Even for someone who became one of the best players in the country and the face of a program.
But for all the big wins Huang has been a part of at Yale, helping lead the Bulldogs to the program's first outright Ivy League title, an upset of in-state powerhouse UConn and two appearances in the NCAA Tournament, one of the program's biggest wins came before she arrived.
More accurately, it came and so she arrived.
A top recruit out of Maryland, Huang played for one of the nation's top club teams and could have found a home with any number of top-tier programs at the time (Duke, for one, made her short list). But after realizing she didn't have an interest in pursuing a professional career (the WUSA folded weeks into her freshman year), Huang focused on finding the best place to prepare for life after college and narrowed her choices to Princeton and Yale.
Deciding between the two, however, proved to be difficult enough to require going beyond the kind of selling points schools usually include in brochures.
As Huang recalled, "I even made up a list of numbers -- I assigned numbers of importance to every aspect of everything: the bathrooms, the food, the coaches, the players, the field, the weather, everything. And I still couldn't decide."
So she used Harvard as the tiebreaker. Princeton had beaten Yale that season, but Harvard had beaten Princeton. With the annual Harvard-Yale showdown looming, Huang decided to throw her lot in with the result. If Harvard won, she would go to Princeton. If Yale won, she would head to Yale.
Weekend Recap
Space is valuable on a bus ride up I-95 from Newark, Del. to New Haven, Conn. where the only real scenery comes in a person's dreams, but even dozing Bulldogs were likely more than willing to make room for one extra passenger on the return trip from this weekend's tournament at the University of Delaware.

For the first time this season, the Goddess of Wins was along for the ride.

After losses to Duke and North Carolina during the season's opening week, coach Rudy Meredith attempted to lighten the mood before games against Delaware and Montana by telling his players the only cure for the soccer virus that had them down was goals. And while a tie would stabilize the virus, only scoring more goals than the opposition would truly cure them and bring forth the Goddess of Wins. Meredith even enlisted Mary Kuder's artistic talents to generate an image of the deity.

Sometimes you need to get your team to laugh, even if it's at you.

On the field, the Bulldogs were all business in earning a 1-1 tie against Delaware on Friday and a 1-0 win against Montana on Sunday. The latter performance was all the more impressive considering the frustration engendered after Yale's draw with Delaware despite outshooting the hosts 17-6 and generally controlling play throughout regulation and the two 10-minute overtime sessions.

Settling into the 3-4-3 formation they used in the second half of the loss to North Carolina, the back line of Sophia Merrifield, Hayley Zevenbergen and Kuder played well all weekend. That all three have good size was far more apparent as a plus in this tournament than it was when they tried to contend with the all-field speed of a team like UNC.

And while Crysti Howser was limited by a muscle pull to just the first half of the opening game, the offense generated enough chances to suggest goals will eventually come with more frequency.

"I was very happy with our creativity in the final third," Meredith said. "We created a lot of great goal-scoring opportunities -- maybe didn't score as many as I would like, but we created a lot of chances in front of the goal. So if you keep doing that, 90 percent of the time you're going to score more than one goal."

Sophomores Emma Whitfield, a tireless worker who scored the winner against Montana, and Maggie Westfal, who played a more attacking role to perfection with Howser out, stood out on offense throughout the weekend.

Freshman Leslie Perez also left her mark on both games. The fastest player on the field from any of the four teams in action (Yale did not play Lehigh), Perez helped set up both of Yale's goals on the weekend with runs down the flank and solid crosses.

Record: 1-2-1 Next: Sep. 15, vs. UMass
"I just put it all on one game basically," Huang said during a break between games last weekend, with enough of a smile to make you wonder whether she would have invoked the "best two out of three" caveat had the Crimson prevailed.
But Yale ultimately won the game, giving coach Rudy Meredith arguably the top recruit of his tenure.
"I like the city a lot," Huang said of her initial reaction to New Haven, a cross between the bucolic settings of Dartmouth, Cornell and Princeton and the urban environments of Harvard, Columbia and Penn. "People complain about it being dirty or grungy, but it's really not that way. Some parts are, but every city has its down-and-out areas. And I think it keeps you in touch with what's really going on. The thing about Princeton was that it was like in a country club, and you're worried about kind of forgetting about everything else that's going on in the world."
Unfortunately, while many freshmen fight homesickness, Huang initially struggled with a strong case of buyer's remorse during a season that introduced her to a new side of the sport: losing. Making matters worse, Princeton advanced to the national semifinals that year.
"Christina was definitely the best player," said senior Mimi Macauley, Huang's best friend on the team. "That was very clear from the very beginning. She was used to winning and we weren't winning - we went 9-7 -- and she was really frustrated with that. … She just wasn't used to -- she thought that going from club to college was going to be a step up. And she came from the best club team in the nation, so it was a step down coming to Yale. And that was really, really hard for her."
Life off the field also proved a challenge for the freshman, although for slightly different reasons. While the academic load wasn't anything more than she encountered in high school at the prestigious Sidwell Friends School, other "electives" proved too much to resist.
"I think what was more distracting was the social environment," Huang said with an embarrassed -- although not entirely remorseful -- grin. "My class, we were really, really close to each other, so we were together all the time and went out all the time and it was kind of distracting to my grades. But, I mean, it was freshman year and you kind of learn, and your parents see your transcript and they get on your back."
Now an English major on track for medical school after taking the Medical College Admission Test during preseason training in August, Huang has learned to balance school and pleasure -- she still remains a fan of Toad's, a New Haven institution for concerts and dancing. But she never had any interest in learning how to balance soccer and mediocrity.
"Instead getting down on it, she was just like, 'Well, I'll make the whole team better.'" Macauley said. "So I think she started becoming very involved in getting the good players here and working that much harder to make sure that everyone steps up to her game.
"She's still the best player, but we're a little closer."
Although Huang sounds like someone who doesn't really regret cutting loose and having too much fun for a few months as a freshman, she sounds earnestly chagrined when reflecting on her early days as an uncompromising and outspoken newcomer on the field. You get the sense she doesn't mind the eventual outcome that came from pushing everyone involved with the program to aspire to better things, but perhaps she wonders about bridges burned and lessons learned.
"Sometimes you need to be humble and learn your place, and I don't think we really acknowledged that," Huang said of her class. "But in another sense, we were not going to just be satisfied with going 9-7-1 each season. No one wanted that feeling."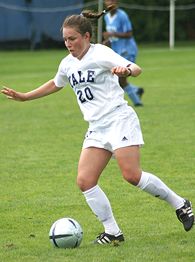 Yale AthleticsMimi MaCauley is part of a senior class that has left its mark on Yale women's soccer.
With the help of a number of players in the classes that preceded hers -- she listed Laurel Karnes, Jamie Ortega and Sarah Walker as three prime examples -- the culture at Yale began to evolve into something special.
"Our class is different, in the sense that we're all very proactive about changing things," Huang said. "Not necessarily about the team, but a lot of girls in our grade are very into, very aggressive about getting in shape, about staying in shape and being fit. Our attitudes on the field were more competitive."
For her part, Huang has racked up honors like few before her. First-team All-Ivy as a freshman and again in each of the subsequent two seasons, she entered this year as one of 25 players on the Hermann Trophy Watch List, the game's top individual honor. Along with Hofstra's Sue Weber, she was one of just two players from outside the traditional soccer power conferences to earn that distinction.
Of course, the flip side to all that success comes in the form of the expectations on Huang and the team, expectations placed on them by others and by themselves. From an early preseason practice through a tough opening weekend against North Carolina and Duke and again over the weekend, just hours before Yale picked up its first win of the season, Huang has sounded like someone with a lot on her mind.
"It is, because you want to make the most of it," Huang said when asked if it has really dawned on her that she's in the midst of her final season. "I think what's even more dawning than that is the pressure of staying on top and maintaining our winning record.
"I plan to fully enjoy senior year, but it's hard when there's a lot of pressure. It's a pretty stressful environment when there's only one captain, and I wish that all the seniors could be sharing the duties with me. I don't know, for some reason there's a lot more pressure with that position."
Her mom, as moms are supposed to do, even worried before Sunday's game against Delaware about her daughter losing weight over the summer while stressing about the upcoming season.
But when it comes to the pressure of leading the team, the captain is probably her own toughest critic. While not an overtly "rah-rah" personality, Huang appears to lead in much the same way Meredith leads as coach: speaking up when necessary, but generally respecting the focus and self-discipline of her teammates.
"Christina is always willing to help everybody," freshman Leslie Perez said. "Her leadership role, she plays it perfectly."
On the field, playing midfield after a brief stint on defense (where she played frequently during her first three seasons) against North Carolina, she still leads by example. Certainly against Delaware on Friday, she looked every bit a Hermann contender. She constantly hounded Delaware players to win balls while helping the Bulldogs string together long series of passes that helped them control the action and outshoot the Blue Hens 17-6.
And with the team in need of a confidence boost following a scoreless opening weekend, Huang didn't miss when supplied with a golden chance in front of goal off a pass from teammate Crysti Howser.
Time is running out for Huang, just as she knew it ultimately would in making the decision to attend Yale. And there is little doubt she feels the countdown in her head, battling with her desire to complete what she and Yale's other seniors began when they arrived.
But the tick of the clock is a little less ominous during those 90 minutes on the field.
"When you play, it's still the same," Huang said. "When you're on the field, you forget everything, so it's really nice."
Graham Hays is a regular contributor to ESPN.com's soccer coverage. E-mail him at Graham.Hays@espn3.com.
espnW.com
Graham Hays covers college sports for espnW, including softball and soccer. Hays began with ESPN in 1999.
SPONSORED HEADLINES
MORE COLLEGE SPORTS HEADLINES
MOST SENT STORIES ON ESPN.COM