Campus Call: What's an in-season day like?
Think you are busy? Take a peek into a day in the life of ESPN.com's student-athlete panel.
Updated:
October 16, 2006, 6:12 PM ET
By
ESPN.com
Each week, ESPN.com surveys our student-athlete panel to see how they feel about a topic that directly affects collegiate life.
What is an in-season day like?

Tidwell
"The academic week at a military academy is trying for everyone, especially varsity athletes. I usually get up around 6:30 and attend morning formation and inspection at 7:00. I go to classes all morning, have a half hour for lunch, then attend football meetings until it is time for afternoon classes. Following classes, I attend special teams meetings and then go to practice and lifting. I usually get done with evening meal around 1900 [7 p.m.] and return to my room to study shortly thereafter. I usually complete all of my homework and military obligations in time to get to bed between midnight and 1:00 a.m. I get up the next morning and do it all again until Friday rolls around and it's time to go to the team hotel and get ready for the game."
--
Tyler Tidwell
, Navy Football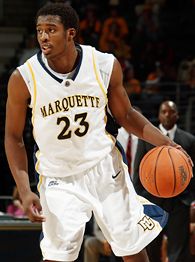 Marquette AthleticsMarquette's season hasn't kicked off, but Wesley Matthews knows what to expect this season.
"Between basketball and school there are very few hours of spare time. I take class early and usually get up around 8:30 a.m., unless we have a morning lift or workout scheduled. Then it's class until 12:50 p.m., practice for the next two to two and half hours. Following practice I'll spend time with our training staff and then it's off to dinner and study hall. Our media guy is the best in the business and really manages the requests, knowing how much time we spend on basketball and school."
--
Wesley Matthews
, Marquette men's basketball
Schneider
"Once the season is in full gear, my daily schedule becomes pretty hectic. On average, I'll be up by 9 a.m. and have classes for at least three hours during the day. After that, I'm usually at the rink from 1:30 p.m. to about 6 p.m., depending on if we have a weight-lifting session after the practice. By the time I'm done with dinner, I am usually back in my room by 7 p.m. At BC, there are fewer nightly homework assignments that you need to attend to, but rather several bigger projects or test every other week or so. That means I can sometimes do less than an hour of work, or do more than three depending on what is due. The weekends are pretty filled up as well as we play Friday/Saturday games. That means you wake up, practice and then relax until the game, so starting Friday morning, we never have any free time until after the game Saturday night. When you throw in travel as well, it is a pretty chaotic schedule. Overall though, I enjoy staying busy and challenging myself. On our days off we don't know what to do with ourselves because we have so much time, so maybe it is better that we have such rigid schedules because it allows to you plan your time more efficiently."
--
Cory Schneider
, Boston College men's ice hockey
Henley
"During the season I will generally sleep in until classes or a game forces me to get up. I will go to bed about midnight on nights before games and not much later on non-game nights. I spend probably three to four hours studying or doing homework during the week. Those numbers really depend on the week; if it is a week full of tests and homework those numbers will obviously be a lot higher, but if there aren't any tests and just a little homework, then I won't study much at all. We have four games a week, and practice for two to three hours on non-game days. We get one day off a week, which is usually spent catching up on school work or sleep. There is usually enough free time to enjoy yourself. I would say that there is about two to three hours per day that I have to myself to do with as I please. Which usually means I am playing video game. Halo 2 is my game of choice."
--
Tyler Henley
, Rice baseball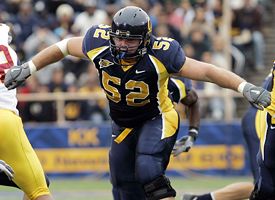 Cal AthleticsScott Smith balances school, friends and manning the offensive line for the No. 10 Bears.
"A typical week during football season is best characterized by two words: Undeniably busy. I'm usually awake by 7:30 a.m. and attend lifting from 8 to 9 a.m. After lifting I shower and head to class for roughly two to three hours a day, fitting in lunch at some point, and I'm required to be back at the stadium by 1 p.m. for treatment (for injuries), taping, and getting dressed for practice. At 2 p.m. the offensive line (my position) has a meeting that goes until about 3:30, after which we grab our helmets, get some final last minute taping done and are out on the field by 3:45 p.m. for a walk-through. At 4 p.m. practice begins and runs through 6:30-6:45, followed immediately by an individual meeting with my position coach in regards to my academics. Then we can shower and change, immediately followed by dinner. On average I leave the stadium around 7:50 p.m. I go home and if I have no other commitments to any extracirricular activity, then I steal half an hour for myself to relax in front of the TV and then get directly to studying. With any luck I'm in bed by midnight dreaming about how to better accomplish my blocking and dominate the team we're playing that particular week (make sure you tell my coach I said that) and then the entire process repeats itself. It sounds crazy, but life is good!"
--
Scott Smith
, Cal football
Wileman
"A typical week in-season is very hectic. I get up everyday at 7 a.m., so I can eat and make it to school by 8 a.m. Practice starts at 8:30 and goes until 10:30 everyday unless we are traveling. After showering and getting dressed, most of the team goes to eat in the cafeteria. On Monday, Wednesday and Friday I have class from 12 to 2 p.m. and then I have the rest of the day to myself. On Tuesday and Thursdays I have class from 12:30 to 5 p.m. When I am not at training or in class, you can probably find me studying or watching television. I probably spend two hours a day studying. During season it is hectic, but at the same time I have a lot of free time to relax. SMU is a great place to go to school and play soccer. Both my teachers and my coaches understand the stresses of being a college student and they try to help me in any way possible."
--
Chase Wileman
, SMU men's soccer
Murphy
"Practice is every day of the week and usually one day on the weekend, and we lift two times a week. Many players hit the training room before and after practice. Games are usually once or twice every week. Classes usually go until practice time, depending on your schedule, then training room/practice, then dinner, and then studying until bedtime. Most spare time is during the weekends, unless we are traveling, but it varies from person to person. I think student-athletes thrive on being busy, we are more efficient with the less time we have and otherwise we would be bored!"
--
Meghan Murphy
, Notre Dame women's lacrosse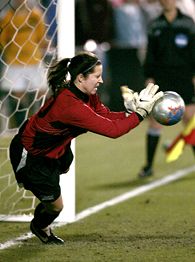 Portland Athletics Cori Alexander keeps her cool in goal during Portland's title defense.
"When we are in-season the time seems to fly by. You have to be very efficient and organized with your time. My usual wake up time is 7 a.m., my body just seems to be set to that schedule. On Mondays, I have student teaching in the morning, and then I coach individuals, followed by weights and running in the afternoon, then class until 10 p.m. Tuesdays, class in the morning, practice in the afternoon, I try and get some work done in the evening. Wednesday, speech coach in the morning, practice in the afternoon, then class until 10 p.m. Thursdays, class and speech coaching in the morning, practice in the afternoon, class until 10 p.m. Fridays are gamedays, if I am not picking up my parents from the airport, I am relaxing. Saturdays we have a light practice and then I usually go out with my family or spend some time with teammates and friends. Sunday is gameday, so I relax. Once the game is over, it is back to the books. I guess it is easy to see why the time flies, my days are fairly busy. I think student-athletes become quite good at time management."
--
Cori Alexander
, Portland women's soccer
MORE COLLEGE SPORTS HEADLINES
MOST SENT STORIES ON ESPN.COM