Hockey East rivalry offers postseason preview
Four weeks remain in the regular season, but New Hampshire's 2-1 victory over Maine on Saturday had the feel of playoff hockey, writes David Albright.
Updated:
February 5, 2007, 2:27 PM ET
By
David Albright
| ESPN.com
DURHAM, N.H. -- The calendar said early February. The atmosphere, intensity and frenzy said something completely different.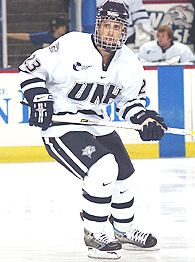 Mike Silverwood PhotographyUNH leading scorer Trevor Smith (15 goals, 33 points) picked up one major and two minor penalties in the Wildcats' win over Maine.
Playoff hockey.
Anyone inside the Whittemore Center on Saturday night got a taste of what's to come in the next two months, as No. 1 New Hampshire rebounded from a Friday night loss to No. 9 Maine with a hard-fought 2-1 win in front a standing-room-only crowd that was probably closer to 7,000 than the listed capacity of 6,501.
"A big win for us," UNH coach Dick Umile said. "It was two good teams. It was playoff hockey. So for us to win two out of three against Maine [this year], obviously we're excited."
The victory kept the Wildcats four points ahead (with two games in hand) of Boston University in Hockey East. And it served notice to the rest of the league (and the country) that UNH won't be an easy out come NCAA Tournament time -- especially when the Wildcats will start the postseason at the Verizon Wireless Arena in nearby Manchester.
And if UNH plays its way into April, many inside and outside the program will point to the first Saturday in February as the starting point of the journey.
"You lose that game last night and it sends a message to everyone else," UNH goalie Kevin Regan said. "You come out strong the next night and get a big win and it really makes the whole league take notice."
It was hard not to notice the frenetic pace of a game that included 87 shots, 24 penalties and one major injury.
The biggest star of the night was clearly Regan. The Hockey East Player of the Month for January recorded a career high 46 saves in improving his record to 18-4-1 with a 2.02 goals against average (sixth in the nation) and a .935 save percentage (tied for second nationally).
Particularly impressive was a second period onslaught by Maine when the Black Bears fired eight shots on Regan during a 5-minute power play, but couldn't find the back of the net.
"He played unbelievable," said UNH center Mike Radja, who scored the game-winner on a second period power play. "But it's not a surprise when you see how he prepares. He's the first guy to the rink every game and he does all the little things. So I'm not really surprised how he played. He's been our backbone all season."
For the game, the Wildcats held Maine's best-in-the-nation power play to a 1-for-7 performance (19 shots).
As good as Regan has been, UNH clearly brings more to the table than a reliable backstop. The Wildcats have a great mix of offense (3.88 goals per game, third nationally) and defense (2.00 goals allowed per game, fourth nationally).
And if Saturday was any indication, they also have an edge to their play. Umile and the UNH faithful probably could have done without the late charging penalty with 5:30 to play, but the Wildcats responded and held on for the victory.
"Those are the types of games you have to win if you want to win the big one," Regan said. "We're not going to blow anyone out the rest of the way. They're a good team and if we want to get where we want to be, we've got to beat good teams and there are going to be close games and there are going to be tough games.
"The last couple years, we didn't have that toughness down the stretch and I think we're showing that [we have it] this year."
"Those are the types of games you have to win if you want to win the big one. We're not going to blow anyone out the rest of the way. They're a good team and if we want to get where we want to be, we've got to beat good teams and there are going to be close games and there are going to be tough games."
-- UNH goalie Kevin Regan
Maine showed some toughness too, which had been absent of late. The Black Bears spent some time this season at No. 1, and as recently as three weeks ago, they were still sitting at No. 2 in the polls.
But a 2-4 stretch heading into the UNH weekend (including three home losses) left Maine searching for its identity.
"We talked about how far we've come in the last eight days," Maine coach Tim Whitehead said. "We've really made a lot of progress and despite the [loss], it was a very strong effort and a very good focus from the team. We went right to the last whistle and had a lot of chances to tie it up. We're heading in the right direction again and that's what we're very excited about."
Tempering that excitement was a right groin injury to goalie Ben Bishop after a collision with UNH's Trevor Smith early in the second period. Bishop stayed in net for another two minutes before being lifted for Dave Wilson.
The little-used freshman (five relief appearances, 5.10 GAA, .688 save percentage) got quite an introduction to big-time college hockey. Although Wilson gave up two power-play goals in his first eight minutes of action, he settled down and made some key saves the rest of the way to keep Maine in the game to the end.
"I thought he responded very well," Whitehead said. "It was a tough adjustment. I was very proud of how he competed. He was thrown into as tough a situation as you could be when you come off the bench against UNH at UNH. He made some big stops and really played with composure."
With Bishop noticeably limping as he made his way to the Maine bus late Saturday night, Wilson could see his first start this Friday night against Vermont.
As the jockeying for Hockey East seeding begins, how the Black Bears respond to this latest setback could go a long way in determining whether they have the pieces in place to make another deep postseason run.
Although there are four weekends of regular-season play remaining, that's just one of the many subplots that makes it feel like the playoffs are already here.
David Albright is the senior coordinator for college sports at ESPN.com. He can be reached at david.albright@espn3.com.
SPONSORED HEADLINES
MORE COLLEGE SPORTS HEADLINES
MOST SENT STORIES ON ESPN.COM