Faceoff Classic seeks to boost lacrosse's visibility
The inaugural Faceoff Classic features two of the nation's best lacrosse rivalries -- Virginia-Syracuse and Johns Hopkins-Princeton.
Updated:
February 14, 2007, 12:10 PM ET
By
Christian Swezey
| Special to ESPN.com
Lacrosse's NCAA championship weekend -- also known as Memorial Day weekend -- is the sport's hallmark event. It has set new attendance records in each of the last four years at Baltimore's M&T Bank Stadium and Philadelphia's Lincoln Financial Field.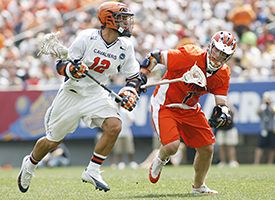 Inside LacrosseSyracuse gets an early shot at the defending champs at the Faceoff Classic.
Yet the media attention and attendance that the championship weekend receives has yet to spill over into the regular season. That could change this season when Inside Lacrosse Magazine brings the nation's top four teams -- No. 1 Virginia, No. 2 Johns Hopkins, No. 3 Syracuse and No. 4 Princeton, the owners of every national title since 1992 -- to Baltimore's M&T Bank Stadium for a doubleheader on March 3 for the inaugural Faceoff Classic. (Both games will be televised on ESPNU.)
Virginia and Syracuse form arguably the sport's most exciting rivalry, two run-and-gun teams that have played 17 times since 1994, including an epic 22-21 SU win back in 1997 that stands as one of lacrosse's greatest games.
Hopkins and Princeton form one of the sport's oldest and most storied rivalries, as they started playing each other in 1890 and have combined to win 14 NCAA titles. Ten years ago, they also met up in a legendary game, when a freshman named Josh Sims stuck a leaping, behind-the-back goal in overtime for a Princeton win.
Since these rivalry games have been played on the same weekend every season since the mid-1990s, it didn't require a big schedule change to put this event together. The tricky part came in putting two games in Baltimore that have always alternated between each school's campuses. But it turned out to be much easier than expected, which speaks to the enthusiasm and potential for the games.
"We're giving up a home game against Johns Hopkins," says Princeton coach Bill Tierney. "That should tell you about our commitment and our belief in this event."
| | | |
| --- | --- | --- |
| | " | The message is so clear that it sells itself: The four best teams in the nation. In one stadium. On opening day. " |
| | | — Inside Lacrosse Magazine founder Rob Carpenter |
Lelan Rogers, Syracuse's director of lacrosse operations, added, "We're giving up a home gate against the defending national champions. We think it's a great opportunity for the sport. It's a great chance for people to see four of the elite teams in one place. Lacrosse has never had an opening weekend like that."
The Princeton-Hopkins and Virginia-Syracuse games are a rarity in college sports -- critical regular-season games that are played within the first few weeks of the season.
This first weekend of March has always been special in lacrosse for that reason, and it actually signified the start of Inside Lacrosse Magazine 10 years ago. IL founder and publisher Robert Carpenter had just started the magazine prior to the 1997 season. A fax came through the machine on Feb. 28 detailing a 22-21 Syracuse victory over Virginia that included a school-record 13 points (seven goals, six assists) from Casey Powell in front of a Carrier Dome crowd of 10,000-plus fans.
"We were just starting out, and we had spent months trying to figure out how to run a magazine," Carpenter says. "When the faxes came over, we realized that it was about the games."
Lacrosse's dramatic growth -- championship weekend regularly draws 50,000 fans -- inspired Carpenter to put together an event at the beginning of the season that could compete with the one at the end and give fans and teams a taste of the venue that would hold the national championship.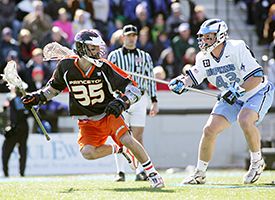 Inside LacrossePrinceton and Hopkins are usually known for their defense, but this year's edition of the rivarly could light up the scoreboard.
"College basketball has the Great Alaska Shootout, college football had the Kickoff Classic. Those events generate a lot of excitement for the season," says Carpenter. "We think this weekend can play the same role for lacrosse."
Eight preseason first-team All-Americans will play in Baltimore on March 3, with an additional 12 players appearing on the second- and third-team lists, so there should be no shortage of talent on the field. The Cavaliers are defending national champions, having run by Syracuse in the NCAA Tournament semifinals. The Orange beat Hopkins in the quarterfinals to get to Philly, while Princeton fell to NCAA semifinalist Maryland in the other quarterfinal bracket.
One of the best things about watching Syracuse and Virginia play on the first weekend of March -- other than the elite talent -- is that the early nature of the game coerces both coaches into letting up on the reins even more than usual.
"I remember during a timeout [in the 1997 game] and being in the huddle in the second half," says Virginia coach Dom Starsia. "I was yelling at the guys, 'You know, it's not against the law to slow it down a little bit. We don't have to run all the time.'
"And their eyes looked back at me and said, 'Forget that.'"
And while goalies rarely seem to be the heroes in the Syracuse-Virginia game (Starsia says he remembers actually feeling sorry for Cavs goalie Chris Sanderson in that 1997 game), they've often been MVPs of the Hopkins-Princeton matchup.
That could be different this year; all four offenses lend themselves to high-scoring shootouts.
"Princeton opened it up a bit last year and they showed the same thing in the fall," says Hopkins coach Dave Pietramala. "And I know we are going to open it up on offense and on defense. Historically, the rivalries have been [different]. But I think people might be a little surprised by what they see from Hopkins and Princeton this year."
Hence the reason for so much excitement on all sides of this event.
"Now that we're public with this idea, it's been fun to go out and start garnering enthusiasm," says Carpenter. "The message is so clear that it sells itself: The four best teams in the nation. In one stadium. On opening day.
"Give that little pitch to any lacrosse die-hard, and you just see their eyes light up."
SPONSORED HEADLINES
MORE COLLEGE SPORTS HEADLINES
MOST SENT STORIES ON ESPN.COM
2007 Lacrosse Preview
Last season played out like an action movie, with twists and turns seemingly every week. This season promises to be as exciting. ESPNU has ramped up its coverage of the sport, which means you have more opportunities to see the top teams in the nation play.
Schedule
Features:
• Players to watch photo gallery
• Faceoff features top rivalries
• Must-see men's games
• Women: Evaluating Northwestern's dominance
• Women: Burning questions
From Inside Lacrosse:
• Terwaaraton: Men | Women
• Previews: Ivy | CAA | MAAC
• America East | Patriot | GWLL
• ECAC | Johns Hopkins, Syracuse
• Women: Top 10 teams