Searching for meaning in a weekend of upsets
In the first week of the season, we witnessed three shocking upsets. Is it a sign of parity? Better stick technology? Or were teams just caught looking ahead? Quint Kessenich investigates.
Drexel beat Virginia. Army upset Syracuse in the Dome and the Great Danes of Albany defeated Johns Hopkins on Homewood Field.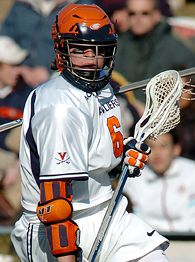 Pete EmersonBen Rubeor and Virginia were stunned by Drexel in their home opener.
Who would have guessed?
It was a shocking start to what promises to be a crazy year.
Why are we seeing these types of upsets more frequently?
Simple. More talented high school players have fewer opportunities at the Division I level. The mid-major teams are quite good these days.
"Talent is getting bottlenecked at the D-I level. Who's more bottlenecked than the talented goalies?" longtime lacrosse broadcaster Leif Elsmo said. "Bottlenecked goalies and others who don't want to be on the bench at top-10 schools go be stars other places and, consequently, these lower-rated teams are getting much better on the defensive end … coupled with the fact that these better teams fail to get the game into double digits, where the lower-ranked team would have trouble."
The overwhelming factor is that as lacrosse spreads like wildfire across the United States at the high school level, Division I growth is nonexistent. More players have fewer opportunities in college.
"With so many high school players and not enough teams in Division I, the recruiting has spread out some, so great/good players are everywhere. Many of these teams, like us last year, have tremendous role players who really make your team as well," UMass coach Greg Cannella said. "Not just all of the Division I teams are getting better, but it has trickled down to D-II and D-III -- those teams are so much better than they were 10 or 15 years ago."
Tony Seaman of Towson defines parity: "The result is that teams [Nos.] 5 to 25 are all good lacrosse teams."
In 2005 and 2006, the national champion went undefeated. We won't see that in 2007.
Face-Off Classic
Saturday's inaugural Faceoff Classic features two of the nation's best lacrosse rivalries -- Virginia-Syracuse and Johns Hopkins-Princeton. It's a must-see event for any die-hard lacrosse fan, writes Christian Swezey. Story
"I believe that the supply and demand being overrun by supply has really affected the top five or six as well," Seaman said. "There are more blue chippers to go around to not only Virginia, Johns Hopkins, Princeton and Syracuse, but have made Maryland, Georgetown and Duke better as well."
Notre Dame's Kevin Corrigan was an assistant at Virginia before building the program in South Bend.
"Fifteen years ago the top six teams rarely lost to anyone outside the top six. There were definite tiers," Corrigan said. "Now there are a lot of teams with solid talent and a great player or two who can beat you."
There are better players and better coaches, who have been given the opportunity to do their job in a first-class manner.
"There have never been so many good, hardworking -- not to mention full-time -- coaches who do a great job with their team," Corrigan said. "[It] makes for a lot of close games."
Don Zimmerman at UMBC agrees.
"I believe more and more schools are making a greater financial commitment to our sport -- which affects coaching salaries, scholarship levels, operating budgets, etc," Zimmerman said. "One thing I am finding in the recruiting is a greater willingness of, let's say a kid that lives in Colorado or California, to come East to play lacrosse. It is a small world in this sense."
"In the past there was a greater disparity between programs in scholarships, program support, recruiting budgets, etc," Delaware coach Bob Shillinglaw said. "Now the majority of Division I programs have fully supported scholarship programs, and staffing is increasing for most to have at least two full-time coaches, if not three full-time coaches.
"The job description for college coaches has changed during the past number of years. Ten to 15 years ago, in order to be a college coach, a master's degree was required and some additional job assignment was given to that coach -- teaching, coaching a second sport or working within the school's administration. Now coaches are hired to coach, recruit, scout, fund-raise 24/7, 365 days a year. The football approach has taken over in the 'war rooms' of lacrosse with breakdown tapes and detailed preparation for games."
Each of these upsets represents a masterful game plan crafted by a coach -- Scott Marr at Albany, Joe Alberici at Army and Chris Bates at Drexel.
"I think there are some tremendous coaches out there getting their teams ready to play," Cannella said.
Elsmo isn't as convinced.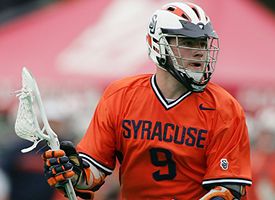 Syracuse Athletic CommunicationsGreg Rommel and Syracuse have a chance to prove how good they are in this weeked's Face-Off Classic.
"As the power of college lacrosse coaches has grown, they have felt compelled to do more coaching," he said. "So fall ball is bigger, offseason workouts are bigger and conditioning is to the 'unreasonable' level. Then I watch a D-I game where there is little running that a softball player couldn't do and I watch Loyola miss the goal five times on three straight EMOs [extra-man offenses]. That cost them the Towson game."
Preseason polls and hype also create illusions.
"Preseason rankings are usually based on what happened last year -- so they are never really accurate," says Cannella, who led the Minutemen to the national championship game last season. "Teams who lose key people are still trying to figure things out with out them."
Added Seaman: "Early season games are always at-risk situations as each team is trying to find out who they really are, who fits with who and what their personalities are."
"Preseason polls are based purely on speculation," Zimmerman said. "In college sports, every program every year fields a new team with different personnel, which means different talent and different chemistry. "
Some experts point to stick technology as a factor in the ever-closing gap between the haves and have nots. They believe that increased ball retention plays a role in all of these upsets. The lower-ranked team holds the ball and shortens the game. The higher-ranked team doesn't challenge on the perimeter.
"Because of the stick giving all players more control, i.e., the ability to hold the ball with little or no skill, the defense cannot safely go after an offensive player," Elsmo said.
There are a few stats that always seem to show up when a top team is taken down. Ground balls? No.
Goaltending. Faceoffs. Shooting percentage. Those three categories are huge momentum changers.
"Our goalie played great, we stuck some big shots and the stars somehow aligned in the last 16 seconds for us to score two goals," Bates said.
In all three cases, the higher-ranked team was "tuning up" for a bigger game on the horizon. They got caught looking ahead.
"They are less focused early in the year on a lesser team who is targeting them," Elsmo said. "Consequently, the better teams go into the game to get past it safely, while the other team is focused on winning it."
"Our expectation was to win -- not keep it close," Marr said. "No moral victories for keeping it close."
The Great Danes had a formula for success and executed.
"We played for 60 minutes and believed in each other that we could win," Marr said. "We also played smart, limited our turnovers, won faceoffs, and played solid defense."
Army's mantra was identical.
"We had to get our guys to understand our expectations are to win -- not just play it close," Alberici said. "We had to disregard the name on the front of the jersey and just go out and make things happen within our game plan."
So maybe Albany has a better team than Johns Hopkins, and Army will prove to be superior to Syracuse. Time will tell. You can't fully quantify an upset until the year is done. We just don't know yet.
Motivation is everything. Being mentally ready and hungry has never been more important.
"Everyone wants to be the hunters, not the hunted -- in today's game, that is a big factor," Cannella said.
Albany will get up for Hopkins. How excited are the Orange for the Cadets? How fired up do you think the Cavaliers were prior to their game with Drexel?
"Passion and emotion lead to little plays and momentum," Navy assistant John Tillman said. "If the opposing goalie is hot and you don't shoot well, you could be in trouble."
Alberici understands the upset potential that exists in Division I lacrosse each weekend.
"Anyone on our schedule is capable of beating us," Alberici said. "We stress to our guys that it's not about who is the better team, it is about who is the better team for those 60 minutes."
Quint Kessenich played goalie for Johns Hopkins in 1990 and is a lacrosse analyst for ESPNU. E-mail him at quint@insidelacrosse.com. ESPN.com is working with Inside Lacrosse to provide you with news and analysis. Click here for more coverage.
ESPNU
Quint Kessenich covers college and professional lacrosse for ESPN.
MORE COLLEGE SPORTS HEADLINES
MOST SENT STORIES ON ESPN.COM