Nation's top seed comes up short against Michigan
Originally Published:
June 5, 2007
By
Bryan Mullen
| Special to ESPN.com
NASHVILLE, Tenn. -- They call it the Omaha Challenge.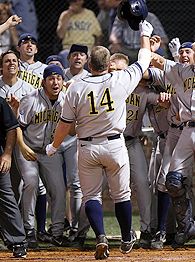 AP Photo/John RussellMichigan's Alan Oaks picked the right time to break out of his slump.
Every offseason the Vanderbilt baseball team splits into four squads and competes in a series of grueling strength and speed drills. It's named after the host city of the College World Series.
But when it came to the real challenge -- the challenge of actually making it to Omaha -- the nation's No. 1 team became the nation's No. 1 disappointment.
The Commodores' season came crashing down Monday night when they lost to Michigan 4-3 in 10 innings at the Nashville Regional.
Gone are the lofty expectations for the program's first-ever trip to the CWS. Gone are the comments from experts who said this team didn't have any holes. And it's mostly because of one player, Michigan pinch-hitter Alan Oaks, who knew the ball was gone immediately after it left his bat in the 10th inning against the nation's top collegiate pitcher, David Price.
"I hurt for the kids," Vanderbilt coach Tim Corbin said. "You come this far and you play so well, you just want to see them take it as far as they can. This is tough, this is tough. I hurt for them. I really do."
Considering the past few weeks, it couldn't have ended any worse for the Commodores. The Nashville community adopted them. Lifelong Vanderbilt fans who've had little to cheer for during decades of frustrating football seasons finally had something to brag about. They were getting national recognition and were ranked No. 1 in the nation for nine consecutive weeks in multiple national polls.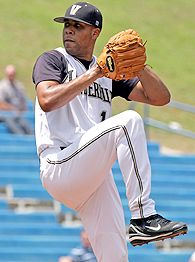 Matthew Sharpe/WireImage.comDavid Price, the nation's top pitcher, was lights out in the ninth before surrendering the game-winning run.
The university sensed the new wave of support and added seats behind the right field wall. Standing-room-only tickets were made available. The regional sold out in 36 hours and hundreds of fans piled onto the roof of a nearby parking garage to catch a free view. And -- because Nashville is known as Music City -- strings were pulled and recording artists Josh Gracin (of "American Idol" fame) and The Oak Ridge Boys (of "Elvira" fame) sang the national anthem at Hawkins Field.
The drama hit a crescendo when Price, widely regarded as college baseball's best pitcher and a near-lock to be selected No. 1 overall in this week's Major League Baseball Draft, made a relief appearance in the ninth on Monday night. He snuffed out a Michigan rally to send it to extra innings, but gave up the game-winning home run to Oaks one inning later.
Price left the facility immediately following the game and did not speak with reporters.
"He feels miserable," Corbin said.
Oaks didn't. Standing near the team bus with his baseball bag slung over his shoulder, Oaks said his entire season had been frustrating. He was hitting .188 entering Monday. He stepped to the plate as a pinch-hitter, trying to get one stat out of his mind: In his previous eight at-bats, he had struck out eight times.
Then the 6-foot-3, 230-pound freshman morphed into Rudy.
"I'm sure it will hit me sometime," Oaks said. "It's probably the best moment so far in my baseball career. I don't even remember running the bases, all that adrenaline pumping through me at the time. It's such a great feeling."
For many, the Commodores' loss wasn't a surprise. They had tempted fate for two weeks and it caught up to them. Vanderbilt lost the first game at the SEC tournament in Hoover, Ala., then had to rip off five consecutive games to win the title, which they did last Sunday. Then came the NCAA regional.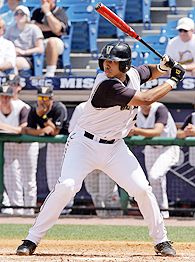 Matthew Sharpe/WireImage.comPedro Alvarez's 10th-inning bomb came up just short of a home run.
Vanderbilt (54-13) narrowly defeated Austin Peay in the opening round and needed extra innings to do so. Then the Commodores lost to Michigan (42-17) and had to win three games in 36 hours to win the regional. They won two games on Sunday to force Monday's finale.
"Every game is important to us, from the first game of the season to this game," Vanderbilt third baseman Pedro Alvarez said when asked about living on the edge in recent weeks. "It just so happens we came up short."
About two feet short, to be precise.
Alvarez hit a towering fly ball to deep center in the bottom of the 10th Monday, but Michigan's Derek VanBuskirk leapt at the wall to make the catch. The ball would have likely bounced off the top of the wall, but VanBuskirk instead had the second out of the inning in his glove and his team's 4-3 lead in the books. Two batters later, Michigan celebrated on Vanderbilt's field.
"You have to really, really play well to get through this thing," Corbin said. "It's not a given. You've seen what happened to Texas and some other schools. We'll be back. We'll do it again. But this is tough."
And when offseason conditioning drills begin next season, the Omaha Challenge will have a totally different meaning for the Commodores.
Bryan Mullen covers the Southeastern Conference for The (Nashville) Tennessean newspaper.