FROM THE BOOTH
OMAHA, Neb. -- What a difference experience makes at the College World Series.
Down early, both Rice and North Carolina -- 2006 CWS participants -- battled back against first-timer Louisville and Mississippi State, respectively. Coincidentally, both made their comebacks thanks to six-running innings.
When the chips were down, neither team panicked. Rice waited until the bottom of the eighth inning to off the Cardinals. The Tar Heels continued their spectacular come-from-behind run against the Bulldogs. North Carolina has outscored its opponents 40-11 in innings five through nine in the NCAA Tournament. In innings one through four, the Heels have been outscored 27-15. They aren't comfortable if they're not down.
Both teams relied on their bats to get them out of a jam. For Rice, it was a development both surprising and welcomed by Owls fans who had witnessed more than 25 consecutive scoreless innings in Omaha. The team that pitched itself to the College World Series is suddenly swinging the bats and looking very dangerous.
While Louisville looked in charge of the game at various points, Mississippi State never got comfortable. It was clear that if North Carolina could string together a few hits, then the Heels would be tough to stop. They erased a 4-2 deficit in the sixth inning, en route to an 8-5 win.
Where the 2006 UNC squad was giddy to be in Omaha, the 2007 edition took a business-like approach to Game 2. The Heels' body language exuded confidence, and it was clear they knew they would be able to come back.
Teams that have played in Omaha before know how to keep everything in perspective. They don't change their approach at the plate. They keep attacking, no matter what the scoreboard says. Rice and North Carolina demonstrated the importance of keeping your focus -- and of putting an opponent away when you have the chance.
The Owls will meet North Carolina in the late game Sunday (ESPN2, 7 p.m. ET), in what promises to be a very interesting game. For North Carolina, the key is to have its starter go deep. Rice is used to lower-scoring games and would love to make this a pitching duel. Don't expect the Owls to light up the scoreboard the way they did Friday.
Louisville has an edge in Sunday's elimination game against Mississippi State (ESPN, 2 p.m. ET). The Cardinals looked loose in Game 1 and are swinging the bats very well. The knock on Mississippi State all year has been its pitching. The Bulldogs' staff did well Friday night, but can it stifle the Cardinals' bats? It will be interesting to see how these teams bounce back from their Game 1 losses.
Kyle Peterson was a three-time All-American at Stanford and is a college baseball analyst for ESPN.
THE SCORER'S TABLE
Friday's Stats of the Day from ESPN Research
2
Before Friday's games, only two teams had scored more than nine runs in the last 36 College World Series games. That number doubled Friday, thanks to the offensive production of Rice and Louisville.
7 Louisville is the seventh straight team to lose in its College World Series debut game. Rice actually started that streak when it made its first CWS appearance in 1997. UC Irvine makes its CWS debut tomorrow.
38 Combined with the 25 runs scored earlier by Rice and Louisville, this is the highest scoring Day 1 of the CWS since 1965, when there were 38 runs scored in four games.
RICE 'N EASY
by Liz Merrill, ESPN.com
OMAHA, Neb. -- They were branded offensively inept, habitually inconsistent, and, worst of all, cursed.
It was hard to tell that Rice is the top-seeded team at the College World Series.
INSIDE THE NUMBERS
Think the high scores in Rice-Louisville were normal? Think again. North Carolina and Mississippi State, the only College World Series participants to boast a super regional ERA above 2.0, were more likely candidates to put up 25 runs in a game. What should have been a pitching duel between the Cardinals and the Owls was anything but. Take a look at the numbers the CWS pitching staffs put up to get to Omaha.
One other statistic to note: Over the last two years, scoring at the CWS has been lower than any other time in the last three decades. Judging by Day 1, that trend might not continue.
Super regional pitching
Team
Runs allowed
Team ERA
UC Irvine
2
0.00
Oregon State
2
1.00
Cal State Fullerton
3
1.00
Louisville
5
1.20
Arizona State
4
1.50
Rice
4
2.0
PHOTO GALLERY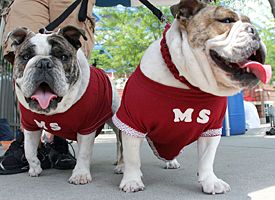 Michelle Bishop for ESPN.com
IN MOTION
Carolina rallies to beat Bulldogs
WHAT TO WATCH: SATURDAY
by Kyle Peterson, ESPN.com
1. Arizona State's offense. The Sun Devils play much more like an SEC team than a West Coast team and will take full advantage of playing during the day, when the ball carries best, much like their home ballpark.
2. UC Irvine's pitchers. The Anteaters might be new to Omaha, but they've won in two of the most challenging regional and super regional sites (Round Rock and Wichita). Coach Dave Serrano has been here before (albeit not as a head coach) and knows what to expect. Irvine's arms are as good as anyone's, and it will be fun to watch them square off with Arizona State's batters.
3. Oregon State-Cal State Fullerton. Saturday's late game (ESPN, 7 p.m. ET) is the best in the first round. Neither team played well down the stretch, but both found ways to win in the previous two rounds. The game pits two teams you expect to be here and who won't be overwhelmed by the situation. The key for Fullerton will be ace Wes Roemer. The confident-bordering-on-cocky right-hander performs best in pressure situations. Oregon State will rely on freshman Jorge Reyes, who has outstanding stuff. How Reyes reacts to pitching in Omaha will play a large role in the Beavers' title defense.
PHOTO OF THE DAY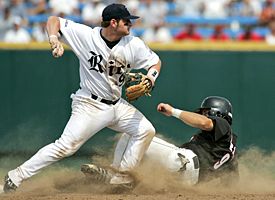 AP Photo/Eric Francis
Louisville's Daniel Burton is out at second base in the eighth inning, as Rice's Aaron Luna, top, looks to throw to first.
STOCK UP/stock down
PLAYER
TEAM
POS
STOCK
Logan Johnson
Louisville
UT
Logan Johnson did more than provide senior leadership to a Louisville team in its first CWS. He came up big at the plate, blasting two home runs to give the Cards a 10-4 lead.
Pitchers
Rice, Louisville
P
Rice's pitchers couldn't control Louisville in the game's first five innings, allowing 10 Cardinals runs. U of L's aces flamed out down the stretch, allowing six Rice runs in the eighth.
Adam Warren
North Carolina
P
Warren turned in the longest relief performance of his career, allowing three hits while holding Mississippi State scoreless in 4 1/3 innings.
Dustin Ackley
North Carolina
1B
The plucky freshman added one hit and two RBIs in the win -- and in the process broke North Carolina's single-season hits record.