FROM THE BOOTH
It's about time we started talking about Rice.
The top overall seed remaining, the Owls have been largely overlooked in the NCAA Tournament. After putting up 29 runs in their first two College World Series games, people are going to start paying attention to Wayne Graham's team.
The biggest question entering the NCAA Tournament was whether Rice could hit. We can officially cross that off the list. We knew the Owls could pitch. On Sunday, their top hitter, Joe Savery, took the mound and showed great control of his fastball, even if he wasn't as lights-out as we've come to expect. Closer Cole St. Clair doesn't throw all that hard, but his control and placement locked up a few North Carolina batters. Coupled with Brian Friday's defense up the middle, this is one very, very good team. If people weren't circling the Owls as the team to beat before, they are now.
Starting the CWS 2-0 gives Rice a big advantage in terms of preparation. Since the Owls won't play again until Wednesday, they'll have plenty of time to rest their arms. Their offensive production and their ability to take a few days off makes them the prohibitive favorite to advance out of this bracket to the championship series.
Before they get to the final weekend, however, they'll have to face the winner of Tuesday's North Carolina-Louisville elimination game. Louisville's 12-4 domination of Mississippi State on Sunday shouldn't have been a surprise -- the Cardinals hit their way to Omaha -- but if there was a chance of the CWS newbie coming out flat, this was it. After easily knocking off the Bulldogs, Louisville has momentum on its side. The fact that the Cardinals have already outperformed expectations doesn't hurt, either.
North Carolina, on the other hand, might be hurt by its experience. The Tar Heels know what it feels like to take the next step and desperately want to return to the championship series. They also know what it feels like to come up just short on college baseball's biggest stage.
North Carolina has a history of fighting back, but this will be the Heels' toughest test yet. One thing North Carolina has going for it is, remarkably, its starting pitcher: Luke Putkonen throws a good sinker. With the way the wind is blowing at Rosenblatt Stadium, that's an important pitch to get across the plate. The Heels starters have struggled in the postseason, and Carolina will need a strong showing from Putkonen to advance. No team can rely on its bullpen to give it six or seven innings of scoreless play every game.
Kyle Peterson was a three-time All-American at Stanford and is a college baseball analyst for ESPN.
NUMBERS GAME
Sunday's Stats of the Day from ESPN Research
200
As of Saturday night, there have been 200 plate appearances with the bases loaded since the last grand slam at the College World Series. Eight of the last 10 teams to hit a grand slam in Omaha lost the game.
2 In the past 26 years, only two teams have lost their opening game at the CWS and bounced back to win the championship. Oregon State did it last year team; the other team was USC in 1998.
37 North Carolina's starting pitchers have now allowed 37 runs in 25.2 IP over the past seven games. Alex White lasted only 1.1 innings against Rice. Robert Woodard lasted only 1.2 innings on Friday against Mississippi State.
7 Rice is only the seventh team in CWS history to score 10-plus runs in each of its first two games. Earlier in the day, Louisville became the sixth to do it.
CARDINALS END MISSISSIPPI STATE'S RUN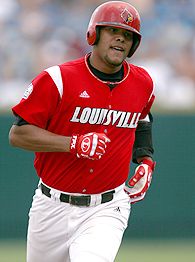 Bruce Thorson/US PRESSWIRE
Chris Dominguez hit two home runs on Sunday.
by Elizabeth Merrill, ESPN.com
OMAHA, Neb. -- There is the quasi-superstitious second baseman who has refused to shave for 2½ weeks, when this whole crazy thing began. But ask most of the hitters who have carried Louisville to another day at the College World Series, and they'll say the ball looks bigger, the wind feels stronger, and the best thing about their late-season success is that they've tried not to think about it.
"I'm not saying we're big and tough and we don't need [superstitions]," Daniel Burton said after his home run helped lift Louisville to a 12-4 win over Mississippi State on Sunday. "I'm just saying we don't rely on them.
"We're just having fun, really. That's what it boils down to."
Mere weeks after Louisville barely squeaked into the NCAA regionals, roughly a month after first-year coach Dan McDonnell sat the boys down and told them to stop pressing, the Cardinals won their first CWS game in school history with another mind-numbing day at the plate. They slugged out 18 hits and four home runs, and got two homers from Chris Dominguez.
They've now scored 99 runs and hit 20 homers in 10 NCAA Tournament games. And Dominguez is the hottest of them all, hitting eight home runs since June 2. His last one Sunday nearly hit the scoreboard, and Mississippi State's outfielders just watched as the ball sailed to the top of the left-field rafters. They knew it was gone.
"When the wind's blowing here, you never know what's going to happen," said Dominguez, who benefited from a 19-mph wind blowing out of the south at the start of the game.
He tried not to watch the ball, because, he said, that's rude and it got him into trouble in a regional game at Missouri. That game seemingly vaulted Dominguez into stardom, but the redshirt freshman says he started feeling good before that, in a late-season game at Cincinnati.
INSIDE THE NUMBERS
When you play North Carolina, the game isn't over till the last out of the ninth inning. As the Tar Heels have proved time and time again, they're dangerous when they're behind. Rice took that lesson to heart and kept attacking, even when the Owls had a seemingly comfortable lead. In the last seven games, North Carolina has trailed by some nearly insurmountable deficits. Here's how the Heels fared:
North Carolina's last seven games
Round
Opponent
Largest Deficit
Result
CWS
Rice
10
Lost by 10
CWS
Mississippi State
4
Won by 3
Super regional
South Carolina
3
Won by 5
Super regional
South Carolina
6
Lost by 2
Super regional
South Carolina
6
Won by 3
Regional
Western Carolina
2
Won by 1
Regional
East Carolina
4
Won by 1
PHOTO OF THE GAME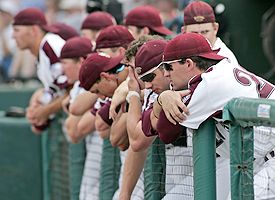 AP Photo/Eric Francis
Mississippi State players watch the final inning against Louisville on Sunday.
IN MOTION
Louisville gets first CWS win
SAVE THE LAST DANCE
by Elizabeth Merrill, ESPN.com
OMAHA, Neb. -- North Carolina went through a College World Series record eight pitchers and called upon catcher Tim Federowicz to take the mound in the final inning.
All Rice needed, really, was Joe Savery.
Savery, the Owls' top hitter, made his CWS debut on the mound and scattered seven hits over six innings in a 14-4 win over the Tar Heels. Rice belted out 14 hits and broke the game open with a six-run second inning.
The Owls are now in the same position they were last year in the winner's bracket, but they finished 2-2 in 2006. This time, Savery said, it feels different.
"I really felt like we were lucky to be 2-0 [last year]," Savery said. "This year, with a little experience, we're attacking the game more. We're not hoping for the best, but we're taking it."
The loss dropped the Tar Heels to an elimination game Tuesday against Louisville (ESPN2, 2 p.m. ET). Rice is one win away from the championship game and will play the North Carolina-Louisville winner on Wednesday.
PHOTO OF THE GAME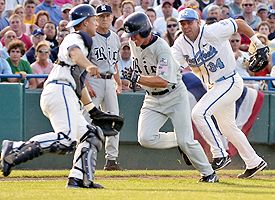 AP Photo/Ted Kirk
North Carolina's Chad Flack, right, and catcher Tim Federowicz, left, pursue Rice's Jared Gayhart during a rundown in the fourth inning.
WHAT TO WATCH: MONDAY
by Kyle Peterson, ESPN.com

In an unusual twist, Monday's games feature two conference matchups. Which team will have the advantage -- the regular-season series winner or the team with more experience in Omaha?

UC Irvine vs. Cal State Fullerton
(ESPN2, 2 p.m. ET)


These two teams really know each other. UC Irvine took two of three from the Titans in the regular season. That's a big confidence boost for the Anteaters. Now that they have one College World Series game under their belts, they won't be overwhelmed in this environment. If they approach Monday's elimination game like a conference matchup, they'll play very well. On the other hand, Cal State Fullerton is used to playing well this time of year. The Titans have to rely on that experience and treat this game like they treat all postseason games.

Arizona State vs. Oregon State
(ESPN2, 7 p.m. ET)


We have a similar matchup in the night's late game. Arizona State swept the Beavers in Corvallis not too long ago. Unlike the Big West, which had a number of teams clamoring for the league's top spot, the Sun Devils ran away with the Pac-10 title. Like Irvine, Arizona State should benefit from its past success against Oregon State. The Beavers, in contrast, know what it takes to win it all. If Oregon State forgets about recent history and focuses on playing like it's 2006, they'll be a tough out.
STOCK UP/stock down
PLAYER
TEAM
POS
STOCK
Brandon Turner
Mississippi State
2B
Turner did his best to keep the Bulldogs afloat, going 2-for-4 at the plate and driving in three runs.
Daniel Burton
Louisville
1B
Chris Dominguez will receive a ton of press for his two-homer performance, but Burton's 3-for-6, 3 RBIs, one home run game was just as meaningful for the Cardinals.
Dustin Ackley
North Carolina
1B
The Tar Heels' freshman slugger was quiet at the plate on Sunday, going 0-for-5. North Carolina will need big things from him against Louisville.
Joe Savery
Rice
P/DH
One of our favorite things about college baseball is watching pitchers help themselves. So Joe Savery gave up a few runs on the mound -- he went 2-for-4 at the plate and brought one run home for the Owls.
Pitchers
North Carolina
P
The Tar Heels would have liked Alex White to go the distance, but you can't pin this loss on the freshman. North Carolina tried eight different pitchers on Sunday and not one got the job done.
MORE COLLEGE SPORTS HEADLINES
MOST SENT STORIES ON ESPN.COM