FROM THE BOOTH
OMAHA, Neb. -- I thought UC Irvine was done. Down by four runs, with lights-out closer Jason Jarvis on the mound, it seemed as though the Anteaters' improbable run through their first College World Series would have an uneventful end.
After a marathon 13-inning elimination game with Cal State Fullerton on Monday, no one could have blamed Irvine for coming up short. Short on pitching and not known for putting up many runs, the Anteaters seemed an unlikely candidate to generate the comeback of the year.
AP Photo/Eric Francis
Freshman Scott Gorgen held off the Sun Devils for two innings.
UC Irvine, however, had other ideas. The Anteaters weren't ready to take off their jerseys. And the near-record crowd of 29,234 didn't want to see them go, either.
The door opened for an Anteater rally in the eighth inning, when Jarvis loaded the bases on walks and then hit a batter to bring in the first Irvine run of the eighth. Irvine is a scary team when it thinks it has a chance, and that's exactly when Cody Cipriano, UC Irvine's postseason hero, came up to bat. Cipriano's home run after 14 pitches Monday was textbook. But his at-bat Tuesday in the eighth inning, when he saw eight pitches before driving a shot up the middle to bring home Luis Tovar was just as impressive and important for Irvine.
Cipriano's plate patience and sound fundamentals are hardly unique on this team. Coach Dave Serrano has a team full of Ciprianos. Their approach is the same; they wear out opponents.
Cipriano's poise under pressure extended Irvine's postseason life. But the Anteaters never saw themselves as down and out. Left fielder Matt Morris proved that, following Cipriano's hit with a double to right-center that brought home two more runs to tie the game.
In the top of the ninth, with the score tied and the Anteaters' season on the line, Serrano made a gutsy call in bringing in freshman pitcher Scott Gorgen. The Sun Devils had touched up the rookie on Saturday for eight hits and five earned runs in seven innings. But Gorgen looked like a different pitcher on the mound Tuesday night, attacking the Sun Devils and allowing just one hit and striking out two in two innings of work.
UC Irvine finished off Arizona State in the bottom of the 10th after Mike Leake loaded the bases on two singles and an intentional walk. Center fielder Ollie Linton hit a perfect shot to the right side to bring home the winning run and extending Irvine's stay in Omaha at least one more night. UC Irvine will face a well-rested Oregon State team on Wednesday night (ESPN2, 7 p.m. ET). It'll be the Anteaters' third straight elimination game.
The defending champs, however, face a tough task. Irvine has proved that it is not an easy out. In the most respectful sense, the Anteaters are a lot like a Little League team. Nothing gets to them. They come out every day and play as hard as they can, never give up and have a lot of fun doing it. They don't seem to know that they're not supposed to win it all in their first trip to Omaha.
But just getting to Omaha proved anything is possible. UC Irvine had to knock off a Texas team most expected to still be playing now. The Anteaters also eliminated Wichita State on its own field. Now in Omaha, they've knocked out Cal State Fullerton and the Sun Devils. They may not have the best bats -- before Monday's game, they were one of only two teams in the CWS not to hit a home run -- and they don't have a pitching staff chock full of aces. But Serrano has something more important: 25 guys who don't want to stop playing.
We in the media tend to overemphasize things. We thought Irvine would be exhausted after five-plus hours and 13 innings on Monday. But kids don't think that way. The Anteaters were pumped full of adrenaline, excited to still be alive. I remember that feeling as a player -- when you step on that field, nothing matters but being able to keep playing.
The key to Irvine's success is its coach. Serrano has been around a lot of great coaches and has seen what it takes to get to the next level. It's clear he knows his team and understands how to get the best out of them, night after night.
He had full confidence in Gorgen, even after short rest, even after Saturday's performance. It's the same confidence Serrano has had in Gorgen all year. You can tell what a coach thinks about a player through his facial expressions -- they don't lie. Serrano's eyes light up when he talks about his young ace. And after Tuesday's performance, so do the eyes of Eater Nation.
UC Irvine continues to get the best out of its players when it needs them the most. Entering this game, no one would have ever circled Linton as the batter to stay away from. In fact, Irvine doesn't have many batters that look scary on paper. But night after night, the lineup digs deep to win.
You can see the bond on the Anteaters bench. You can feel it when they're on the field. This team has a chemistry that isn't easy to come by. They have an unbeatable attitude. The team that came from nowhere is one game closer to winning it all. And we're all having a blast watching them.
Kyle Peterson was a three-time All-American at Stanford and is a college baseball analyst for ESPN.
'TEAM OF DESTINY'
By Mitch Sherman, Special to ESPN.com
OMAHA, Neb. -- They're fast becoming the darlings of the College World Series.
The UC Irvine Anteaters pulled off another shocker Tuesday night. By now, we shouldn't be shocked anymore.
With the second-largest crowd in the history of Rosenblatt Stadium firmly in its corner, UC Irvine rallied from four runs down late to beat Arizona State 8-7 in 10 innings.
The Sun Devils are just the latest victim of this Anteater steamroller. Coach Dave Serrano's club, in the NCAA Tournament this month, has eliminated Pac-10 champion ASU, Big West rival Cal State Fullerton, Missouri Valley champ Wichita State and Big 12 champion Texas -- a lineup of college-baseball royalty.
NUMBERS GAME
Tuesday's Stats of the Day from ESPN Research
1
UC Irvine is the first team in CWS history to win extra-inning games on consecutive days. The Anteaters won in walk-off fashion for the third time in their past four games. They are just the second team in the past 20 years to win a CWS game after trailing by four or more runs in the eighth inning.
37
The new record of batters hit by pitches in the College World Series. The former record was 36 over 16 games. The current average is more than two hit batsmen per game.
INSIDE THE NUMBERS
What a difference one little number makes. North Carolina and Louisville put up nearly identical linescores, but the "1" in Louisville's linescore proved to be extremely costly. With the score tied 1-1 with two out in the top of the second, the Tar Heels scored two runs on a throwing error by Louisville third baseman Chris Dominguez.
Logan Johnson's record-tying fourth College World Series home run in the first inning stood as the Cardinals only score of the game. Louisville had scored 99 runs in 10 NCAA Tournament games before it was elminated yesterday. The Cardinals finished with 21 home runs, hit by seven of their nine starters.
Score by innings
Team
1st
2nd
3rd
4th
5th
6th
7th
8th
9th
R
H
E
North Carolina
0
3
0
0
0
0
0
0
0
3
3
0
Louisville
1
0
0
0
0
0
0
0
0
1
3
1
PHOTO OF THE GAME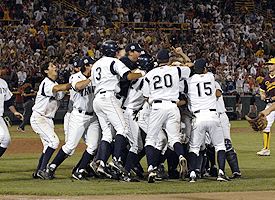 Peter G. Aiken/US Presswire
UC Irvine was jumping for joy after sending home heavily favored Arizona State.
IN MOTION
UC Irvine's dramatic comeback
WHAT TO WATCH: WEDNESDAY
by Kyle Peterson, ESPN.com
OMAHA, Neb. -- Wednesday promises to be one of the most exciting days in college baseball.
In the first of two elimination games, North Carolina and Rice meet again (ESPN2, 2 p.m. ET). Even though Rice earned extra days off because it won its first two games, the Tar Heels match up extremely well. Because of Carolina's pitching problems early in the College World Series, none of its arms have been taxed (outside of Tuesday's winning pitcher, Luke Putkonen). The Heels will start Robert Woodard, a veteran ace who has been in this type of high-pressure situation before. Woodard is coming off one of the worst starts in his career, and it's clear he's itching for a chance at redemption. He's also a senior, which means this is his last chance at a title. Of course, taking two straight from a balanced Rice team is no easy task. These are the two most talented teams left in the tournament, and it will be a lot of fun to see them fight for a spot in the championship series.
In the late game, the defending champs take on a UC Irvine team fresh off a pair of extra-inning victories (ESPN2, 7 p.m. ET). On paper, Oregon State has everything going for it: fresh arms, experience and consistent play. After watching Irvine play the past two days, however, it's impossible to count them out. How long can Cinderella's run last? Can Oregon State become the first team to win consecutive national titles in a decade?
Everything is on the line for UC Irvine and North Carolina -- two teams that have become famous for their ability to battle when their backs are against the wall.
PHOTO OF THE GAME
Peter G. Aiken/US Presswire
Louisville players tried everything -- including rally caps -- to extend their season by one more game.
IN MOTION
UNC knocks out Louisville
ON THE RUN
by Curt McKeever, Special to ESPN.com
OMAHA, Neb. -- North Carolina catcher Tim Federowicz had the ugly numbers memorized long before his team attempted to stave off elimination at the College World Series on Tuesday.
How many pitchers had the Tar Heels used while getting smacked by Rice 14-4 on Sunday?
A Series record eight.
How many runs had the slugging Louisville Cardinals, their opponent in Tuesday's elimination game at the College World Series, produced during their first two appearances in Rosenblatt Stadium?
Twenty-two.
STOCK UP/stock down
PLAYER
TEAM
POS
STOCK
Scott Gorgen
UC Irvine
P
Gorgen's poise on the mound cannot be understated; he never allowed Arizona State to regain momentum. Oregon State beware: He says he's ready to pitch Wednesday.
Jason Jarvis
Arizona State
P
Jarvis gave up two hits and four earned runs in the eighth inning, allowing UC Irvine back into the game. He walked three of the eight batters he faced.
Logan Johnson
Louisville
2B
The senior second baseman came up big for the Cardinals, hitting a home run in his first at-bat. Unfortunately for Louisville, he was the only player to touch home all game.
Bryan Peterson
UC Irvine
RF
Peterson went 3-for-3 and walked twice.
Luke Putkonen
North Carolina
P
Putkonen ended Carolina's pitching woes, allowing coach Mike Fox to use his bullpen conservatively. He struck out seven of the 22 batters he faced and walked just one.
Brett Wallace
Arizona State
1B
Wallace, the Pac-10 player of the year, finished an 0-for-12 CWS by grounding into a double play with the bases loaded and one out in the top of the 10th.
Colby Wark
Louisville
P
Wark lasted just 3 2/3 innings, allowing two hits, one earned run and two walks. Of the 14 batters he faced, he struck out two.
SPONSORED HEADLINES
MORE COLLEGE SPORTS HEADLINES
MOST SENT STORIES ON ESPN.COM