FROM THE BOOTH
OMAHA, Neb. -- Going into Game 1 of the College World Series finals, I thought Oregon State was matched up better in this game. Jorge Reyes was pitching on normal rest, the bullpen was well rested, and the Beavers were going up against North Carolina freshman Alex White, who hadn't pitched well in the postseason. It was tough to know how White would react to this situation.
I didn't think White pitched that badly (5 1/3 IP, 8 hits, 5 earned runs), but the walk he gave up before Jordan Lennerton's home run in the second inning rattled him, and the blister he suffered changed the ball game. Walks and errors will kill a team, and North Carolina suffered from both on Saturday.
But I don't think this is the end of the line for the Tar Heels. Last year, North Carolina came into the CWS finals as the favored team and won the first game, only to have a tired Beavers squad pull out two gritty wins to win the title. North Carolina is the fighter this go-around; the Heels are 4-0 in elimination games.
North Carolina has the pitching advantage in Sunday's Game 2 (ESPN2, 7 p.m. ET). Luke Putkonen, who was on fire against a heavy-hitting Louisville team on Monday, takes the mound. He has the perfect mentality for this situation: He's incredibly laid back and nothing ever seems to bother him. You very rarely see a pitcher's facial expressions remain unchanged throughout the course of the game -- whether he's given up six runs or thrown six shutout innings -- but that's the type of guy North Carolina will have on the mound. The third-round Tigers draft pick also benefits from nearly normal rest.
Of course, the Beavers' ace, Mike Stutes, is no slouch. The sophomore righty compiled an 11-4 record and 4.03 ERA in 21 appearances as Oregon State's Saturday starter. He'll be a handful for North Carolina's bats, which have been inconsistent in the postseason.
The difference may be in the bullpen. Saturday's blowout was a blessing in disguise for the Heels, who didn't have to wrestle with whether or not to throw normal closers Rob Wooten and Andrew Carignan. Both have come up big for the Heels in Omaha and will be called upon to right Carolina's ship.
Mike Fox was saved from having to grapple with using either of those guys on a close game today. Instead, they got the rest they need and will be fresher than Oregon State closer Joe Patterson, who was called upon to pitch 2 2/3 innings on Saturday. At most, Oregon State could only use Patterson for two or three batters on Sunday, which could give North Carolina an edge in the later innings.
The Tar Heels have gone just 1-for-10 with runners in scoring position -- a statistic that must improve for Carolina to win. When the Heels were on the verge of being eliminated by South Carolina in the super regional round, coach Mike Fox employed a much more aggressive offensive strategy -- something we haven't seen in Omaha yet. I expect we'll see Carolina come out and bunt, run and focus on getting on base and advancing the runner. We should see much more action out of the Heels on Sunday.
Oregon State hasn't trailed since the regional round. Right now the Beavers are so confident -- every time they go out there, they're expecting to lead. It's always important to score first in the College World Series, but it's especially important for North Carolina. How will the Beavers react if they're down a few runs? I think that could change the game. On the other hand, if Oregon State grabs an early lead, North Carolina might have flashbacks to 2006. Oregon State could run away with the whole thing, but North Carolina will undoubtedly show up for Sunday's game ready to create some doubt in the Beavers' minds.
Kyle Peterson was a three-time All-American at Stanford and is a college baseball analyst for ESPN.
NUMBERS GAME
Saturday's Stats of the Day from ESPN Research
61
Oregon State has not trailed in its last 61 innings, stretching back to the regional championship vs. Virginia on June 5. The Beavers also have a streak of 50 consecutive innings without trailing at the CWS, which dates back to last year.
0
No team with a losing conference record has ever won the national title in baseball. Oregon State was 10-14 in the Pac-10 (tied for sixth) this year. The worst conference record ever for a national champion was Arizona State's 7-5 in the WAC in 1967.
INSIDE THE NUMBERS
North Carolina and Oregon State both fought their way back to the championship series, but in very different ways. The Tar Heels were hot entering the NCAA Tournament, but have really struggled to survive. Oregon State, on the other hand, was in a major slump at the end of May and was fortunate to even make the tourney field. But the Beavers have been on a roll ever since.
North Carolina vs. Oregon State
North Carolina
Oregon State
Conference record
21-9
10-14
Recent record entering
NCAA tournament
13-2
4-8
Innings trailed in
NCAA Tournament
44
5.0
PHOTO OF THE GAME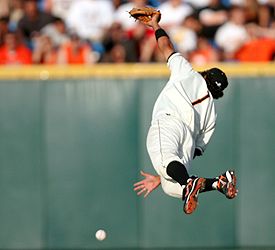 Bruce Thorson-US PRESSWIRE
Oregon State's Joey Wong takes flight in an attempt to grab a fifth-inning grounder.
REYES OF LIGHT
by Mark Schlabach, ESPN.com
OMAHA, Neb. -- The celebration started at the Super 8 Motel in Omaha sometime before midnight Sunday, or nearly 48 hours after Arturo and Idalia Vela and their two sons jumped into a car in Monterrey, Mexico and headed north.
More than 23 hours later, and after driving more than 1,200 miles through five states, the Vela family arrived in Omaha around 1 a.m. Saturday, giving them plenty of time to sleep before watching one of the proudest moments of their lives.
Jorge Reyes, Arturo and Idalia Vela's grandson, was Oregon State's starting pitcher in Saturday night's opening game of the College World Series finals. No matter how far the Velas had to travel, they weren't going to miss it.
And they even came prepared to celebrate, carrying a barbequed goat, a Mexican delicacy, with them.
"We couldn't miss it," said Arturo Vela, the pitcher's uncle. "It's the World Series and you don't know if he's going to make it back here again."
Given the way the Beavers have played in the College World Series during the last two seasons, and with the way Reyes has pitched during a spectacular freshman season, chances are the whole family might be back in Omaha again this time next year.
IN MOTION
Oregon State grabs Game 1
STOCK UP/stock down
PLAYER
TEAM
POS
STOCK
Benji Johnson
North Carolina
C
Johnson, a junior, turned in one of the top pinch-hitting performances of the tournament, hitting a two-run homer in the eighth inning. Unfortunately, it barely put a dent in Oregon State's sizable lead.
Josh Horton
North Carolina
SS
In 192 career starts, Horton has struck out more than once in a game only nine times and has never had three strikeouts in a game -- until Saturday, when he went 1-for-5 with three strikeouts.
Jorge Reyes
Oregon State
P
How can you not like the Beavers' rookie flamethrower? Reyes gave Oregon State 6 1/3 solid innings, allowing just three earned runs.
Oregon State
It's tough to pinpoint just one Oregon State hitter, as nine of the Beavers' 12 batters had at least one hit, and seven brought home at least one run.
MORE COLLEGE SPORTS HEADLINES
MOST SENT STORIES ON ESPN.COM