FROM THE BOOTH
OMAHA, Neb. -- I still didn't believe it until it was over. Regardless of what Oregon State had accomplished in the past week and a half, when you look at the Beavers' entire body of work over the season, there was no way you could have foreseen them winning a second consecutive national championship.
But if you walked into Rosenblatt Stadium this week having never followed college baseball, you would have thought Oregon State was by far the best team in the country.
AP Photo/Ted Kirk
Darwin Barney's two-run homer gave Oregon State the lead, which the Beavers never relinquished.
The Beavers' run through the College World Series reminds me a bit of the St. Louis Cardinals' run last season. They entered the playoffs with one of the worst records, but wound up winning it all because they were playing well at the right time.
Oregon State caught fire at the beginning of the NCAA Tournament, and the team's singular focus on defending its championship carried it to the CWS finals. Before the regional round, Beavers catcher Mitch Canham told his teammates that they would not dog pile in the regional round, nor in the super regional round. The Beavers would dog pile only once: when they won the CWS championship. How many regional No. 3 seeds have that much confidence?
The Beavers' mentality was different from the start. Maybe North Carolina or Texas enters the NCAA Tournament with the sole goal of winning a championship, but most teams strive just to make it to Omaha. That focus gave Oregon State an edge.
When North Carolina went up 1-0 in the second inning, it marked the first time in 62 innings that Oregon State had trailed. But the Beavers approached that obstacle like they had during the regular season, when they finished with a losing record in the Pac-10. They dug deep and came up with the runs they needed -- specifically, a two-run homer by Darwin Barney in the bottom of the second to put the Beavers on top.
North Carolina made a lot of mistakes in the CWS finals, but many times, those mistakes -- physical or mental -- are caused by the other team. The small mistakes (not covering first base, overthrowing an easy toss) add up. Oregon State didn't make those mistakes.
The Tar Heels also let a number of opportunities to close the gap pass them by. They put runners on base in the first, third and fifth innings, but the Beavers were able to stop those rallies. You could see it in the Tar Heels' eyes. They didn't have any fight left; I'm not sure how they could have. You can only get knocked down so many times before you stop getting back up.
Oregon State's win marked the first time a team has successfully defended its title in 10 years. I'd be shocked to see it happen again in the next 10 years. There are so many quality teams out there. Just look at Oregon State's run this season: One of the last teams in the tournament came out of nowhere to win it all. If the last team in can win a championship, it speaks to the quantity of quality programs.
Standout performances
Dustin Ackley, North Carolina, 1B
Ackley, North Carolina's freshman slugger, is just a wonderful hitter -- one of the best in the country. He can do anything. But what was most impressive about his performance in the College World Series is the turnaround he made in the last four games. He suffered through possibly the toughest two weeks of his life offensively, and there's no tougher place to break out of a slump than in Omaha. He was a giant part of North Carolina's run.
Darwin Barney, Oregon State, SS
Barney and Canham were the only two position players to return from the 2006 title team. Barney has a much different personality than Canham; he's the guy that keeps everyone loose. I remember looking over at the Oregon State dugout yesterday, and coach Pat Casey was trying to send signals while Barney was behind him, flicking his ears. His ability to maintain that mind-set in pressure situations is something you can't coach. You hope to bring in those personality traits when you coach, but you never know. Guys like Barney are hard to find.
Mitch Canham, Oregon State, C
Every team wants its rock to be its catcher, and no team had a more solid guy in every area -- talent, leadership, respect -- than Canham. You can tell how much he meant to the program by the way his teammates and coaches reacted to him. You can't fake it; they genuinely responded to his leadership. Of all the players in the CWS that were drafted, he seems the most likely to sign. He certainly leaves the Beavers and Rosenblatt with a lifetime of memories.
Andrew Carignan, North Carolina, P
Carignan is a closer in the same mold as Canham. He's intense on the mound and in the dugout and is the disciplinarian of the Tar Heels. When he came in to the game in the second inning with the bases loaded, down 3-1, he gave the Heels a shot in the arm. If it had been anyone else, people would have wondered what would happen. But he has become Carolina's go-to guy in pressure situations.
Mike Fox, North Carolina, coach
Fox is as classy a person as you'll ever be around. Few coaches have had to go through what he's gone through, losing in the championship series in back-to-back years. But he's been a gentleman all the way through -- taking the blame, answering questions. When you see him in a situation like that, it's evident why he's such a good coach. True character comes out in these situations, and his character is unparalleled.
Josh Horton, North Carolina, SS
While Carignan mirrors Canham's role, Horton is similar to Barney. He's a loose, laid-back, wonderful player. He comes up big in tight situations and keeps the team relaxed in the dugout.
Jorge Reyes, Oregon State, P
The College World Series MVP, redshirt freshman Reyes dominated with the fastball more than anyone we've seen at the CWS in recent memory -- even more so than Andrew Miller and Daniel Bard last season. Although he had never been in such a high-pressure situation, with record crowds watching, he shined for Oregon State in its biggest moments. In a time when too many pitchers and staffs get away from throwing the fastball, Reyes is fun to watch.
Bryan Steed, North Carolina, 2B
Unfairly criticized for his role in last year's error that ended Game 3 of the CWS finals, Steed didn't play as much this year. But the coaching staff talked a lot about the senior's role on the team. The toughest place to lead is from the bench -- it's harder to earn players' respect and stay the course, since everyone wants to play. Sunday marked probably the last time that Steed puts on the uniform, but his contribution to Carolina's run cannot be underestimated.
Who's next?
After seeing a repeat of the 2006 College World Series finals in 2007, it's not out of the question to think that Oregon State and North Carolina could be back in 2008. The Beavers will most likely lose Mike Stutes, Daniel Turpen, Eddie Kunz, Canham and Barney, but they have a good core of players coming back. North Carolina might return a better group in Alex White, Adam Warren, Chad Flack and Ackley. But the Heels will most likely lose Reid Fronk, Horton and Carignan. If Carolina's recruiting class decides to enroll and not sign with the pros, UNC could have two or three of the best arms in the nation.
UCLA, which took a big jump forward this year, and Rice are two more teams to watch out for next season.
Kyle Peterson was a three-time All-American at Stanford and is a college baseball analyst for ESPN.
NUMBERS GAME
Sunday's Stats of the Day from ESPN Research
5
With its win on Sunday, Oregon State became the fifth school to win back-to-back NCAA baseball championships and the first since LSU 10 years ago. Stanford ('87, '88) is the only other team to do it in the last three decades. USC (1970-1974) and Texas ('49, '50) are the only other programs to repeat.
5
Closer Andrew Carignan had three saves in this CWS, tying him with Huston Street (Texas, 2002-04) for the career CWS saves record (five). Carignan had two in 2006. His three saves in Omaha have also tied him for the most this season (18) with Luke Prihoda of Sam Houston State.
21
Oregon State wins the Pac-10's 21st baseball title, which does not include the five won by Arizona and Arizona State before they joined the conference. This is the fourth straight season the national champion was not one of the tournament's eight national seeds (2006 Oregon State, 2005 Texas, 2004 Cal State Fullerton).
1
Oregon State is the first team with a losing conference record (10-14) to win the College World Series, and it is also the first team seeded in the lower half of the tournament field to win the national title (regional seeding began in 1988).
INSIDE THE NUMBERS
The key to Oregon State's success in the College World Series? Offensive production from every member of the lineup. Going into Sunday's game, the Beavers were balanced from one through nine.
Oregon State's offense in the CWS
Runs
Hits
RBI
1-3 hitters
17
19
6
4-6 hitters
12
25
19
7-9 hitters
13
17
11
PHOTO OF THE GAME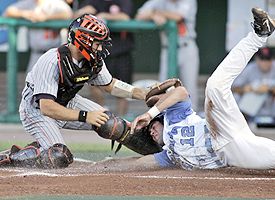 AP Photo/Eric Francis
Oregon State catcher Mitch Canham tags out North Carolina's Josh Horton at home plate in the first inning.
HONEYMOONERS
by Mark Schlabach, ESPN.com
OMAHA, Neb. -- Kathy Steele stood behind the mound at Rosenblatt Stadium on Sunday night, wearing a tiara and wedding veil in a sea of Gatorade-soaked and sweat-drenched jerseys.
A night earlier, Steele married Oregon State graduate assistant Kurt Steele in a ceremony at her parents' home in Philomath, Ore. The newlyweds hopped on a plane Sunday morning and flew back to Omaha, where they watched his baseball team beat North Carolina 9-3 in the College World Series finals and claim its second consecutive national title.
"Last night was great," said Kurt Steele, a former Beavers pitcher. "I can't say this is better, but it's pretty damn close."
Oregon State thought it had experienced its greatest day nearly a year ago, when the Beavers became the first team from a cold-weather climate to win the College World Series in 50 years.
A year ago, the Beavers were overwhelming underdogs against a field that included more established baseball powers like Cal State Fullerton, Miami and Rice. But after losing badly to Miami in its first game in Omaha, Oregon State won four in a row to reach the College World Series finals. The Beavers lost to the Tar Heels in the first game, then rallied to win two in a row.
But repeating as college baseball's national champion this year was an even greater -- and more improbable -- feat.
Not only did Oregon State become only the fifth school and the first in 10 years to repeat as national champions, but it also did it in dominating fashion. The Beavers won all five of their CWS games and trailed in only one of the 45 innings they played here.
And Oregon State won it all again when it wasn't even supposed to be here.
"Last year was great because nobody knew who we were," Beavers catcher Mitch Canham said. "This year is great because everybody counted us out. I don't care if they left us for dead. We knew where we'd be all along -- right here and in a dog pile at the end."
Oregon State won consecutive national titles in what's considered the most difficult sport to achieve that feat. College baseball coaches turn over their rosters like Scarlett Johansson turns heads. After each season, nearly all of the country's top players bolt for the major league draft, as soon as they pitch or hit for the last time during their junior seasons.
Florida couldn't have won back-to-back national titles in men's basketball if Joakim Noah, Al Horford, Corey Brewer and the rest of the Gators' starters had turned pro as sophomores. USC probably wouldn't have won a share of consecutive national championships in football if quarterback Matt Leinart and tailback Reggie Bush hadn't returned.
So imagine the anxiety Oregon State baseball coach Pat Casey must have felt this spring, when he was forced to replace all but two of his position players and his top three pitchers. Gone were left fielder Cole Gillespie, the Pac-10 Player of the Year, who hit .374 and belted a team-high 13 homers and 57 RBIs in 2006.
Casey also had to replace starting pitchers Dallas Buck and Jonah Nickerson, who combined to win 26 of the team's 50 victories last season, as well as closer Kevin Gunderson, who saved 20 games.
Each of those players were selected in the first seven rounds of the 2006 major league draft, along with four other players who turned pro.
Casey pieced together a lineup of seldom-used returning players and a few freshmen. He built his team around Canham, the catcher drafted in the 41st round by the St. Louis Cardinals last year, and shortstop Darwin Barney, the team's emotional leader and glue.
But other than Barney, Canham and returning pitcher Mike Stutes, the Beavers were a bunch of unproven commodities.
IN MOTION
Beavers best North Carolina
PHOTO OF THE GAME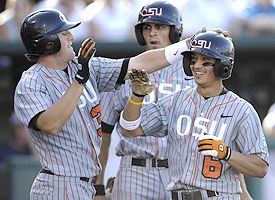 Peter G. Aiken/US Presswire
Oregon State Beavers shortstop Darwin Barney, right, celebrates his two-run home run with John Wallace.
STOCK UP/stock down
PLAYER
TEAM
POS
STOCK
Dustin Ackley
North Carolina
1B
The Tar Heels' freshman slugger drove home two-thirds of North Carolina's runs Sunday. He was up and down in Omaha, but kept Carolina in the hunt.
Darwin Barney
Oregon State
SS
Just one of two position players to return from last year's title team, Barney came up big for the Beavers on Sunday. His two-run homer in the second inning put Oregon State on the board; his throw to Mitch Canham at home plate caught Josh Horton and stymied a Tar Heels rally.
Mitch Canham
Oregon State
C
The emotional leader of the Beavers, Canham paced Oregon State's offense, hitting 2-for-4 and driving in two runs. On Saturday, he guided rookie pitcher Jorge Reyes through a high-pressure situation and provided starter Mike Stutes with plenty of support on Sunday.
Luke Putkonen
North Carolina
P
Putkonen's performance against Louisville was a big part of the reason the Heels were in the CWS finals. But he lasted just 1 2/3 innings on Sunday, giving up three earned runs in that span.
MORE COLLEGE SPORTS HEADLINES
MOST SENT STORIES ON ESPN.COM