Notre Dame's White named athletic director at Duke
Updated:
June 2, 2008, 12:12 PM ET
ESPN.com news services
Notre Dame athletic director Kevin White was named to the same position at Duke, the Blue Devils announced Saturday.
White, the Fighting Irish AD since 2000, will fill a position vacant since April, when Joe Alleva left for Louisiana State.
[+] Enlarge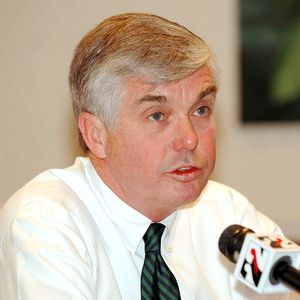 AP Photo/Joe RaymondNotre Dame athletic director Kevin White, answering questions during a 2006 news conference, has also served as AD at Arizona State and Tulane.
"I'm really excited about the challenges facing Duke athletics, passionately excited," White told ESPN.com Saturday afternoon.
Terms of a deal were not disclosed. The appointment is subject to approval of the university's board of trustees.
Notre Dame named deputy athletic director Missy Conboy as its interim AD. Conboy has been the deputy AD at Notre Dame the past three years and has worked in the school's athletic department since 1987. The Notre Dame graduate played basketball for the Fighting Irish from 1979 to 1982.
The Rev. John Jenkins, president of the university, said there is no timetable for finding a permanent replacement.
News of White's move was first reported by The News and Observer of Raleigh-Durham, N.C.
Asked by ESPN.com if he was pursuing to leave Notre Dame, White said, "It just popped up at the right place and right time and a strong overture by an infectious group of administrators and president of the university at the top of that list."
Trading places
Leaving Notre Dame for Duke? Is new Blue Devils AD Kevin White nuts? Not as much as it might seem, as Gene Wojciechowski notes. Story
White, 57, moves to Duke as the school continues to distance itself from the men's lacrosse scandal that resulted in more than three dozen current and former players suing the school, claiming emotional distress from the since-discredited rape case against three of their teammates stemming from a party in March 2006.
White, who hosts a weekly radio show in addition to a pregame show during the football season, has also headed the athletic departments at Arizona State, Tulane, the University of Maine and Loras College.
"Kevin White is in the first rank of athletics directors nationally and will make a perfect fit for Duke," Duke president Richard H. Brodhead said. "He has led coaches and players to the highest levels of athletic attainment while always remembering the larger goals of education."
At Notre Dame, White held a position on the Bowl Championship Series committee as the only AD to sit with the six conference commissioners (Pac-10, Big Ten, Big 12, SEC, ACC and Big East). He said that wasn't factored into his decision.
"There will just be three or four times a year I drink a heckuva lot less coffee," White said.
But that experience could help a program that perennially finishes at the bottom of the ACC in football but holds three national championships and has finished runner-up six times in men's basketball.
Among the national titles for Notre Dame during White's tenure were women's basketball in 2001, and men's and women's combined fencing in 2003 and '05.
The Fighting Irish advanced to the College World Series in baseball in 2002 and played for its first national title in hockey at the men's Frozen Four in April, losing to Boston College in Denver.
Information from The Associated Press and ESPN.com's Adam Rittenberg and Andy Katz was used in this report.
SPONSORED HEADLINES
MORE COLLEGE SPORTS HEADLINES
MOST SENT STORIES ON ESPN.COM