Commentary
Uniform start date keeps warm-weather teams on ice
When the calls streamed into Rich Maloney's office this season, the Michigan coach picked up the phone and let his colleagues vent.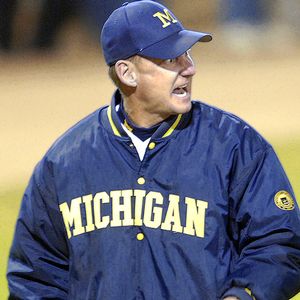 Icon SMIRich Maloney understands the scheduling concerns in a shortened season.
Maloney listened to the gripes about college baseball's uniform start date, the rule initiated this season that required all teams to open play Feb. 22 rather than on different days. He heard about how hard it was to play five games per week, how the crunched schedule taxed pitching staffs and altered recruiting, and how more midweek games placed greater academic demands on players.
But if the coaches from college baseball's ruling regions -- the South and the West -- were hoping to find a sympathetic ear in Maloney, they had come to the wrong place.
"We've had to live in this world the whole time, so I really don't like hearing the whining and moaning about playing the midweek games or whatever," Maloney said. "Obviously, those guys aren't happy. They're having something taken away from them.
"But c'mon, man. This is what we do. It's almost a chuckle because now everyone else is feeling the pain."
Nebraska coach Mike Anderson heard many of the same complaints. So did St. John's coach Ed Blankmeyer.
The response?
"Welcome to my world," Blankmeyer said.
Shared suffering for the sake of competitive balance is a by-product of the uniform start date, which aims to bridge the gap between Northern schools and the dominant programs of the South and West.
Title Belt

How has the college baseball rules changes affected teams? Has a uniform start date been good or bad for the sport? Here's a closer look:
• Schlabach: Too much trouble
• Griffin: Sun Belt aren't fans
• Rittenberg: Northern exposure
• Title belt: It's all about location
Before this season, Southern and Western teams capitalized on their warmer climates and began practicing and playing games earlier than their Northern counterparts. Two years ago, Arizona State began the season on Jan. 27 and had played 12 games before Michigan debuted on Feb. 24.
"There's a very distinct difference between our level of play when we haven't played a game and somebody else's team has 15 games under their belt," Anderson said.
The new rules prevented teams from practicing until Feb. 1 and made Feb. 22 a true Opening Day from coast to coast. Southern and Western teams were forced to cram 56 games into 13 weeks and expand their pitching rotations to handle more midweek contests.
For Northern teams, the effects were negligible.
Michigan began play on a Friday in late February for the fourth consecutive year. St. John's had 11 pitchers make nine or more appearances for the second consecutive season. Nebraska played 13 midweek games (Monday through Thursday) after appearing in 12 last season.
"For us, it's been the exact same," Anderson said.
The lone change was a welcome one: Northern schools started the season on level footing with their opponents.
Nebraska played its opener against a Stanford team doing the same. Michigan, which in 2004 opened against a Florida team playing its 10th game, faced another debuting team, Villanova.
"We're all in a similar boat," Maloney said. "It's certainly not equal, but it's a little bit closer than it was."
---
Arguably the biggest concern with the uniform start date was its impact on academics. For that reason, Illinois-Chicago coach Mike Dee opposed the change.
Unlike many Northern schools, Illinois-Chicago had routinely started the season in mid-February, spreading out its schedule and limiting midweek games. The Flames didn't play a midweek game until the eighth week last season; this year they did so in Week 3.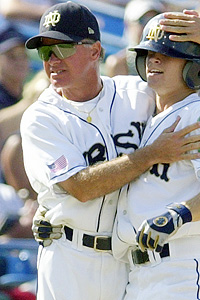 AP Photo/Ted KirkCoaching at Notre Dame made Paul Mainieri well aware of the disparity in college baseball.
"All of a sudden you're playing twice a week, midweek," Dee said, "and unless you're able to play all of those at home -- and not very many people are in that position -- suddenly you're traveling midweek a lot more than we did in the past. You're pulling guys out of class. That part of it I did not like, and I don't think I was alone."
When Paul Mainieri coached at Notre Dame, he saw no academic decay despite a multitude of midweek games. But getting the same results at LSU appeared more challenging.
"I worried at a state university whether or not that could happen, and yet we had the highest grade-point average for a single semester in the history of LSU baseball this spring," said Mainieri, the second-year Tigers coach. "It can be done."
LSU brought tutors on several road trips, including those before final exams, and Mainieri credits the players for establishing a no-excuses attitude toward the change. For the fifth consecutive year, Nebraska players, who are accustomed to the condensed schedule, posted a higher GPA in the spring than they did in the fall.
The start date also affected rosters and recruiting.
Before this season, Southern and Western teams could set their pitching rotations for a weekend series, getting by with three starters and a handful of relievers. But more midweek games meant more arms, for both the present and the future.
"Suddenly you've got four or five starters," Dee said. "You saw that reflected in the records this year, where teams were not winning as many games as they had in the past because they had to put somebody on the mound that wasn't at the same level of experience."
Seven LSU pitchers logged more than 40 innings this year after only four reached that plateau last season, but Mainieri didn't mind, saying more playing time makes for better ballplayers. Although many of his colleagues in the South haven't warmed to the uniform start date, Mainieri has long advocated it.
"[The lack of a uniform date] hurt the credibility of the sport when you looked at the polls," he said. "You could look at the top 10 and see one school that was 14-2, followed by a team that hadn't even started their season. I don't think in any other sport, football or basketball, anybody would have ever tolerated something like that.
"Could you imagine LSU being 4-0 in football and Indiana hasn't even started their season?"
>
---
Maloney, Anderson, Mainieri and Blankmeyer all support the uniform start date, but none considers it a panacea for college baseball. It's a step, but others must follow.
"There has to be some tweaking," Blankmeyer said.

Just one [extra] week, let alone two, would make a monumental difference. To get different parts of the country actively interested to the same level that it is in the South and the West, I don't see how that's not a good thing for college baseball as a whole.
--Illinois-Chicago coach Mike Dee
An even later starting date could help remedy what many coaches feel is the sport's greatest inequity -- the number of home games.
Unable to play home games in February and, in many cases, most of March, Northern teams begin the season with extended tours through the South or West. Michigan played 14 games before its home debut this season, and Illinois-Chicago made stops in Louisiana, Texas and Tennessee before returning home March 13.
Blankmeyer expects St. John's to open each season with 11 to 15 road games.
"No knock against [Texas] A&M -- Rob Childress is one of my best friends -- but they had the opportunity to play 39 home games with great attendance," said Anderson, whose team played 32 home contests. "We're one of the top teams in the country in terms of attendance. If we start the season March 1 or move things back, our attendance would absolutely soar."
Michigan reached its fourth consecutive NCAA tournament despite playing only 20 regular-season home games. A later start date could help Maloney and other Northern coaches schedule more home games and better nonconference opponents, which would benefit a sport already growing in popularity.
"It would be nice if I could have a home game one time against Arizona State or Texas or South Carolina or some great team like that," Maloney said. "Just think of what it would do for our game. The way it's set up now, you can't do it."
Yet any more tampering with the start date would also require the end of the season to be pushed back -- a move that would present new obstacles.
Could the College World Series be moved from its regular spot in June to July? Could schools afford to provide for their players well into the summer?
"The problem with extension on the back end is there are a lot of moving parts," said Big 12 assistant commissioner Bob Burda, the league's liaison for baseball.
"I'd like to start the season April 1," Blankmeyer said, "but I think I'm dreaming on that one."
Anderson is confident teams from power conferences would be able to keep players on campus longer, but he's not sure if smaller Division I programs could handle the financial burden. There's some concern that rather than extending the season, school presidents would be inclined to reduce the number of games.
"Just one [extra] week, let alone two, would make a monumental difference," Dee said. "To get different parts of the country actively interested to the same level that it is in the South and the West, I don't see how that's not a good thing for college baseball as a whole.
"Perspective is skewed by self-interest, which is unfortunate. I don't know if I'd feel differently if I were in Arizona or Texas. I'd like to think that I wouldn't, but who knows?"
---
The uniform start date didn't do much to change the Top 25 or the NCAA championship field, which continues to be dominated by teams from the South and the West. Of the 34 at-large berths for the NCAAs, only five went to so-called Northern schools (St. John's, Nebraska, Missouri, Virginia and Kentucky).
[+] Enlarge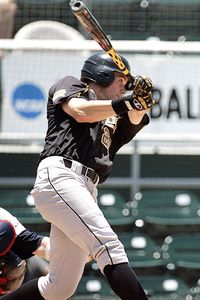 AP Photo/David AdameMissouri was one of just a handful of "cold-weather" schools to earn an at-large bid in the NCAA tournament.
Put simply, it will take more than rule changes for Northern schools to keep pace.
"I'm a Republican, big on capitalism and all that other stuff," Anderson said. "Schools are going to have to make commitments to their baseball programs. That's where it starts. Some schools aren't making that commitment, and then they're expecting the NCAA to help them out."
Maloney has seen Big Ten schools make such commitments, especially in facilities upgrades. But he feels that unless the policies continue to change, Northern teams will continue to fall short.
"We're forking over a lot of money in our programs, and we're not having much representation," Maloney said. "When you only have a few Northern teams that even have a chance in the NCAA tournament, there's a part of the country that's totally not included.
"Hopefully, we can get to a point where we can have honest dialogue about what's best for all of us in the sport. Ultimately, I would hope that would be the goal of everybody involved."
Adam Rittenberg covers college sports for ESPN.com. He can be reached at espnritt@gmail.com.
College Football
ESPN.com Big Ten reporter.
Joined ESPN.com in 2008.
Graduate of Northwestern University.
SPONSORED HEADLINES
MORE COLLEGE SPORTS HEADLINES
MOST SENT STORIES ON ESPN.COM