Commentary
Castro rebounds from injury, leads Stanford back to CWS
Updated:
June 11, 2008, 11:41 AM ET
By
Robyn Norwood
| Special to ESPN.com
FULLERTON, Calif. -- The flight attendants on the plane bound from San Jose to Southern California last week gave routine instructions for passengers to turn off their cell phones before takeoff, but Stanford catcher Jason Castro didn't comply.
[+] Enlarge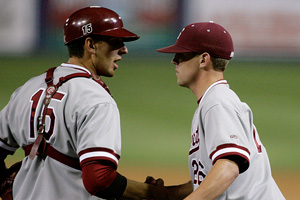 AP Photo/Francis SpeckerJason Castro has been a rock for Stanford at the plate and behind it.
The day was anything but routine for him.
The baseball draft had begun, and Castro, waiting to hear which team would take him, quietly left his phone on.
"I lost service a couple of minutes after we took off anyway," he said. "It was an anxious plane ride. It was an hour, but it seemed a lot longer."
By the time Stanford's delayed flight to Orange County for the Fullerton Super Regional landed, the Houston Astros had taken Castro 10th overall.
"I must have had 30 messages," he said.
The first was from Joe Graham, the Astros' area scout for Northern California.
"It went right to voice mail, so I knew he was on the plane," Graham said. "It was almost comical."

Bases loaded, tied 5-5, 3-2 count. I was sitting there and I said to myself, 'I know what's going to happen.' All done. He's really good when he comes to the plate with runners in scoring position, and that says a lot to me, the way he hits in the clutch.
--Astros scout Joe Graham
So it turns out Castro wasn't only sky high about being drafted. He was sky high when he was drafted.
The 6-foot-3 junior -- a left-handed-hitting catcher -- didn't waste any time in the super regional before confirming the Astros' confidence in him. He hit a two-run home run against Cal State Fullerton in Game 1, then a game-winning three-run double in the sixth inning of Game 2 that sent Stanford (39-22-2) to the College World Series for the first time since 2003.
Graham was watching.
"Bases loaded, tied 5-5, 3-2 count. I was sitting there, and I said to myself, 'I know what's going to happen.' All done," Graham said. "He's really good when he comes to the plate with runners in scoring position, and that says a lot to me, the way he hits in the clutch."
The Astros have had their eyes on Castro for years -- his grandfather, Tom Castro, played youth baseball with scout Gene Wellman -- but there were times last season when it would have been hard to imagine Castro's being drafted so high.
After batting .283 as a freshman while playing mostly first base, Castro hit only .167 in 42 games as a sophomore after undergoing surgery for a broken hamate bone in his right hand before the season.
"I guess it's pretty common in baseball and golf," Castro said. "It was a struggle. I had surgery, and it was kind of a tough blow. I had some issues with it, coming back. It healed a little slower than I thought it would."
The season ended with Stanford failing to make the postseason for the first time since 1993, and Castro finally took a couple of weeks off.
"After the season, I took a step back and mentally readjusted and got off to a fresh start," he said.
He went to the Cape Cod League and found his swing and his confidence again, glad to have abandoned metal bats for wood.
"When I didn't hit it just right with the metal bat, I'd feel the vibrations," he said.
He ended up batting .341 in the Cape Cod League with four home runs and 24 RBIs in 39 games.
[+] Enlarge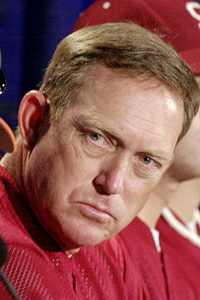 AP Photo/Nati HarnikMark Marquess' squad is back in Omaha after upsetting Cal State Fullerton.
Back at Stanford this season, he assumed the starting catcher's duties and is hitting .379 with 13 home runs and 69 RBIs. He leads the Cardinal in batting average, RBIs and doubles and has made only two errors this season, helping him become one of three finalists for the Johnny Bench Award given to college baseball's top catcher. The other candidates are Coastal Carolina's Dock Doyle and Florida State's Buster Posey.
"Jason has always been a good hitter, but unfortunately he broke a bone in his hand and came back earlier than he probably should have and really struggled last season," Stanford coach Mark Marquess said. "It kind of mushroomed, but we weren't worried. We knew he could hit.
"What I really am happy with is his defense, receiving and handling pitchers. That's really key. He never came off a bad at-bat and carried it onto the field."
Being drafted 10th overall has given Castro a little higher profile, as has a postseason performance in which he is hitting .464 with 13 RBIs.
He still might be no more than the second-best-known Jason Castro in some circles, though.
A dreadlocked 20-year-old singer by the same name was a contestant on "American Idol" this season.
"I've seen pictures of him. I've never seen him perform," the Stanford catcher said. "It's pretty funny. I've been heckled for it before. Probably the biggest was at the University of Arizona, a whole section of guys."
The other Jason Castro was voted off "American Idol" in early May.
At the College World Series in Omaha, Neb., it is this Jason Castro's turn to make a name for himself.
Robyn Norwood is a former Los Angeles Times staff writer.
Contributor, espnW.com
Robyn Norwood, the only woman to serve as president of the U.S. Basketball Writers Association, was a sportswriter for the Los Angeles Times for more than two decades. She has covered 11 Final Fours, two Olympics and the Super Bowl and visited almost every podunk college town in America.
SPONSORED HEADLINES
MORE COLLEGE SPORTS HEADLINES
MOST SENT STORIES ON ESPN.COM