Commentary
Undefeated Golden Panthers hope to continue roll this weekend
Originally Published:
September 4, 2008
By
Dave Reed
| Special to ESPN.com
One of the more interesting aspects of the first month of volleyball season is watching up-and-coming teams from smaller conferences measure themselves against nationally ranked opponents that historically fill the majority of spots in the NCAA tournament bracket.
[+] Enlarge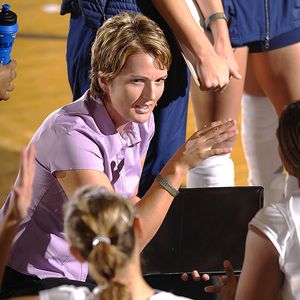 Samuel Lewis/ImageReflexFlorida International coach Danijela Tomic says her team is gaining confidence with its fast start.
In return for the chance to play in front of large crowds and at venues with big-time atmospheres, these unranked teams are expected to depart with a moral victory -- as the result of a well-played match -- and a selection or two on the all-tournament team. But this past weekend, Florida International, a member of the Sun Belt Conference, did much more than that. The Golden Panthers stormed into Clemson, won three consecutive matches and left with the majority of the hardware from the Big Orange Bash. FIU swept Charleston Southern (Big South) and Syracuse (Big East) and finished the tournament off with a four-game victory over then-No. 19 Clemson, the reigning ACC champion. "This is my fourth year, and Clemson is the highest-ranked team that we have defeated," head coach Danijela Tomic said. "This is definitely our biggest win. We are very proud of our team." Led by junior outside hitter Yarimar Rosa, the Sun Belt's 2008 Preseason Player of the Year, FIU jumped out to a quick two-game lead. The Tigers won the third game and were on the verge of sending the match to a fifth game when they built a 21-16 lead. That's when the Panthers rallied with a 6-1 run that led to a 26-24 victory in the fourth game. Rosa finished the match with 27 kills and was named the Bash's MVP. She was joined on the all-tournament team by junior outside hitter Isadora Rangel, who had 13 kills and 11 digs, and sophomore setter Natalia Valentin, who set FIU to a .252 team hitting percentage. With only two starters returning, one who moved from the left to the right side, it's safe to say FIU surpassed its most optimistic expectations. "It is basically a totally new team," Tomic said. "We have six new players, and we didn't know how well we would adjust to playing together. We were very anxious to see how we would play against other teams. I guess it worked out."

This is my fourth year, and Clemson is the highest-ranked team that we have defeated. This is definitely our biggest win. We are very proud of our team."
-- Coach Danijela Tomic
Florida International's success probably surprised many people outside the Sun Belt, as well as some within it. According to the conference's preseason poll, the Golden Panthers weren't expected to pose a serious challenge to No. 15 Middle Tennessee State in the East Division. In fact, they were picked to finish third behind Western Kentucky. The person least surprised by FIU's effort was Tomic. Her team posted its third consecutive winning season in 2007 with a 19-8 record while advancing to the semifinals of the conference championship. Along the way, the Golden Panthers posted victories at Missouri and Western Kentucky, their first against the Hilltoppers in Bowling Green. The only other time FIU started the season with a 3-0 record was 2001, which happens to be the same year as its last NCAA tournament appearance. The Golden Panthers added a victory over Furman on Monday night in Greenville, giving Florida International a 4-0 mark in the Palmetto State this season. "We are so excited," Rosa said. "We played really good last weekend, but we have to keep playing our best. This weekend will be a challenge for us. The other teams know we're at their level, so they'll be ready to compete against us." The Golden Panthers will be on the road again this weekend when they travel to Murfreesboro, Tenn., for the Middle Tennessee Blue Raider Bash. FIU will play Appalachian State and two more 2007 NCAA tournament teams in Lipscomb and Iowa State. This weekend is another opportunity to earn more respect for the FIU program, as well as the Sun Belt Conference. Defeating ranked opponents and NCAA tournament teams will pay dividends at the end of the season when the selection committee fills out the tournament bracket. "What the Clemson tournament did for us -- and the Furman match, because that was a tough one -- it just gave our kids a lot of confidence," Tomic said. "This is great and we're happy about it, but we know that we have to play our best volleyball in November." FIU plays host to the Sun Belt championship, but with solid teams like MTSU, WKU and Denver in the bracket, the Golden Panthers know the only other way to get into the NCAA tournament is by building a strong résumé -- now. "Our goal is to go to the NCAAs every year," Tomic said. "If you don't win the conference tournament, there is no guarantee that you'll go. Last year was the first time the Sun Belt had two teams in the NCAA tournament." Florida International won't play at home until Sept. 12 when Central Florida, Pennsylvania and Oral Roberts travel to Miami for the FIU Tournament. For one more weekend, however, the Golden Panthers will have to be content being the not-so-perfect guests.
Dave Reed covers college sports for ESPN.com.
SPONSORED HEADLINES
MORE COLLEGE SPORTS HEADLINES
MOST SENT STORIES ON ESPN.COM