Commentary
American University volleyball strikes gold with Albanian Sukaj
Updated:
October 15, 2008, 1:35 PM ET
By
Dave Reed
| Special to ESPN.com

When Rubena Sukaj's mother won the United States Green Card Lottery in 2004, the American University volleyball program hit the jackpot.
Since Sukaj joined American's roster, the Eagles have won three consecutive Patriot League titles and berths to the NCAA tournament. And as AU begins the final half of the 2008 season, the 6-foot-1 outside hitter could help the Eagles advance past the first round of the tournament for the first time in the program's history. All this thanks to Zana Sukaj winning the right to move to the U.S. with husband Qemal and daughter Rubena from their home in Tirana, Albania, after particpating in the lottery for the second time.
Every year, 50,000 applicants, their spouses and unmarried children under the age of 21 receive a chance to earn permanent residence in the U.S. through the computerized Green Card Lottery system. Four years ago, the lottery's timing could not have been better for then-17-year-old Rubena, who had just graduated from Asim Vokshi High School, and for AU coach Barry Goldberg, who was more than willing to take a chance on signing his fourth Albanian player since 1996.
[+] Enlarge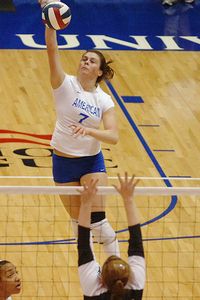 American University Department of Athletics Rubena Sukaj leads the Patriot League in kills with 284.
Rubena, a member of the Albanian women's national team, always had hoped to study abroad, most likely in Europe. But when her family won its green card, attending college in the U.S. became a dream come true.
"I was happy about it, and it was good timing because I had just finished high school," Rubena said. "I was going to go abroad to attend a university. I was considering Italy because that's where my brother lives and France because I had traveled there with the national team, but when my family won the green card, I chose the United States."
Like many Albanians who move to the United States, the Sukaj family originally considered moving to Worcester, Mass., which has a large Albanian population. It also was home to one of Qemal's friends.
Goldberg, too, had an Albanian friend who came to the U.S. in the mid-1990s. Arben Gjino was a former referee who had many contacts in the Albanian Volleyball Federation, one of whom was Rubena's coach with the national team.
"My coach told [Gjino] I was going to the United States, and he told me about American University, the school and the volleyball team," Rubena said. "Then [Gjino] talked to coach Goldberg about me. I liked the school, and we decided to come to D.C. instead of Worcester."
Goldberg first met Gjino and his wife, Olympia, in the mid-'90s when Olympia showed up unannounced in the AU volleyball office.
"Olympia walks into my office and says her husband is moving here and he loves volleyball," Goldberg said. "He doesn't speak English but would love to get involved with the program."
That first year, Gjino basically was an observer. But in the second year, he approached the Eagles' coach and said there were volleyball players in Albania who would love to attend college in the U.S.
Goldberg immediately signed a pair of Albanian players -- Edis Bonati and Ajola Berisha, in 1997 and 1998, respectively -- and added Eneida Muzachi in 1999. So when Gjino said his son, Leonard, who lives in Albania, had seen a player who would be a great addition to the Eagles' program, Goldberg didn't hesitate to follow up on the lead.
"Leonard was the one who saw Rubena play," Goldberg said. "I had enough knowledge through video and by knowing the level that Arben knew our team. By that time, we had been friends for 10 years. I've recruited a number of international athletes in my day; Rubena was the first one to come here with a green card already in hand."
It didn't take long for Rubena to prove the Gjinos correct. She enrolled in classes in January 2005 and was able to work out with the Eagles during spring practice. The player who arrived thanks to a lottery added "Powerball" to the AU attack.
"Rubena can hit the ball with some serious velocity," Goldberg said. "She can hit with the best players in the country from the back row. She can jump into the ball from the back row sort of like a guy, the way they just bang it from the back row. We have a real offense."
During her first two seasons, Rubena ranked among the Division I leaders in both kills and service aces. As a junior last season, she ranked fourth in the nation with 5.49 kills per set and seventh with 0.66 aces per set.
Her numbers are slightly lower this season, due in part to the new 25-point sets, but she already has left an indelible mark on the American University and Patriot League record books.
In a victory at Harvard on Sept. 12, she became the league's career leader in kills, eclipsing Army's Deann Machlan's mark of 1,718 (1992 to 1995). On Sept. 20, during a 3-1 loss to then-No. 13 Wisconsin, she became AU's kills leader, surpassing Karla Kucerkova's total of 1,765.
[+] Enlarge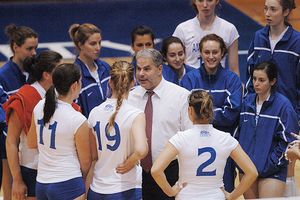 American University Department of AthleticsBarry Goldberg has recruited several Albanian players in his 20 seasons at American.
She also has broken records for career service aces, surpassing Jami Versteegen's school record of 239 and the league record set by Fordham's Jenn Shea of 255.
She was named Patriot League player of the year and an AVCA honorable mention All-American following each of the past two seasons and likely will earn both honors again this year as a senior.
"For her to get up to the second or third [All-American] team, we would have to go deep in the tournament," Goldberg said. "She definitely plays at that level. Most of the top 25 teams would take her. She may not start, but she would make the team. She would be in the top 100 players in the country."
AU currently is 5-0 in league play and tied atop the standings with Army, which ironically is coached by Alma Kovaci, a former teammate of Rubena's on the Albanian national team.
The Eagles and the Black Knights will play twice during the final five weeks of the season -- in Washington, D.C., on Oct. 24 and at West Point on Nov. 15 in the final match before the Patriot League tournament, which will be played on the home court of the regular-season champion Nov. 21 and 22.
For Rubena to get the notoriety she deserves at the national level, the Eagles will need to win their eighth consecutive Patriot League title so they can advance to the NCAA tournament.
"As far as her all-around game, she's definitely in the top three who have played at American," Goldberg said. "Right now, we're just kind of riding the wave with Rubena."
Regardless of how the season ends, Rubena will earn a degree in international finance in December and have the opportunity to attend grad school, continue her volleyball career -- either with the Albanian national team or in a European pro league -- or both.
That's when being a lottery winner will really pay off.
Dave Reed is a regular contributor to ESPN.com.
SPONSORED HEADLINES
MORE COLLEGE SPORTS HEADLINES
MOST SENT STORIES ON ESPN.COM