Commentary
Johns Hopkins prepares for men's lacrosse season with change of pace
Updated:
January 28, 2009, 1:50 PM ET
By
Christian Swezey
| Inside Lacrosse
As part of its 2009 Preseason Preview, Inside Lacrosse is counting down the top teams from Division I, Division II and Division III men's lacrosse as well as the Division I women, leading up to the first faceoff on Feb. 7. Today we take a look at the Johns Hopkins Blue Jays men's side, ranked No. 5.
Five Things to Know
A Long Way to Go
The Blue Jays spent a day before the preseason started doing a Navy SEAL team-building drill: A run/walk from campus to BWI Airport and back, believed to be around 30 miles. The team left at 4 a.m. An ambulance and qualified medical personnel were on-hand, as were several trip leaders, including a former Navy SEAL. The team voted in favor of the drill; last year, they had voted against it.
[+] Enlarge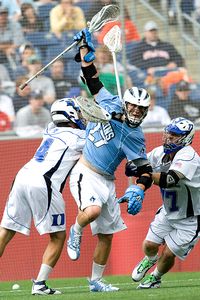 Peyton Williams/Icon SMITom Duerr returns after suffering a dislocated foot in the offseason.
No major injuries were reported, though coach Dave Pietramala said that afterward the players "were pretty sore, understandably." Per NCAA rules, the coaches could not be involved because the exercise came before the team had officially started preseason practice.
Not a Lot Back
For the first time since at least 1988, Johns Hopkins does not have back a player who scored 20 or more goals the previous season. Junior attack Steven Boyle is the leading returning goalscorer, with 19 goals in 2008. The previous low came when Matt Panetta was the leading returning goalscorer in 1991; in 1990, he had scored 20 goals.
In every other year dating from 1988, the Blue Jays have had back at least one player who scored 23 or more goals the previous season.
Everybody Freeze
In part because the team is young, but also because of the unseasonably cold weather in Baltimore, Pietramala has altered his teaching technique. For instance, on an offensive play, he does the following: Draws the play on a board; shows the team on film how it was run last year; has them walk through the play in the gym; shows them tape of the walk-through; then has them work on it outside. "You don't want to do a lot of teaching when it's freezing outside," Pietramala said. "You don't want to start and stop the guys a lot."
Injury Updates
Most Division I coaches believe the Blue Jays' attack will play a more prominent role this year than it has in the past because of the losses to the team's midfield. But at least two expected contributors are slowed this preseason.
Senior Tom Duerr (18 career goals) has rejoined the team for some but not all of its drills and conditioning after he sustained a dislocated foot in the offseason. He also missed fall ball. Duerr is the second-leading scorer in New Jersey high school history, with 253 goals and 178 assists (431 points) in his career at Christian Brothers Academy.
Meanwhile, junior Chris Boland has tendonitis but is expected back for the season opener against Siena on Feb. 20, if not sooner.
Eye on the Goalies
Freshman goalie Steven Burke (Bullis, Md.) has an unusual view in the race to be Division I goalie of the year. One contender is his teammate, junior Michael Gvozden (8.10 GAA, 59.8 percent). Another is Burke's older brother. Jordan Burke, a senior at Brown, was the Ivy League Player of the Year last year. He finished with a 6.43 GAA and 67.8 save percentage.
Pietramala says there are no plans to redshirt either of the team's highly touted freshman goalies, Burke and Guy Van Syckle (St. Albans, Washington D.C.). Burke was the backup in the fall and played well after Gvozden was removed from a loss to Georgetown in a scrimmage in October.
Unit To Watch
Longstick Middie
Maryland transfer Charlie Wiggins has not played since the 2006 Final Four. Yet he's not far behind the other two longstick middies on the roster in terms of 2008 playing time. Sophomore Orry Michael played in one game before he had season-ending shoulder surgery that also caused him to miss fall ball. Junior Greg Harrington did not play following a back injury he sustained while lifting weights.
Michael is probably going to start, given his penchant for nabbing groundballs. He is well-known as a top wide receiver at Don Bosco Prep (N.J.). There, he was a favorite target of former Louisville QB Matt Simms.
[+] Enlarge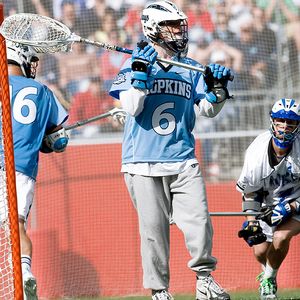 Peyton Williams/Icon SMIKeep your eyes on junior goaltender Michael Gvozden this season.
Wiggins has good size (6-foot-4, 220 pounds) but is likely to be rusty. Harrington has an advantage because of his familiarity with the defensive schemes.
"We think Orry has a chance to be very good," Pietramala said.
Wiggins is playing lacrosse while studying at the school of public health. "It takes some effort on his part," Pietramala said. "His class times are a little bit different. But the greatest thing about Charlie is he gets himself in great position to get possession of the ball."
Player to Watch
Michael Gvozden | Junior | Goalie
Michael Gvozden has a strong defense in front of him -- most notably senior defenseman Michael Evans -- and his performances the second half of the year were a revelation. "Michael [Gvozden] understands what it takes to be a leader," Pietramala said. "We need this year to see the consistency we saw in the second half of last year."
Burning Question
How Badly Does Hopkins Want to Win?
The answer to that question probably came somewhere in that Navy SEAL training run/walk. The idea came from a former Navy SEAL who used to attend Johns Hopkins practices.
"He said that a lot of teams have great programs and great players and coaches," Pietramala said. "So what is something that makes one team better than another? What is something that will give you an edge?
"Something like this can reveal leadership. The coaches could not be involved because we weren't in-season yet. So the players had to go and make their decisions. … The intention of it was to bring the team together. It was to teach them to work together in very difficult circumstances.
"The guys were pretty sore, there's no way you can't be after something like that. So we'll see how it works out. I'm not sure we'll know the true benefits of it for a while."
For the complete Johns Hopkins men's lacrosse preview, go to Inside Lacrosse.
SPONSORED HEADLINES
MORE COLLEGE SPORTS HEADLINES
MOST SENT STORIES ON ESPN.COM