Commentary
Northwestern poised for repeat ... again
Updated:
February 6, 2009, 4:09 PM ET
By
Kristen Bulkley
As part of its 2009 Preseason Preview, Inside Lacrosse is counting down the top teams from Division I, Division II and Division III men's lacrosse as well as the Division I women, leading up to the first faceoff on Saturday. Friday, we take a look at the Northwestern Wildcats' women's side, ranked No. 1.
[+] Enlarge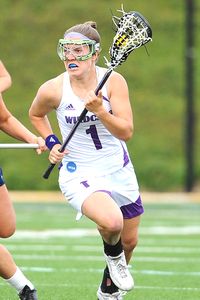 Courtesy Stephen J. CarreraHilary Bowen was named the NCAA Championship MVP the past two years.
Five Things to Know
1. This team is laden with veteran leadership
Over the past three years, the current senior class has a combined record of 62-3 and has won a national title every year. Experienced under pressure? Check. Proven winners? Absolutely. Capable of handling all the challenges and teams gunning for them? So far, without question. The Wildcats return big guns Hannah Nielsen (51G, 63A) and Hilary Bowen (81G, 20A), as well as Morgan Lathrop in net (6.87 GAA). Until an opposing team can figure out how to overcome the Wildcats' potent offense, explosive midfield and stifling defense, the top seed and another national championship is theirs to lose.
Yet coach Kelly Amonte Hiller does not set high expectations for a senior class that has known so much success. Rather, her goal for them is surprisingly simple: "With such a veteran team, I just hope that each player appreciates and enjoys each practice. I hope each player can walk off the field after every practice and game feeling they have worked their hardest and improved their level in reaching their potential."
2. Don't try to label them with the prefix "re"
Whether they reload, regroup or rebuild, here's the reality: The Wildcats have managed to repeat success as national champs the past four years under different circumstances each time. In fact, they seem to get stronger each year regardless of who graduates, who is gunning for them or how young they seem to be. Amonte Hiller manages to reassemble an athletic and talented lineup, while opponents get reacquainted with a team that allows little breathing room in a relentless brand of lacrosse.
3. Home Sweet Home
They do not lose much at home. The Wildcats are currently enjoying a 44-game winning streak at their home Lakeside field, an NCAA record.
4. Home Sweet Trophy Case
The Tewaaraton Trophy has been in Evanston, Ill., for a while now. The Wildcats have had two consecutive players win the prestigious award, which names the top female collegiate lacrosse player. In 2008, Nielsen took home the honor, finishing an amazing junior year in leading the Wildcats in scoring with 114 points. Former Northwestern great Kristen Kjellman won the award two years in a row in 2006 and 2007.
5. They have come out of the gate running
So far, life is status quo with decisive wins in their first two games. Northwestern routed Denver 24-6 in their season opener, then continued to roll in an impressive scrimmage win over Team Canada 21-5.
Player to Watch
[+] Enlarge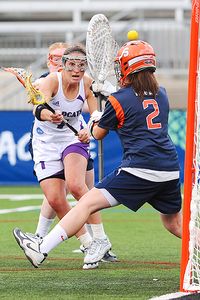 Stephen J. Carrera Hannah Nielson won the 2008 Tewaaraton Trophy.
All eyes will be on reigning Tewaaraton winner Nielsen, as she looks to lead her team to a fifth straight national title. In 2008, she ranked nationally in several stat categories, including second in total points (114) and assists (63), third in points per game (5.18) and fifth in draw controls (63). She also captured several other impressive honors with the Honda Lacrosse Sports Award, and the Big Ten Suzy Favor Award given to the conference's top female athlete. The Australian national team member is also well within striking distance of the all-time NCAA assists mark, with just more than 30 to go to hit the mark.
Burning Question
How will Northwestern handle the pressure as reigning national champs … again?
One would surmise that year in and year out, the pressure to "win it all again" would just become too much. But the Wildcats seem unfazed by the spotlight and the bull's-eye placed on them by opposing teams as well as the lacrosse media. It seems to be in the approach. Amonte Hiller, who also exudes a quiet confidence herself as she goes about her coaching duties, explains that the team takes things one day at a time. "Our focus is only on ourselves and trying to get better each day,'' she said. "Those championships are in the past and we are not concerned with them."
For more on women's lacrosse, check out Inside Lacrosse.
SPONSORED HEADLINES
MORE COLLEGE SPORTS HEADLINES
MOST SENT STORIES ON ESPN.COM