Commentary
Sophomore showdown displays arms
LSU's Ranauado, South Carolina's Dyson bring pitching to SEC's table
Updated:
March 20, 2009, 6:19 PM ET
By
Aaron Fitt
| Baseball America
Marquee Mound Matchup
Louisiana State's Anthony Ranaudo vs. South Carolina's Sam Dyson
LSU and South Carolina have been known more for their power bats than their power arms in recent years, but Ranaudo and Dyson are two of the Southeastern Conference's premier flamethrowers. The stellar sophomores will go head-to-head Friday night at Carolina Baseball Stadium.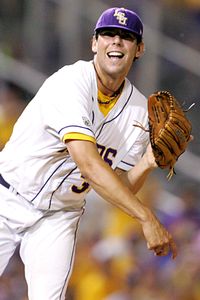 Derick Hingle/Icon SMILSU sophomore Anthony Ranaudo has come back from freshman-year injuries.
The 6-foot-7, 231-pound Ranaudo has emerged as a bona fide ace for the Tigers after injuries limited him to just 12 innings as a freshman. Through four starts this year, he's 2-0 with a 1.85 ERA and a 42-7 strikeout-walk ratio in 24 innings.
"Ranaudo has been everything that we had hoped," LSU coach Paul Mainieri said. "I know it's still early and he's only had three starts, but the one concern I had was would he be able to handle his expectations and throw the ball over the plate? But he has mastered the strike zone -- he's been a strike-throwing machine. He's going to throw in the low to mid-90s, but he's also got a pretty good curveball and changeup. He's a great athlete -- he was a stellar basketball player in high school [in New Jersey] -- and he just has really good body control."
Dyson finally suffered his first career loss last weekend at Mississippi State after winning his first 10 collegiate decisions. He was known for his huge arm strength in high school before having Tommy John surgery and redshirting in 2007. He has returned with his arm strength intact, but he's also learning how to become a pitcher. Through four starts, the 6-foot-2, 195-pounder is 2-1, with a 3.18 ERA and a 23-7 strikeout-walk ratio in 23 innings.
"If he can continue the start he's had, and establish himself as a, quote-unquote, Friday night starter, and go out there and give yourself a chance to win and eat innings at the same time, it makes your pitching staff better, it makes your bullpen better," South Carolina coach Ray Tanner said. "If he can do what he's done so far, it's a tremendous advantage for your team."
Dyson gives the Gamecocks something they haven't had in recent years: a true power-armed No. 1 starter. It's not the only thing different about this year's team. Losing sluggers Justin Smoak, Reese Havens, James Darnell and Phil Disher to professional ball has transformed the team's approach.
"I manage a little bit more right now," Tanner said. "With those guys we had last year, if you put on a hit-and-run or ask for a bunt, you almost had to question yourself. Those four guys hit about 80 home runs, so you almost feel like you're mismanaging. These guys, we told them in the fall, 'You'll be asked to bunt and give yourselves up in some situations.' We think our pitching staff will be a little deeper, a little stingier than we have been in recent years. But I have to manage a little more than I did the last few years and not just sit back and wait for the three-run home run."
That said, Gamecocks will be Gamecocks. Heading into this week's game against Davidson, they had 28 home runs through 15 games, led by outfielder DeAngelo Mack (8), third baseman Nick Ebert (7) and catcher Justin Dalles (4). A year ago, they had 23 homers through 15 games.
Baseball America will be on hand for the series in Columbia, including Friday's mound showdown. Check the Three Strikes blog for a recap.
2009 Stats
| Player | W | L | ERA | IP | H | BB | K | AVG |
| --- | --- | --- | --- | --- | --- | --- | --- | --- |
| Anthony Ranaudo | 2 | 0 | 1.85 | 24 | 16 | 7 | 42 | 1.90 |
| Sam Dyson | 2 | 1 | 3.18 | 23 | 15 | 7 | 23 | .185 |
Under The Radar
Sam Houston State

Through 19 games, Sam Houston State is sitting pretty at 14-5, including a 5-1 record in Southland Conference play. Its résumé includes a four-game sweep of Creighton, single wins over Missouri State, Rice and Houston, and conference series wins against Texas-Arlington and Texas State.
"In truth, I probably wouldn't want to play these 19 games over again to see if we can improve our record; I think we've had some fortune," Bearkats coach Mark Johnson said. "We're fielding at a .977 average, so we're not giving away a lot of stuff. A lot of games that you win, you don't win -- the other team loses. We've been able to stay in it by getting the leadoff guy, not making a lot of errors."
SHSU doesn't have a lot of overpowering arms, but most of them pound the strike zone, and the staff has anchors at the front and back in senior right-hander Jacob Howard (2-0, 3.42, 26-9 K-BB in 26 IP) and freshman right-hander Sean Weatherford (2-1, 4.70, 16-6 K-BB in 15 IP, four saves). Howard went 11-6, 2.70 in 110 innings in 2007 before missing most of 2008 after having surgery to remove a bone spur in his elbow. Johnson calls him a changeup artist with a high-80s fastball that occasionally reaches the low 90s, to go along with a breaking ball that he can throw in any count. Weatherford is the best arm on the staff, with an 88-91 mph fastball that reaches 93 and a hard slider that is an out pitch.
The Bearkats lost six of their top eight hitters, including their top three home run hitters, from last year's Southland tournament championship team. But senior first baseman Nick Zaleski, who led the team with 61 RBIs a year ago, is back to anchor the middle of the lineup. He's been a terror through 19 games, batting .447/.511/.697 with three homers, 10 doubles and 27 RBIs. Sophomore second baseman Braeden Riley, who started 22 games a year ago, has taken his game to the next level, starting all 19 games and batting .400/.412/.495. Senior third baseman Seth Hammock (.341 with 19 RBIs) and senior catcher Mark Wyatt (.369 with 14 RBIs) also bring veteran bats with occasional pop to a lineup that relies on using the middle of the field and the gaps more than the long ball, though they did hit back-to-back-to-back homers Sunday against Texas State.
Now the Bearkats return home for a big series against preseason Southland favorite Texas-San Antonio, which carries a 3-3 conference record into this weekend.
"I'm glad we're at home -- that helps," Johnson said. "We've had a hard time with [the Roadrunners]; we've done well in the tournament against them, but they've won the battle in the regular season. We're very much aware that they're the favorite to win the championship, and they've got a lot of returning players.
"We have some momentum going into this series, but of course they're very good. We'll have to pitch well and play solid defense. We're anxious to play them -- it'll be a good measuring stick to see where we're at at this point."
Streakin'
Casey McGrew | Wright State | Junior | OF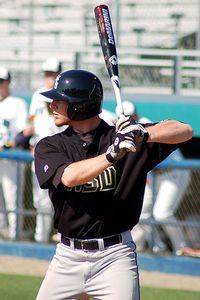 Greg CampellCasey McGrew has transformed into a prospect.
McGrew, a junior outfielder, is riding a 10-game hitting streak into Wright State's Horizon League-opening series this weekend against Youngstown State. Over his past six games, McGrew is 14-for-24 (.583) with nine runs, 11 RBIs, five doubles, a triple and two homers. At two different points last week, he had streaks of six straight and eight straight at-bats reaching safely. On the season, he's hitting .439/.525/.742 with three homers and 16 RBIs in 66 at-bats.
McGrew was mostly unrecruited out of Hayes High in Delaware, Ohio, and he arrived at Wright State on a books scholarship. He's worked hard to become a better player, and scouts who come to see Raiders third baseman Quentin Cate have begun to ask coach Rob Cooper about McGrew, as well.
"If you would have asked me a year ago, I'd have said he's just a good college hitter," Cooper said. "I think he's a prospect now. He was a catcher in high school, and he's a pretty good athlete; we made him a left fielder and he's done a great job out there. It's a gap-to-gap bat, but there's some power in there. He's got the ability to hit the ball the other way in the gap. If you miss on the inner third of the plate, he hit a ball way out of here on Saturday. He's got a nice, quick, fluid swing that I think will translate with wood. He's just a pure hitter, and he can drive balls. He's got three home runs right now -- not a ton, but he could hit double-digit homers this year."
Slumpin'
Ryan Lockwood | South Florida | Sophomore | OF
Even when Ryan Lockwood is slumpin', he's still streakin'. Lockwood's 32-game hitting streak came to an end Feb. 22, and he sunk into a prolonged offensive funk. Through seven games, he was hitting just .120 (3-for-25), and his average is still hovering at .219 through 16 games heading into this weekend's Big East-opening series against Rutgers. Lockwood has just two extra-base hits: a double and a triple. It's a stunning slump for someone who hit .415 as a redshirt freshman in 2008.
Still, Lockwood has reached base safely in 60 straight games. Only twice in his South Florida career has he failed to reach base -- his first career game on Feb. 22, 2008, and two games later on Feb. 24.
Stat Of The Week
1.29

Triples per game averaged by New Mexico through 21 contests (the Lobos have 27 triples). To put that into perspective, Air Force led the nation last year with 0.63 triples per game (UNM ranked 14th with 0.42). The Lobos are also hitting doubles by the bushel; they have 67 (3.19 per game). Last year's national leader, Maryland-Baltimore County, averaged 2.8 doubles per game. Overall, New Mexico is hitting .399 and carries an 18-3 record into this weekend's series against Northwestern.
Lest you dismiss New Mexico's offense prowess as a product of its soft schedule or hitter-friendly home ballpark, take note of UNM's two-game sweep at Texas A&M in midweek action this week. The Lobos scored 19 runs on 29 hits, including four doubles and two triples, in two games against one of the nation's deepest pitching staffs.
"We picked up the College Station paper and it said our average was so high because we play at hitter-friendly Isotopes Field," Lobos coach Ray Birmingham said. "Well, we proved that [A&M's] Olsen Field is hitter-friendly too. At our ballpark, the gaps are huge -- it's 420 feet to the gaps. We work on getting out of the box as fast as we can, and hitting line drives. If it gets in the gaps, we're thinking triple from the time we leave the box. I think a lot of people make outs by not making contact and flying out. Hit line drives around the ballpark, hit for average, and the home runs will come. I've just believed in [that philosophy] for a lot of years."
Birmingham has the veteran personnel to execute his offensive approach. Senior third baseman Dane Hamilton (13 doubles, five triples) leads the extra-bases barrage, followed by senior second baseman Mike Brownstein (nine doubles, six triples) and senior outfielder Brian Cavazos-Galvez (six doubles, six triples). New Mexico's leading home run hitter is catcher Rafael Neda, with three.
Birmingham said his team not blessed with great speed, but his players run hard out of the box every time. Birmingham frequently describes himself as "old school" and credits his team for buying into his blue-collar message.
"I don't feel like I've got them where I want them, but I feel like [we're] headed in the right direction," Birmingham said. "With baseball, it's day-to-day. There's no doubt that our program will be one of the better ones in the country."
Here's one more number that might be even more important than all the extra-base hits: 3.64. That's New Mexico's team ERA. Birmingham said the Lobos have a number of legitimate power arms who are starting to learn how to pitch. Cole White, a 6-foot-3 right-hander who transferred from Paris (Texas) Junior College, can run his fastball up to 95 mph and complements it with an 83-84 mph slider. He has been able to throw strikes when he needs to, helping him post a 0.00 ERA and 23 strikeouts in 17 innings out of the bullpen.
Closer Clinton Cox can reach 92 from a low-three-quarters slot, and senior righty Will Kerr gets up to 93-94, though he's still working on the mental side of the game. Sophomore Keith Toves reaches 92 from the left side.
"Pitching is the key here, like it obviously is anywhere," Birmingham said. "Last year when we took over the program, we had no depth, zero. I broke out my rosary when we went to the bullpen. Now we get better when we go to the 'pen. We've got some good arms here."
Scouting Report
James Jones | Long Island | Junior | LHP
Jones was the talk of the Northeast last fall after his summer star turn in the Northwoods League, where he ranked as the circuit's No. 3 prospect. He ran his fastball up to 95 in fall ball and scouts buzzed about his soaring draft stock. He entered the spring ranked the No. 35 college prospect in the nation for the 2009 draft, but he's gotten off to a miserable start, going 0-3, 11.66 with 12 strikeouts and 11 walks in 15 innings. A National League scout who saw his most recent start, a loss to Pittsburgh last week, offered his thoughts about the 6-foot-3, 185-pound junior: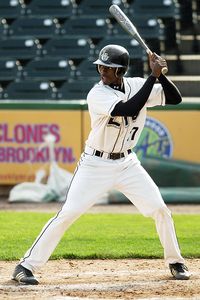 Long Island Media Relations James Jones has a great arm, but his production is falling.
"The first few games he didn't throw well at all, it was a lot of bad weather. His delivery changed from the fall -- it's slowed down. He gets out of synch on the mound at times, he gets on the side of the breaking ball, he'll open up. He's got a great body, a great arm action and great arm strength. But this kid is not a top-two-rounds guy. He's got a first-round body, a first-round arm, but the secondary stuff is short and the command's OK, but it's not great. You're not really getting a college pitcher in the mold of a Fullerton-, Miami-, Texas-type guy. He has limited experience, though he does some things naturally. He's an interesting guy; it will either click or he'll be a bust.
"The other day he touched 94, he was 90-94. His slider was like 74-77, his curveball was 72-74. He needs to scrap one of them, probably scrap the slider, he just doesn't have a feel for it. He did throw one curveball that was OK. He slows down his delivery on the changeup, but he should be able to throw at least a decent one. He'll probably end up having at least average command in the big leagues later on, but it's below-average now.
"He gave up six runs [three earned] in six and a third innings and this was the best start he's had all year. Don't get me wrong, I like the kid, it's just I can't see somebody taking him in the first three or four rounds. If he keeps pitching better, he could, but he's still not a top-two-rounds guy unless he all of a sudden comes up with a good breaking ball and starts throwing strikes. Right now he's between four and eight for me. He seems like a nice kid, seems like a good demeanor, a really good kid. Really nice kid -- humble but at the same time confident.
"The arm works great. The arm action is as good as you're going to find, and it's a fast arm. Physically -- not the way he throws but the way he looks and the way he moves around the mound, the looseness of him -- he reminds me of [former Yankees No. 1 overall pick] Brien Taylor. But he doesn't have that kind of arm. This kid has a better arm action than Brien Taylor. They both had something in common: They didn't have a good breaking ball. But Taylor threw harder and had better command."
In The Dugout
Gerrit Cole | UCLA | Freshman | RHP
Gerrit Cole arrived at UCLA with a mountain of expectations after declining to sign with the Yankees as a first-round pick last June out of Orange (Calif.) Lutheran High. He stepped immediately into the Bruins' weekend rotation and has wasted no time establishing himself as the very early top prospect in the college draft class of 2011. Using a blazing 94-97 mph fastball that has reached 99, a vicious 81-84 slider and an excellent 83-84 changeup, Cole has gone 1-2 with a 3.15 ERA, 30 strikeouts and nine walks in 20 innings. He shined in a losing effort against Baylor ace Kendal Volz at the Houston College Classic in Week 2, then struck out a career-high 12 over five innings at East Carolina last weekend before his outing was cut short by a rain suspension. Cole earned a no-decision in that one but the Bruins got the win to capture a critical weekend series victory, though they still enter this weekend's Pacific-10 Conference-opening series at Southern California with just a 5-12 record. The Trojans have had their own struggles and carry a 7-8 mark into this weekend.
[+] Enlarge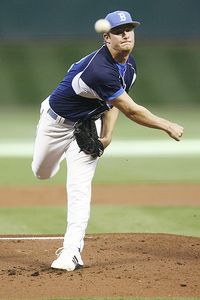 Aaron M. Sprecher/Icon SMIFreshman Gerrit Cole chose UCLA over the Yankees out of high school.
Q: The weather was pretty lousy out there against ECU. Did you feel like it was one of those days, with the weather like it was, where you could just pound the fastball as much as you could?
A: Sort of, I had a couple different options though. The changeup was effective and so was the slider, so I was prepared to pitch with all three. As long as I located the fastball, it seemed to be working.
Out in Houston, you threw about 75 percent fastballs. A guy who throws as hard as you do, is your plan a lot of times just to go at guys and say, "See if you can hit it?"
Yeah, but you also have to be fine with it, as well. If a ball's over the plate, they're going to hit it. Seven times out of 10, a good hitter's not going to put that ball over the fence, but if you locate it, the percentages go down even more.
You're off to a really good start as a freshman, and you're a guy whom a lot of people are talking about. Are you off to the kind of start you expected, or better?
I'm off to a pretty good start. I've still got a lot of stuff to work on and a long way to come. I'm feeling my way around and getting used to different atmospheres. Overall, I'm pretty happy with it.
Have you always wanted to play for UCLA?
Not UCLA -- college ball in general, though. I'm really enjoying myself. We've got a good group of guys who are all good friends and hang out a lot. I think it was a good decision overall.
Did you come close to signing with the Yankees last summer? How close did you come?
I pretty much had my mind made up. But I'm not going to go into details about that.
It seems like you've got a lot of fire out on the mound. You've probably heard scouts say things about your maturity or demeanor. How do you respond to things like that?
Most of my emotion I show is positive and is meant to fire the team up and have them jump on my back and let's get rolling. That's just the way I pitch. I love the game.
It seems like your enthusiasm is contagious. Do you feel like the guys really get behind you when you're out there in a groove like you were against the Pirates?
Yeah, and even when I'm not, I just try and pick them up and get them in the zone and get them going.
You're making your first Pac-10 start this weekend against USC. How much are you looking forward to conference play?
Looking forward to it. I know a few people on their team. They should be a solid team. I'm just looking to get after it.
For more on college baseball, check out Baseball America.
SPONSORED HEADLINES
MORE COLLEGE SPORTS HEADLINES
MOST SENT STORIES ON ESPN.COM