Miami advances to Frozen Four final
Updated:
April 10, 2009, 2:51 AM ET
Associated Press
WASHINGTON -- Where's Bemidji? That's so yesterday.
Here's the latest question from the Frozen Four: Where's Miami?
Well, when it comes to hockey, it's in the Midwest.
"It certainly is not in Florida," Miami coach Enrico Blasi said. "I sure hope everybody's enjoying this back in Oxford, Ohio."
A Miami school will play for an NCAA title, and it's not the Hurricanes from down South. The RedHawks, in the first national semifinal game played by any sports team in the university's history, beat fellow upstart Bemidji State 4-1 on Thursday night to advance to the championship of the Frozen Four.
"It puts Miami on the map," left wing Justin Mercier said. "To establish ourselves as a perennial powerhouse, we need to make it to more Frozen Fours. It has to start somewhere, right?"
[+] Enlarge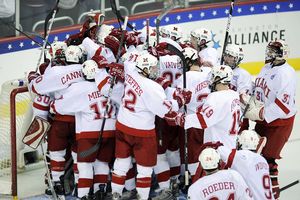 AP Photo/Nick WassMiami University's defeat of Bemidji State marked the first semifinal appearance by any sports team in the school's history.
Stunning upsets in the first two rounds made Bemidji State -- the small university located in a northern Minnesota town better known for its place in the Paul Bunyan legend -- the darlings of the week, much as George Mason was at basketball's Final Four three years ago. GMU even loaned its "Green Machine" pep bard to the green-clad Beavers and played a chorus or two of "Livin' on a Prayer" -- Mason's unofficial theme song during the 2006 run -- in an unsuccessful attempt to rally the school's kindred spirits in the third period.
Yet, while Bemidji State had the funkier name (pronounced, as the sports world knows by now, beh-MIDGE-ee), it was Miami that had the three-goal burst in the second period that essentially settled the game.
Miami (23-12-5) will face Boston University, which beat Vermont 5-4, in Saturday's title game. Bemidji State (20-16-1) will head home with a George Mason-like feeling -- good enough to make its sport's biggest stage, but not good enough to win once it was there.
"A lot of people were pulling for us; we knew that going into the game," BSU defenseman Cody Bostock said. "It's a feel-good story for a lot of people out there. It's something special to be a part of. You want to thank everyone out there.
"Unfortunately, tonight we came up on the wrong end, but it's been a good run. The time of a lifetime. Something I'll never forget."
Had the Beavers not been here, Miami would have been carrying the banner for the underdogs. The RedHawks, who not long ago used to call themselves the Redskins, might be best known among sports fans for producing Pittsburgh Steelers quarterback Ben Roethlisberger. Only one Division I hockey school -- Alabama-Huntsville -- is further south. Oxford's population of 22,000 could almost squeeze into the Verizon Center, although Bemidji's 14,000 or so would fit with room to spare.
"I think it just puts an exclamation point on what coach Blasi has been building since he got to Miami," Mercier said. "He really had a vision and when I was being recruited here to Miami, I really believed what he was doing, and in what he was doing."
Tommy Wingels, Alden Hirschfeld and Bill Loupee all found the net during the second-period barrage, scoring more goals against Bemidji State in 7 minutes than the Beavers allowed in the first two rounds, when they shocked the college hockey world by beating Notre Dame and Cornell.
Wingels also had an empty-net goal in the third. Freshman goalie Cody Reichard made 24 saves for the RedHawks.
Both schools were not only in the Frozen Four for the first time, but both were No. 4 seeds in the regionals -- the lowest rung of the 16-team tournament. As might be expected from the newcomers, the first period was more of a shake-the-nevres, feeling-out process than anything else.
Wingels started the scoring by beating goalie Matt Dalton stickside from the left circle early in the second period. The goal ended a streak of 10 consecutive successful penalty kills for the Beavers.
Wingels then supplied the backhand pass to Hirschfeld to make the score 2-0. Matt Read pulled Bemidji State within one with a power-play goal about a minute later, but Loupee restored the two-goal lead a minute after that when he camped next to the crease and got his stick on the puck, deflecting it off a sprawling Dalton and into the net.
Bemidji's fans had come out in force, dominating one corner of the rink with signs and cheers and the borrowed pep band, but the crowd couldn't rally the Beavers one more time.
"Obviously when you lose, it stings, but you have to get over it," Bemidji State coach Tom Serratore said. "But after you reflect back and you look at it and, you know what, you're proud that you were able to participate in an event like this."

Copyright 2009 by The Associated Press
2009 FROZEN FOUR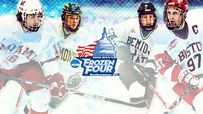 2009 NCAA Men's Hockey Tournament
STORIES
VIDEOS
TOURNEY TOOLS
MORE COLLEGE SPORTS HEADLINES
MOST SENT STORIES ON ESPN.COM