Commentary
Michigan looks to hold on in Big Ten
Updated:
May 1, 2009, 2:05 PM ET
By
Aaron Fitt
| Baseball America
Meaningful matchup
Michigan's Chris Fetter vs. Ohio State's Alex Wimmers
This season hasn't gone as planned for Michigan, which fancied itself a top contender for the Big Ten title heading into the season, even after losing many of its key players from last year's regional-hosting team. The Wolverines (23-19, 6-9 in the Big Ten) currently cling to a half-game lead over Purdue for the sixth and final spot in the conference tournament field, while rival Ohio State (32-10, 11-4) has replaced the Wolverines as the Big Ten's strongest regional host contender.
[+] Enlarge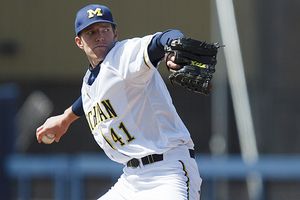 Rick Osentoski/Southcreek Sports/Icon SMIIn his time at Michigan, Chris Fetter has bettered his fastball by about 10 mph.
But one thing hasn't changed for Michigan: Right-hander Chris Fetter is still the best pitcher in the conference. Fetter, who led the Big Ten in wins, ERA and innings pitched as a junior in 2008, recorded his third complete game of the year in a win against Indiana last Friday, striking out 12 and allowing just two runs over nine innings. That performance lowered his conference-leading ERA to 2.18, and his 82 strikeouts rank second in the league behind only Alex Wimmers (89).
Fetter has come a long way since arriving at Michigan in the fall of 2004 with a 79-81 mph fastball. The Wolverines long expected a velocity jump for the 6-foot-8 230-pounder, and he climbed into the mid-80s in the Cape Cod League in 2007. This year, according to Michigan pitching coach Bob Keller, Fetter is sitting at 90-91 mph. Keller said Fetter touched 94 mph eight to 10 times against Indiana, which should help his draft stock significantly. He also drops his arm slot down to throw an average slider, and he has improved his feel for his changeup.
"I think it's the culmination of a lot of things," Keller said of Fetter's increase in velocity. "We've done a lot of work with weighted balls, we've got him throwing from a higher slot and we've worked on a lot of long toss."
Wimmers, meanwhile, has emerged as one of the Big Ten's top starters as a sophomore after working exclusively in relief as a freshman. He really made a name for himself last summer in the Valley League, ranking as the circuit's No. 2 prospect, and he carried his momentum over to the spring. Wimmers settled into Ohio State's Friday starter job from opening day and never let go. Through 11 outings, he is 7-1, 3.14 ERA with 89 strikeouts in 72 innings.
Wimmers worked in the 90-93 mph range for much of last summer, but Ohio State pitching coach Eric Parker said he's worked at 88-90 most of this spring, touching 91 occasionally. But when he's been on -- like he was in a win against Miami on March 24 -- Wimmers is able to command his curveball and changeup as well as his heater.
"For the most part, he's been able to command three pitches," Parker said. "The thing that's really come along has been his changeup. Last year he was more of a reliever for us, a late-innings setup guy who would get after them and attack them. As a starter, he has been able to really work on that changeup."
Even with Michigan struggling, there should be an excellent crowd at Bill Davis Stadium to see two of the league's best pitchers going head-to-head.
"Michigan and Ohio State could play checkers and draw a big crowd," Keller said.
2009 Stats
| Player | W | L | ERA | IP | H | BB | K | AVG |
| --- | --- | --- | --- | --- | --- | --- | --- | --- |
| Chris Fetter | 6 | 1 | 2.18 | 74 | 65 | 14 | 82 | .236 |
| Alex Wimmers | 7 | 1 | 3.14 | 72 | 55 | 36 | 89 | .211 |
Under the radar
Rhode Island
The Rams have been one of the nation's biggest surprises. They have played a stout schedule and built a 30-14 overall record, with wins against Miami, Ohio State, Oklahoma State, North Carolina State and Connecticut. Those quality wins give the Rams an RPI of 39, putting them in play for an at-large regional berth even if they don't win the Atlantic 10 Conference. Heading into this weekend's series against Fordham, Rhode Island sits atop the A-10 standings at 15-2, 1½ games ahead of second-place Dayton and 5½ games ahead of heavy preseason favorite Charlotte.

Technically, the Rams aren't a huge surprise. They were picked third in the preseason and have now won 30 or more games in five of the past six years, which is particularly difficult to do with just 2.6 scholarships at their disposal. URI does a tremendous job allocating resources and getting the most out of its talent.
"We recruit kids who have high ceilings out of high school, and we really put a lot into our player development," Rhode Island coach Jim Foster said. "We work real hard at it. I've got to give my staff a lot of credit; they do a great job. We get kids that might not be the most highly recruited, but you can see something in them. I played 10 years of pro ball; I'm pretty decent at projecting a kid out. But that's if he puts the effort in.
"I think the kids here realize every year is a new year, and it's open competition every year. You've got to keep getting better; you can't stay the same. I think that has a lot to do with the success of our program. When you've got a kid on a full ride, he knows he's got a spot the next year and the next year."
The Rams usually build their teams around pitching, and this year is no exception. Their staff is far and away the class of the A-10, with quality veterans Eric Smith (5-1, 2.72), Nick Greenwood (4-3, 4.08) and Tim Boyce (5-1, 6.08) in the rotation and hulking senior Luke Demko (2.84 ERA, 10 saves) anchoring the bullpen.
Smith, a junior right-hander, caught Miami coach Jim Morris' attention in early March, holding the Hurricanes to three hits over eight scoreless innings and prompting Morris to predict Smith will pitch in the big leagues. Smith has generated plenty of buzz among scouts and has a chance to be drafted in the top five rounds in June. He's not afraid to pitch inside with an 88-93 mph fastball with arm-side run, and he throws an average slider in the mid-80s that has a chance to be above average down the road. He also shows a curveball and has good feel for a changeup.
"He's been unbelievable," Foster said. "He was a kid that was real immature as a freshman. We knew it was going to be some work, but he always had a real good arm. As a freshman he was 85, 86, 87. He had some mechanical issues he had to iron out. He's gotten that consistency, with the way he works, and just getting innings."
Developing uncut gems like Smith into stars is how Rhode Island has been able to compete year after year. And this year, the Rams should be in regionals for the second time, and first time since 2005.
Streakin'
Howard (Texas) Junior College
How's this for a streak? Howard JC is undefeated, 50-0, heading into its final regular-season series this weekend against Frank Phillips (Texas) JC. The Hawks are trying to become the first NJCAA team to post a perfect season since Wingate (N.C.) went 18-0 in 1956. No NCAA team has ever gone undefeated, though Division III Trinity (Conn.) got awfully close last year, going 44-0 before suffering its first loss of the season in the championship round of the D-III World Series. (Fortunately, that was a double-elimination event, and the Bantams bounced back to win the national title in the second game of a doubleheader that same day).
Howard coach Britt Smith said the thought of having a perfect season had never entered his mind until this year.
"You see that stuff on ESPN all the time, like UCLA and John Wooden, where they didn't lose a game in like forever," Smith said, noting the Bruins' 88-game winning streak in the early 1970s. "I didn't think it could happen in baseball, where you play so many games."
Early in the season, before Howard's offense really got going, its pitching carried it to some close victories. But once the bats warmed up, the Hawks were seldom seriously challenged. Until two weeks ago, at least, when Howard trailed heading into the final inning for the first time all year, against Midland (Texas). But Howard's leadoff man that inning hit a two-strike home run to tie the score, and the Hawks wound up scoring five more runs in the inning. A week ago at Clarendon (Texas), Howard trailed 8-3 after two innings but rallied back to win 12-9.
"We're a hard team to defend because we can play so many different ways," Smith said. "We can bunt, we can play small ball and we have a ton of team speed, but we also have guys who can hit it out of the park one through nine. We put a lot of pressure on the other team."
The Hawks are loaded with professional prospects from Division I transfers Runey Davis (a speedy outfielder who arrived from Texas after last season) and Monk Kreder (a catcher who came from Texas Tech) to power pitchers Burch Smith, Anthony Collazo, Chase Adams and Zach Neal, who all can run their fastballs into the 90s. But the team's best player and prospect is catcher Miles Hamblin, who is hitting .435 with 13 home runs and 66 RBIs. Hamblin is still working on learning the nuances of catching (he was a third baseman when he arrived at Howard a year ago), but Hamblin offers a strong, accurate arm and true left-handed power at a premium position. He also sets the tone for the whole team with his toughness.
"He's one of the toughest kids I've ever coached -- he's like a cattle rancher," Smith said. "That guy's made out of wrought iron. He's always nicked up but he never comes out of the lineup, ever. I'm afraid to pull him, afraid he'd kick my [butt]. He's a great kid, just a competitor."
Having a leader who evokes Jack Palance's Curly from "City Slickers" is a major asset for a team with aspirations of perfection. To survive every team's best shot every game, you've got to be tough.
"The one thing with us is being on this kind of winning streak. Early on we were 20-0 and people were saying 'You guys need to lose a game,'" Smith said. "With 36 to go, we were thinking, 'Sure, [losing a game is] going to happen.' Going undefeated has never entered your mind. Going forward, every team wants to be the team that beats us. They come out every game and it's Game 7 of the World Series all over again. It's forced our kids to play at a high level every day. We've been playing playoffs for about three and a half, four weeks."
Slumpin'
Fresno State
It's been a season to forget for the defending national champions, who are in danger of being the lone team in the seven-team Western Athletic Conference to be left out of the six-team conference tournament. At 4-8 in league play, Fresno State is currently tied for last place with Sacramento State heading into a four-game series against Nevada this weekend. The Bulldogs have lost seven of their past nine games, including a four-game sweep at the hands of Louisiana Tech, a split with San Jose State and a 17-16 midweek loss to Cal Poly.
[+] Enlarge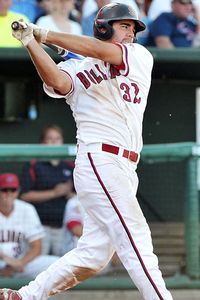 AP Photo/Ted KirkTommy Mendonca is the lone bright spot for Fresno State.
Pitching has been Fresno's biggest problem; Tuesday's slugfest against Cal Poly was the 12th time this season the Bulldogs have given up double-digit runs, and the sixth time in the past 12 games. In between, they pitched well at San Jose State, giving up just eight runs in four games, but their offense failed them in three of those contests, resulting in two losses.
The lineup is simply not nearly as deep as it was a year ago. The Bulldogs have just three regulars hitting above .300: shortstop Danny Muno (.377); first baseman Alan Ahmady (.328 with just three homers and 35 RBIs after hitting 13 long balls and driving in 92 a year ago); and third baseman Tommy Mendonca (.313 with 17 homers and 54 RBIs).
"Fresno State is just three good hitters, and then the rest of the team falls off a cliff," said an area scout with a National League club. "Guys who shouldn't be starting at a program like that, especially coming off a national championship."
Mendonca, at least, has given fans something to cheer for. He became the school's all-time home run king with his 44th career home run April 18 against Louisiana Tech. After setting a single-season record with 99 strikeouts last year (in 78 games), Mendonca has reduced his strikeout rate just a bit this year, from 1.26 per game to 1.07.
"Mendonca is the tricky one," the scout said. "He strikes out a lot, though he has cut it down this year. He has an arm bar, a sweepy thing and his swing is grooved, but his power will carry over with wood. He has 60 or maybe 70 power [on the 20-80 scouting scale], but it's a 40-hit [tool] at best. He just might strike out over 150 or 200 times in a full minor league season."
But at least he won't challenge his 99-strikeout record, because Fresno State isn't going to play even close to 77 games. The Bulldogs are 20-23 right now with 12 games to go, and even if they win all of their remaining 12, the only way they're getting into a regional is if they win the WAC tournament. After all, Fresno ranks 220th in the Ratings Percentage Index. The RPI has plenty of flaws, but for a defending national champion to have an RPI that poor is jarring, to say the least.
Bubble watch
Vanderbilt at South Carolina
In a year in which finding 64 regional-worthy teams is a challenge, the SEC seems like a strong bet to land eight regional bids, but only six teams seem secure at this point. If the SEC tournament began today, Vanderbilt (10-10 in conference play) and South Carolina (9-12) would be the seventh and eighth teams in, but Auburn (8-13) and Kentucky (7-14) are still within striking range. And the league is hardly a lock to secure eight bids; it was only two years ago that the SEC sent just five teams to regionals.
The Gamecocks, in particular, are in dire need of a series win at home this weekend against an SEC East rival. South Carolina has lost four straight games, including a three-game sweep at Florida last weekend. Right now, South Carolina's at-large résumé is built around one series win against a likely regional team (two of three at Mississippi on April 10-12) and a 2-2 record against Clemson.
"[This weekend] is very important, and we say that all the time," South Carolina coach Ray Tanner said. "Because we did not win a game in Gainesville last weekend, there's a sense of urgency. We've got to get back in the hunt. As a coach we try not to put too much pressure on our guys and look at the standings, but we need to win. We've got to be ourselves, but there's definitely a sense of urgency in our camp."
Tanner said he expects the series to hinge on Friday night's showdown between Vandy left-hander Mike Minor and South Carolina righty Sam Dyson. But just as important might be the health of Vandy right-hander Caleb Cotham, who is scheduled to pitch Saturday. Cotham left his start last weekend at Mississippi State after 2 2/3 innings due to knee soreness.
Before getting hurt, Cotham showed some of his best stuff, with one scout reporting Cotham broke off a couple of mid-80s sliders with depth. "I always thought of him as a sinker/slider guy, but that was the first time he's shown a put-away pitch," the scout said. "His command was off the other day, but that might have been the knee."
"I think he's as healthy as he needs to be right now to pitch," Commodores coach Tim Corbin said. "Last weekend he tried to gut through it and had a little pain in his knee. … Up to this point, he feels good, so provided his bullpen goes well [Friday], I would think he's going to pitch on Saturday."
A week ago, the Dores were in a similar situation to South Carolina's current predicament. Vandy had been swept by Alabama and lost a midweek game at Austin Peay State, but it rebounded with a midweek win at Louisville and a sweep of the Bulldogs.
"I think you understand that one weekend makes a huge difference and can really make you swing in a positive or negative direction," Corbin said. "Now that you're getting down to the last three series of the year, the games will be a lot tighter, and everyone's playing for their Birmingham life, so to speak."
And any team that fails to make the trip to the Birmingham, Ala., suburb of Hoover for the SEC tournament this year can kiss its regional hopes goodbye.
Stat of the week
0.30
Saint Xavier's (Ill.) left-hander Jayson Koehn's ERA, which is the lowest among all NAIA pitchers and also the lowest among all qualifying pitchers at any level of NCAA competition. The 6-1, 170-pound junior is 9-0 with a 0.30 ERA and a 45-9 strikeout-walk ratio in 60 innings heading into Saint Xavier's regular-season finale this weekend against Purdue-North Central (Ind.). Koehn also has five shutouts on the season for the Cougars, who are 34-12 overall.
Koehn doesn't do it with overpowering stuff; he owns an 84-87 mph fastball, a sweeping mid-70s curveball and a solid low-70s change, according to Cougars pitching coach Ryan Quigley. But he throws 74 percent first-pitch strikes, and has thrown all three of his pitches for strikes 60 percent of the time.
"His command has really set him apart, as you'll see his strikeouts are not overwhelming, but the walks very minimal," Quigley said in an e-mail. "I think he'd be a solid senior sign, especially because he's still rail-thin, has great athleticism and he's left-handed."
Scouting report
Cal State Fullerton

Cal State Fullerton posted one of the best first halves in recent memory against a rigorous nonconference schedule, but the Titans haven't been as dominant in Big West Conference play, dropping home series to UC Irvine and Pacific, their first series loss ever to the Tigers. At 9-6 in the conference, third-place Fullerton trails Irvine by 3½ games heading into this weekend's series against UC Santa Barbara.
While veterans like Josh Fellhauer (.396), Jared Clark (.351 with seven homers and 52 RBIs) and Christian Colon (.343 with five homers) have had strong seasons, freshmen have also played major roles for the Titans, particularly on the mound. Righties Tyler Pill (7-1, 3.16) and Noe Ramirez (5-1, 2.89) have given Fullerton a pair of reliable starters to complement sophomore ace Daniel Renken (5-2, 2.30). And freshman DH/left-hander Nick Ramirez (.302 with seven homers; 1-1, 3.16) has seen less playing time offensively and more off the mound recently.
A coach whose team has played Fullerton offered his take on the Titans, particularly the freshmen.
"The best team we've seen is Fullerton. They do everything timely. I was very impressed with their club. I don't think they're super deep on the mound. We thought we could press those freshman pitchers and crack them, and that did not happen. I was very, very impressed. I still think they can continue to get better in some ways.
"Tyler Pill can be dominating. He was anywhere from 90-93, and might have touched better. He had a hammer for a curveball, a real hammer. He was changing speeds on it when he needed to and had an excellent changeup when he needed it. He was impressive. He'll be about as good a freshman as we've had in our conference. Noe Ramirez sometimes has an out pitch for a changeup going. He was always a flat-plane guy, very loose arm, you'd see 84-87. Now he's anywhere from 86-90, loose enough and deceptive enough with his off-speed pitches that he can get away with stuff up in the zone early in the game. He has a very good breaking ball -- he's starting to throw a slider, which is a good move by them. He'll also show a slower one, a slurve. But that changeup is legit.
"In the bullpen, Nick Ramirez will show you an above-average changeup. Kevin Rath is throwing downhill, and you can see when he gets his pitches going, he's a very, very good lefty. He could find his way into a weekend job in the next year or so. [Kyle] Mertins is a solid guy; a lot of programs would love to have him as a starter. He's fastball-slider and knows how to throw strikes. There's no 95 back there -- that would have to be [Michael] Morrison, and I've heard he's up to 94. They have what they need to have.
"Nick Ramirez, people are starting to figure him out a little bit as a hitter. He'll chase; he chases fastballs up. If you're going to throw it in the zone, it's got to be slow, and if you're going to throw it hard, elevate it. Khris Davis is having some very good at-bats. He used to swing at every slider you threw at him, but now he's starting to drive the ball. That loose swing and raw power is starting to play. Davis is a lot thinner and leaner, just more trimmed up. The same with a couple of their guys: Colon has trimmed up his body, he's doing things easier, more in control offensively and defensively.
"That left side of their infield [shortstop Colon and third baseman Gary Brown], you can't hit it through there, you just flat-out cannot. Then Joe Scott at second base: You can't get it by him, either. And I think he knows he doesn't have to go up the middle because Colon will be there. They do their job. You're going to have to play your best and have to play perfect to beat them."
In the dugout
Matt Duffy | Vermont | Sophomore | SS
It's been a trying year for Vermont's players, who found out just three weeks before the season began that their 121-year-old program was being cut to remedy athletic department budget shortfalls in a troubled economy. The Catamounts have gone just 13-25 (5-7 in the America East Conference), but Matt Duffy has overcome the distraction and put up a sensational season, leading the AEC in batting (.451), on-base percentage (.547), slugging (.832) and home runs (11). He is red-hot heading into this weekend's series against Hartford; last week he hit .619 with three homers and seven RBIs in six games. Duffy is closing in on Vermont's single-season home run record (14), held by 2006 UVM graduate Kyle Brault. And that's even after missing Vermont's first seven games with a broken hand, suffered when a teammate hit him on the hand during intrasquads this winter. Duffy will continue his baseball career next year at Tennessee.
[+] Enlarge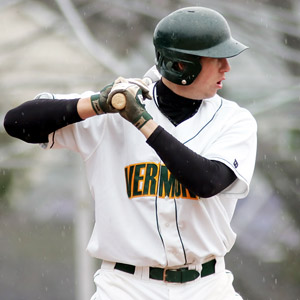 Shane Bufano Matt Duffy is scorching the plate this season despite sitting out early with a broken hand.
Q: Congratulations on your fine season and your recent hot streak. What's been the biggest reason for your success with the bat?
A: Having it be my sophomore year, the experience factor helps a lot. Obviously [for] baseball players, everyone has that time where the baseball looks like a basketball, and that's what I'm going through right now.
You've improved your power numbers dramatically from last year, when you hit three. Why do you think you've had such a power surge?
I've been working with Coach; I changed a few things around in my swing. I got a little stronger in the offseason, and mechanically I changed my swing a little bit. It's helped me greatly. I hit a lot of doubles lat year, and those are turning into home runs now. I used to pick up my front foot, now I'm loading more and using my legs more than I used to. My assistant coach, Mike Cole, helped me greatly. He said "You've got a big body, you've got to hit the ball out of the park."
The circumstances up there are pretty unusual, of course, with the program getting cut after this year. What has this season been like for you guys?
It was tough at the beginning because it came as a bit of a shock about three weeks before the season. It was crazy. A lot of kids are trying to find places to go next year because most of the guys want to play baseball somewhere next year, whether it's Division I or D-III. In that sense, it's hectic because it was like senior year of high school again, trying to get recruited. At the same time, you have to support your team and your teammates because you're still at the University of Vermont.
How difficult was it to juggle the recruiting stuff -- the calls from coaches and the visits and everything -- with your school and baseball responsibilities?
It was crazy. There was like a three-week period where it was a little overwhelming, and your mind was racing in a hundred different directions.
I know coach [Todd] Raleigh at Tennessee is a Vermont native. Was he a big factor in your decision to go there?
Just basically when he called me was the first time I'd talked to him. [Vermont] coach [Bill] Currier speaks very highly of him, and everyone I've spoken to speaks very highly of him. I know he's definitely a great coach and a great person. I liked the campus right when I saw it and liked the coaching staff.
You got a little taste of the SEC atmosphere when you guys went to Vanderbilt and Ole Miss the first two weeks of the year. What did you think of it?
It was definitely awesome. I wasn't able to play because my hand was broken and I was still in rehab, but I was at the games. It was tough to watch -- I wanted to play.
Did the hand injury affect you when you did start playing, or were you able to get going easily?
It was stiff and swollen pretty badly, and it looked real ugly. But I could grip a bat, and I felt if I could swing, if I was 75 percent, I was going to give it a go. There was a lot of talk about redshirting, but I got off to a hot start, I decided to ride with it, and it's felt great.
Has the team gotten a lot of support from the community and fans this year in light of the circumstances?
The support's been great, the student government's been great, all the students on campus have been great. The community's been real good. We've gotten better crowds than last year just because of all the buzz going around. I think a lot of people are sad to see it go, but we've just got to move on.
How did you and the other players react when you found out the program was going to be cut?
It was shocking. We received a text message one morning out of the blue that told us there was a meeting in [the] athletic department that was mandatory. The athletic director came in, we were all sitting there. There had been rumors; no one thought anything of them. He put the rumors to rest by telling us we wouldn't have baseball anymore. Everyone was very angry, and it was tough for the next week or two. It didn't hit home that day, but in the next few days, the media started coming around and asking questions. Baseball's been around at UVM for a long, long time. It was crazy.
You guys are two games out of one of the league's four playoff spots with three weeks to play. How much do you want to get this team into the conference tournament and have a chance at getting Vermont to a regional one last time?
It means everything. That's what all the guys want. We're going into the next two weekends against teams that are below us right now. We won [Wednesday against Maine] so everyone's got their confidence back, and younger pitchers are starting to get their confidence. It means everything, to let the school know we're still here, we want to win the conference and win a regional.
For more on college baseball, check out Baseball America.
SPONSORED HEADLINES
MORE COLLEGE SPORTS HEADLINES
MOST SENT STORIES ON ESPN.COM