Commentary
Eight who may be great
Highlighting the players to watch in the quarterfinals of the men's lacrosse tournament
Updated:
May 12, 2009, 12:32 PM ET
By
Christian Swezey
| Inside Lacrosse
The four quarterfinals are set. Saturday is Maryland versus Syracuse at noon ET (ESPN2, ESPNU) and Cornell versus Princeton at 2:30 p.m. (ESPNU). Sunday is Johns Hopkins versus Virginia at noon and North Carolina versus Duke at 2:30 p.m. (ESPNU). Here are eight players who will play key roles in determining which teams move on to Foxborough and which don't.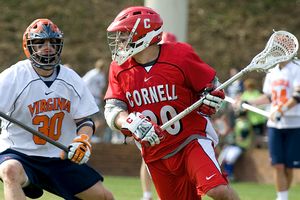 Cornell AthleticsCornell will need a dominating performance from John Glynn against Princeton in the quarterfinals.
John Glynn, M, Cornell, Senior
Glynn's dominance on faceoffs in Cornell's 10-7 victory over Princeton in these teams' first meeting gave Cornell an estimated 80-20 advantage in possession. In the fourth quarter, Glynn and Max Seibald won the first three faceoffs, and Princeton coach Bill Tierney said his team had the ball on offense for less than 45 seconds. Glynn finished 13-for-18 on faceoffs and added 11 ground balls.
In Cornell's victory over Hofstra in the first round, referees altered how they normally watch faceoffs after rumors that a Cornell player was grabbing the ball with his hand to gain an illegal advantage. The Big Red won eight crucial faceoffs in the second half as Glynn and Pierce Derkac played well on the wings.
Mark Kovler, M, Princeton, Senior
Went 3-for-6 on shooting in the Tigers' first meeting against Cornell, although he scored on all three shots he put on net against fifth-year senior goalie Jake Myers. Kovler is coming off a career-high five goals against UMass. And if possession is closer to 50-50 than the 80-20 discrepancy in the first meeting, he might like his chances against Cornell's banged-up defense.
2009 NCAA tournament
Take a look back at the 2009 NCAA men's lacrosse tournament.
Kovler enters the quarterfinals with 33 goals, one behind sophomore Jack McBride for the team lead.
Bryn Holmes, D, Maryland, Junior
Holmes combined with Dean Hart in face-guarding Notre Dame's leading goal-scorer Ryan Hoff in the Terps' first-round win. Holmes held Hoff to no shots and less than five touches on offense.
The challenge this week will be much different. Syracuse is far more athletic on offense than Notre Dame. Syracuse junior Cody Jamieson moved into the third attack spot -- which had been a problem at times this season -- in the Orange's first-round win against Siena and scored three goals.
Maryland coach Dave Cottle had used a zone defense against Syracuse when he was at Loyola (Md.). Ironically, Syracuse shredded a zone to key a comeback against the Greyhounds earlier this season. If Maryland starts in man-to-man, sophomore Max Schmidt is likely to guard Kenny Nims (25 goals, 39 assists). Face-guarding sophomore Stephen Keogh (44 goals on 79 shots, 55.7 percent) might be an option, too -- and that is where Holmes might fit in again. Holmes also needs to win faceoffs and provide more than a little toughness against Syracuse's blue-collar players.
John Galloway, G, Syracuse, Sophomore
Galloway is 5-0 in his career in the playoffs and made 13 saves in the first round against Siena. On a Baltimore radio show Monday night, Towson coach Tony Seaman said one reason Syracuse goalies seem to play well in the playoffs is that they finally are away from the very difficult sight lines of the Carrier Dome. The goalies enjoy playing outdoors, in natural light, with an easier backdrop than the metal seats of the end zones in the Dome.
Maryland will test him. Sophomore Travis Reed (16 goals) is creative around the goal. Sophomore Grant Catalino (23 goals) has moved to midfield to give him the entire cage at which to shoot, i.e., to shoot from the middle of the field. His move from attack comes with a catch -- he has to be off the field immediately on a quick change of possession. If there's a quick shot-save scenario or a quick turnover, Catalino heads straight for the box, and Syracuse might be able to run on Maryland with a good outlet from Galloway.
Adam Ghitelman, G, Virginia, Sophomore
By the time Sunday rolls around, Ghitelman will have seen eight shots in live action in 22 days. The Cavaliers lost in the ACC tournament semifinals April 24. They were idle the following week. And in the first round against Villanova, Ghitelman faced eight shots in 39 minutes before he was removed with his team well ahead.
[+] Enlarge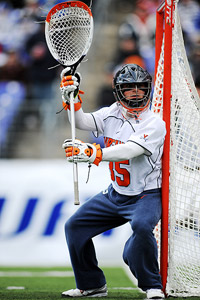 Virginia Athletics Virginia goalie Adam Ghitelman will be well-rested when the Cavaliers meet Johns Hopkins in the quarterfinals.
Some coaches fear goalies get tired this time of year, so Ghitelman certainly will be fresh. But Johns Hopkins is one of the best shooting teams in the country. It entered the tournament leading the nation with a 33 percent shooting percentage. Ghitelman will need to hit the ground running.
Kyle Wharton, A, Johns Hopkins, Sophomore
Virginia's comeback victory over JHU in the regular-season meeting came after it put a short stick on Wharton and face-guarded him in the fourth quarter. Virginia has put a short stick on Johns Hopkins attackmen before -- starting in the 2003 regular-season meeting.
Doing so on Sunday would leave four long sticks for midfielders Brian Christopher (28 goals) and Michael Kimmel (18 goals, 23 assists) and attackmen Chris Boland (28 goals, 18 assists) and Steven Boyle (21 goals, 17 assists). The question becomes whether Wharton can dodge and make Virginia pay for leaving a short stick on him.
Mike Manley, D, Duke, Sophomore
Manley is one of two candidates, along with junior Parker McKee, to defend North Carolina sophomore A Billy Bitter (46 goals, 23 assists). It's a tall order -- Bitter enters with 69 points, the third-highest total in school history. His 46 goals are second-most in a single season. And with Shane Walterhoefer doing well on faceoffs, UNC is guaranteed to have a lot of possession.
Jimmy Dunster, M, North Carolina, Freshman
Dunster moved into the starting midfield early in the season and has 11 goals and 7 assists. With standout middie Ben Hunt (17 goals, 12 assists) questionable for the game against Duke with a shoulder injury, Dunster and junior Sean Burke (7 goals, 18 assists) will be under pressure to break down Duke's short-stick defensive middies, who are not considered a particular team strength.
For more on college lacrosse, check out Inside Lacrosse.
MORE COLLEGE SPORTS HEADLINES
MOST SENT STORIES ON ESPN.COM