Commentary
Midseason review: Hockey East
Updated:
December 23, 2009, 1:59 PM ET
By
Jeff Howe
| Inside College Hockey
With the end of the year upon us, Inside College Hockey takes a look at the happenings in Hockey East through the first half of the season. Find out about surprise teams and players, get a look at what's coming up in the second half and see who made INCH's all-league teams.
Surprise Team
[+] Enlarge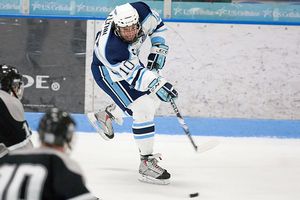 Peter Buehner, University of MaineBrian Flynn is reeling in the goals for Maine.
We knew Maine would be an improved team this year after missing the Hockey East playoffs in 2007-08 and earning the eighth seed in 2008-09. After all, for the first time in two years, the Black Bears actually returned their core group of top-notch players. Sophomore forwards Gustav Nyquist and Brian Flynn have paced Maine's scoring punch, and sophomore goalie Scott Darling has provided stability in net.
The Black Bears are 7-4-1 (15 points) in Hockey East play, and they're in third place in the standings, three points behind New Hampshire and one point behind Boston College. Maine's most noticeable difference is its scoring ability. It's third in Hockey East in scoring with 3.65 goals per game (0.02 goals per game behind leaders UNH and UMass), which is a glaring upgrade from the past two seasons. The Black Bears were ninth in scoring last season with 2.21 goals per game and eighth in 2007-08 with 2.26 goals per clip. Maine also has seven players with at least 12 points this season.
Surprise Individual
The Man on the Mountain is dead, but New Hampshire's ability to churn out high-scoring forwards will live forever.
The latest example is senior forward Bobby Butler, a hard-nosed role-player for the majority of his first three seasons in Durham, who now sits tied atop Hockey East with 13 goals. Butler is third in the league with 24 points and second on UNH with 11 assists. He's definitely shown signs of being a kid who can put up these numbers, posting a 9-21-30 line last season, and his 30 points were tied for third on the Wildcats. However, now that it seems to be his team -- Butler is one of four UNH seniors, and his game has helped the Wildcats vault to first place in Hockey East during what appeared to be a restocking year -- Butler is making the most of the opportunity.
What Happened To …
There's no "it" factor for the Boston University Terriers this season. The ruthless attitude they displayed during the final minute of last season's national championship has stayed behind in Washington, D.C., and as coach Jack Parker has already put it, BU is too happy with its 2008-09 accomplishments. BU couldn't overcome an early season injury to junior forward Nick Bonino, a preseason Hobey Baker candidate who missed five games with a shoulder injury and has just four goals and six assists in 11 contests.

Sophomore goalie Kieran Millan has also completely fallen off the map. After going 29-2-3 with a .921 save percentage and 1.94 goals-against average during his freshman season, he's 3-9-0 with a .862 save percentage and 3.52 goals-against average this year. Millan is last in winning percentage, save percentage and goals-against average among all Hockey East goalies who have played in 33 percent of the team's minutes.
BU is seventh in Hockey East in goals scored (2.75 per game) and last in goals allowed (3.50), and it has surrendered a league-worst 23 goals in the third period. The Terriers are 2-7-2 (six points) and in ninth place in the league standings, just one point ahead of Providence, which has a game in hand. Plus, BU has won back-to-back games once this season, and that was sandwiched between a two-game losing streak and a four-game losing streak. Since winning those consecutive games, BU is 2-7-3.
Boston University has far too much talent to let this continue, but there is almost no room for error in the second half. Without a monumental winning streak -- and there's no evidence to believe the Terriers are capable of one at this point -- BU will likely have to win the Hockey East postseason title to earn an NCAA tournament berth.
Biggest New Face
Stephane Da Costa | Merrimack
Merrimack freshman forward Stephane Da Costa sent out a public-service announcement in his second career game, as he became the first Warrior in Hockey East history to score five goals in one night. In doing so, Da Costa also became the first freshman in school history with a natural hat trick, which he accomplished in a 10-minute span in the first period. He also became the first Warrior to score three goals in a game in four years, and the first one to do it at Lawler Arena in seven seasons.
Da Costa leads the Warriors with nine goals and 19 points, and he's second on the team with 10 assists and a plus-four rating. Merrimack junior forward Chris Barton said Da Costa sees the ice really well and is the type of player who is cerebral enough to make things easier for the rest of his line. Da Costa has also earned the respect of his teammates by displaying a hard work ethic, and Barton believes Da Costa will be a legitimate player in Hockey East for quite awhile.
Biggest Upset
Merrimack beat Boston College 5-3 at Lawler Arena on Nov. 1, giving the Warriors their first victory against BC since Feb. 15, 2003. The Eagles were 16-0-4 against Merrimack during that stretch, including a 4-3 victory at Conte Forum two nights before.
It wasn't easy for the Warriors, who erased a 1-0 deficit by posting five consecutive goals. They clung to the victory, as senior goalie Andrew Braithwaite stopped 13 of the 15 shots he faced in the third period.
Toughest Road Out
New Hampshire

UNH went 0-1-1 in an October series at home against top-ranked Miami, and two weeks later, the Wildcats got smoked in a pair of games at Wisconsin. Throw in a game against rival Maine, one against Boston College, two against UMass Lowell, two at UMass, a home-and-home with BU and a road trip to Vermont, and the Wildcats should be impressed with their first-place position in Hockey East.
Toughest Road In
Northeastern

At least Northeastern's hockey team has a second half to complain about, unlike the university's newly defunct football program. The Huskies will have some serious work to do if they want to qualify for the Hockey East playoffs a year after one of their most successful seasons in school history. After the conclusion of the Beanpot, Northeastern closes out its schedule with home-and-homes against UMass, BC, UNH and BU. Prior to that gauntlet, the Huskies have two games against UMass Lowell (and possibly three, depending on how the Ledyard Bank Classic unfolds) and a two-game trip to Vermont. If the Huskies falter, NU athletic director Peter Roby will kill the program (we're joking, hopefully).
Must-See Game
Red Sox fans might not like this, but Jack Parker figures to spend more time in left field at Fenway Park in 2010 than Jason Bay. Parker's Terriers take on Boston College at Fenway on Jan. 8, as a follow-up to the NHL Winter Classic between the Bruins and Flyers on New Year's. The best college hockey rivalry in the Northeast -- and maybe the country -- takes the stage at one of the greatest sporting venues in the history of time.
Biggest Question Answered
How will UMass Lowell handle its most significant preseason expectations of the decade? Despite a late hiccup (2-4-0 in their past six), the River Hawks have proven they're worthy of a national tournament bid. They still go through stretches when they struggle to score, but the River Hawks get great defensive efforts on a routine basis, and they've got the best goaltending tandem in Hockey East with seniors Carter Hutton and Nevin Hamilton.
Biggest Question Remaining
Can Merrimack return to the postseason? The Warriors, who have missed the postseason in five consecutive years, are 4-6-0 (eight points) in league play, which is a nice start considering their recent history. They're in eighth place, but one of the teams behind them is the defending national champions. Judging by the Hockey East standings heading into the holiday break, you've got to believe the Warriors will be in a head-to-head fight with Northeastern (4-7-1, nine points) for the eighth and final playoff position.
INCH's First-half All-Hockey East Team
G | Scott Darling | Maine: The sophomore leads the league in winning percentage (9-3-1, .731), and he's third with a 2.47 goals-against average and fourth with a .912 save percentage.
D | Nick Schaus | UMass Lowell: The best defenseman in the league leads all blueliners with a plus-12 rating, and he has somewhat surprisingly added some scoring punch. Schaus leads the team, as well as all Hockey East defensemen, with 14 assists and 18 points this season.
D | Blake Kessel | New Hampshire: Kessel was encouraged to shoot more by the UNH coaching staff and he potted five goals in the first half of the season. His 18 points are tied for the league lead among Hockey East blueliners.
F | James Marcou | Massachusetts: The junior leads Hockey East with 21 points and 26 assists, and he is a major reason why UMass is in position to contend for a home-ice spot in the playoffs.
F | Gustav Nyquist | Maine: The sophomore leads the team with 11 goals and 25 points, and he's tied for the lead with 14 assists. Maine fans are hoping they can credit Nyquist with being the player who successfully turned around the program.
F | Bobby Butler | New Hampshire: Butler has two game-winning goals this season, which gives him 10 for his career. He's always cool in crunch time, which figures to be a real asset for UNH in a few months. Butler also has a league-best plus-13.
For more on college hockey, check out Inside College Hockey.
SPONSORED HEADLINES
MORE COLLEGE SPORTS HEADLINES
MOST SENT STORIES ON ESPN.COM