Commentary
Fenway hockey game and BU deliver
Boston University takes the win in a memorable matchup against Boston College
Updated:
January 9, 2010, 11:34 AM ET
By
David Albright
| ESPN.com
BOSTON -- To those who showed up and stayed, there was quite a reward. To those who stayed away or left early, you missed quite a show.
Considering that the Frozen Fenway outdoor college hockey game sold out back in September -- albeit when the weather was decidedly warmer -- there were more than a few no-shows among the announced crowd of 38,472 at the 98-year-old ballpark Friday night when Boston University defeated Boston College 3-2 in the 248th meeting between the two schools along Commonwealth Ave.
[+] Enlarge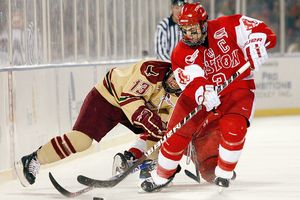 Elsa/Getty ImagesBU captain Kevin Shattenkirk and the Terriers won a gritty game at Fenway Park on Friday.
Those who braved the puck-drop stats of 21 degrees with a 12-degree wind chill -- complete with falling snow and the organ playing "Let It Snow" -- were treated to this city's second winter classic in a week. In the NHL version Jan. 1, the hometown Bruins beat the Philadelphia Flyers 2-1 in overtime; seven days later, it was another one-goal affair.
As part of the pregame ceremonies, honorary captains and New England hockey legends Mike Eruzione and Brian Leetch were on the ice as the current BU and BC players were introduced.
Both teams wore special game sweaters. BC's had touches of green throughout, including a baseball diamond above the numerals on the back. And BU's borrowed from the Red Sox in the font and lettering across the front and in the hanging socks, complete with skates, on the sleeves.
BU coach Jack Parker, who helped design the Terriers' uniforms, even wore a Red Sox cap behind the bench for the hockey version of Friday night at Fenway.
And what would a sporting event at 4 Yawkey Way be without a "Sweet Caroline" sing-along, this time compliments of the BC pep band?
Matt Gilroy, BU's captain for last season's national championship run, was in the house, as his New York Rangers have a Saturday-afternoon matinee with the Bruins at the TD Garden.
"

It was really a terrific venue for the BC-BU rivalry. And I think it was a terrific atmosphere to play a game in.

"

-- Boston College coach Jerry York
"It's unbelievable, I'm very jealous," Gilroy said. "I wish it happened in my four years, but it's cool that it finally happened. I'm glad I'm in town and I get to see it."
But Friday's game was about more than just pomp and circumstance.
It was another classic game in the BU-BC rivalry, and the prize -- beyond the memories -- was two very important Hockey East points.
And in classic BU fashion, the Terriers showed up ready to play when and where the lights were the brightest and the stage was the biggest.
BU's David Warsofsky opened the scoring at 6:58 of the first period with a shot that rang off the post before it deflected off BC goaltender John Muse and found the back of the Eagles' net. It was quite a week for the sophomore from nearby Marshfield, Mass., who won a gold medal with Team USA at the World Junior Championship in Saskatoon just three nights earlier.
"It's definitely been a whirlwind the last couple of weeks," Warsofsky said. "Starting all the way back in April, winning the national championship, to being in Saskatoon and then to come back here and do what we did tonight. … Every kid dreams about even coming to a game at Fenway, and then to be part of something like this is definitely a special opportunity."
Joe Pereira scored his fourth of the year at 2:26 of the second to give BU a two-goal lead. Then the Terriers found themselves down two men for nearly two minutes but were able to kill off the 5-on-3 to keep BC off the board.
[+] Enlarge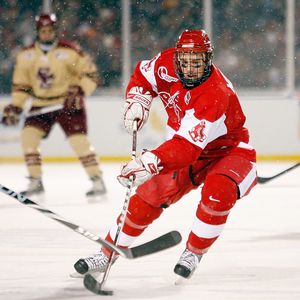 Elsa/Getty ImagesWade Megan scored what was ultimately the game-winning goal for BU, in the second period.
BU extended the lead to 3-0 on a goal by Wade Megan just past the midway point of the second.
"Clearly we were two different teams," BC coach Jerry York said. "The first half of the game, we were back on our heels, we were playing like we were scared to death to lose the game; we were just letting BU dictate the game; we were just kind of observing it.
"It was really a terrific venue for the BC-BU rivalry. And I think it was a terrific atmosphere to play a game in. We told our team prior to the game that it's going to be a memorable experience for both teams but it's going to be a significant experience for the team that wins. It was a terrific experience, but we lost the game."
BC scored one goal in each of the second and third periods to make it interesting all the way to the final horn, but several key saves by BU goalie Kieran Millan (27 for the game) gave the Terriers another history-making win.
"It's something we'll all remember as long as we live," BU coach Jack Parker said. "It was quite a show. We played pretty thorough, and it was one of our better games in terms of being smart with the puck. I thought we played a very solid game from start to finish."
That's something that has been missing for most of what has been a disappointing season for the defending national champs. Friday's win, coupled with a 7-3 victory over UMass-Amherst this past Saturday, marked the first two-game winning streak for the Terriers (6-9-3) since late October.
BU will need to string together several more wins if it has any plans on making the Hockey East playoffs.
Regardless what happens the rest of the way, no one will ever be able to take away the Frozen Fenway experience, a point that wasn't lost on the players -- even during the game.
"I probably shouldn't have been reflecting on it, but I leaned back on the bench and just looked around the whole stadium," BU captain Nick Bonino said. "It was just incredible. I know in a 3-2 game everyone is focused, but it was cool to have a TV timeout to take a look around and realize that it was incredible to be a part of this event."
With any luck, it won't be the last "show on ice" played at Fenway Park.
David Albright covers college sports for ESPN.com and can be reached at espncaa@gmail.com.
SPONSORED HEADLINES
MORE COLLEGE SPORTS HEADLINES
MOST SENT STORIES ON ESPN.COM