Commentary
Cheverie is Denver's first line of defense
Updated:
February 9, 2010, 1:58 PM ET
By
Mike Eidelbes
and
Joe Gladziszewski
| Inside College Hockey
[+] Enlarge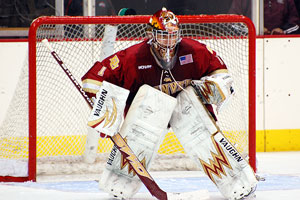 Denver Athletics In four starts against North Dakota this season, Denver's Marc Cheverie allowed a total of four goals and posted a pair of shutouts.
Marc Cheverie
Denver
Jr. | G | Cole Harbour, Nova Scotia
His Statistics: 55 saves, 2 GA, SHO in two wins at North Dakota.
His Impact: Cheverie led Denver to its second sweep of the season over WCHA rivals North Dakota with a shutout on Friday and 22-save victory Saturday.
The Sioux outshot Denver 33-20 in the series opener but Cheverie held firm and turned away all 33 shots. It was the second time this year that Cheverie has blanked North Dakota. He has six shutouts this season and 10 in his career.
Saturday's game saw the Sioux take a 2-0 lead only for Denver to score the game's last four goals and leave Grand Forks with all four standings points. North Dakota scored midway through the first and outshot Denver 12-8 in the opening 20 minutes. They doubled the lead 2:42 into the second period, but that was all that the Pioneers and Cheverie allowed before coming back to get the win.
Cheverie is 14-3-3 with a 2.02 goals-against average and .932 save percentage this season.
Runners Up: David Berube, Sacred Heart; Peter Boyd, Ohio State; Will O'Neill, Maine; Chase Polacek, Rensselaer; Cameron Talbot, Alabama-Huntsville.
Stick Salute
Hats off to INCH reader Bret from Duluth, the self-proclaimed ambassador of college hockey, who fulfilled that title this past weekend by taking three South Americans working at a northern Minnesota ski resort as part of a student-exchange program to their first college hockey game. "Hockey is for everyone," Bret wrote in his e-mail. We couldn't agree more.
Bench Minor
Promotional materials for the ECAC Hockey championship tournament were recently distributed to member institutions in order to help drive awareness for this year's event in downtown Albany. Posters and website banner ads prominently feature the Whitelaw Cup, awarded to the tournament champion, but also feature two players -- Yale's Brian O'Neill and Cornell's Riley Nash.
It's not the first time that the league office has featured the previous season's finalists on the subsequent year's promotional materials, but to us it seems to discredit 10 other teams in the league. You're not promoting last year's tournament.
Say What?
"You can go two ways. You can start to get individualistic and point fingers at one another or you can pull together, do everything a little better and give a little more to your team and teammates. And that's what we'll do."
North Dakota coach Dave Hakstol preached calm in his remarks to the press following his team's 4-2 loss to Denver in Grand Forks Saturday. We're sure the guys in the locker room are on the same page with the coach, but with the Fighting Sioux having a bye this weekend, there's time for panic to ferment among NoDak fans.
Rankings Outrage
Our ire this week is reserved not for the polls, but the teams that comprise them. Of the 20 teams that made up the Jan. 25 INCH Power Rankings, only three-Miami, Denver, and Cornell-won twice last weekend. Boston College won the lone game on its schedule last week, while Maine won and tied at Vermont. The remaining 15 teams all lost at least one game. Not how we expect the upper-echilon clubs to be playing as the final quarter of the regular season draws nigh.
Chat Question Of The Week
In lieu of a Tweet of the Week, we'll feature a chat question that showed up in last week's INCH Chat at ESPN.com. We didn't publish the question during the chat, and decided to feature it in this space instead. Cheers to a longtime reader of the site and friend of college hockey for giving us the chance to laugh at ourselves last Thursday afternoon with a little INCH look-alike comparison.
Billy Mayfair (Haslett, Michigan): Which INCHer looks more like a character from Superbad, Eidelbes (Jonah Hill) or Ewell (Michael Cera)?
For more on college hockey, check out Inside College Hockey.
SPONSORED HEADLINES
MORE COLLEGE SPORTS HEADLINES
MOST SENT STORIES ON ESPN.COM