Commentary
Dominant Carolina among lax storylines
Updated:
March 18, 2010, 11:37 AM ET
By
Kyle Harrison
and
Brett Hughes
| Special to ESPN.com
Editor's note: Each week, 2005 Tewaaraton winner from Johns Hopkins and four-time Major League Lacrosse All-Star Kyle Harrison and former Virginia Cavaliers All-American and MLL All-Star Brett Hughes will use this space to debate college lacrosse's biggest storylines.
[+] Enlarge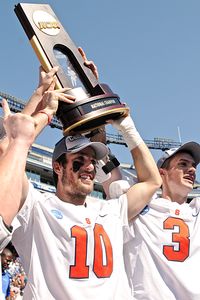 Michael Tureski/Icon SMIReplacing players like Kenny Nims has been tough for the Orange.
Former No. 1 Syracuse lost a close game to Virginia. Are the defending champ Orange as good as they were last season?
Harrison: Honestly, I think it's a bit normal for Cuse. I've seen those guys lose five games in the regular season, backdoor their way into the playoffs, then sneak off with the ring on Monday. So, I think it's still pretty early to decide if they're as good as last year's team. They've got game-changers on both sides of the ball, so no way am I saying they won't repeat. Come Final Four weekend, don't be surprised to see these cats there. What do you think, Hughey?
Hughes: Kyle, I don't see how they could be. We played with Dan Hardy last summer and against Kenny Nims, and those boys were a big portion of the offense and big-play people. They may miss Sid Smith on defense the most. Even though the Orange are not as good as they were last season right now, wait 'til the tournament. (Although I think Virginia will be the best team in the country by year's end, which is another topic.) I believe Cuse will do what Cuse does -- get better and gear up for May and be tough to handle!
Is North Carolina's and Notre Dame's success real -- or do you think they'll falter later in the season?
Harrison: I'd say that Carolina is legit after being able to watch them play twice thus far this season. In years past, the Tar Heels were talented but didn't have game-changers. Now they have arguably the best attackman (and player) in Billy Bitter, who will be able to push them to the playoffs. Add Sean Delaney, Gavin Petracca and Thomas Wood to the mix, and you've an offense that can do some damage. I'm not trying to hate, but I'm not sold on Notre Dame just yet. The Irish definitely put together a solid start to the season, but I need to see them win a few more big games before I jump on the bandwagon.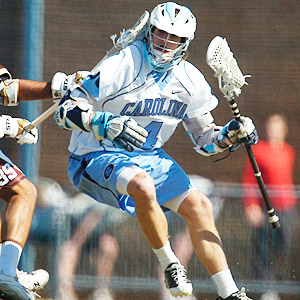 Jeffrey A. Camarti/UNC Athletic Communications Billy Bitter has led North Carolina to a No. 2 ranking.
Hughes: I'm sitting on the Notre Dame bandwagon, but not driving it. The Irish have been good; they beat quality teams on the road and home. They have some real ballers -- but I am not sure that they are a top-five team. Carolina is for real. They have a premier coach in Joe Breschi who has worked hard to mix his own recruits with the talent on campus when he arrived. Frankly, UNC has never had a problem with talent; it's been about getting that talent to produce. Breschi has changed the culture. UNC will be back for as long as he stays at the front of the program.
Which is the toughest conference this season?
Harrison: I'm going to have to go with the ACC. All of those teams are serious and capable of beating each other.
Hughes: I don't think it's a discussion. Every team in the ACC is packed with ballers and has a good coach at the helm. There isn't a weak team in the conference. The Final Four could be Duke, Maryland, North Carolina and Virginia if they were split up the right way.
What preseason questions have been answered? Which questions still remain?
Hughes: I don't think we've had too many answers other than Syracuse proving it's still a top team. The questions I have are: What goalie is going to step up? Will anyone go into the NCAA tournament undefeated? The competition is tight, but there are teams that could go into the playoffs with a 0 in the L column.
Harrison: Well, I don't think anyone is heading into the NCAA tournament undefeated. I know North Carolina is playing well -- as are a few other teams -- but I expect everyone to have at least one mark in the L column. I think the parity question has been answered as we're finally starting to see some underdog-type teams not only sneaking a W in against the top teams (Stony Brook, Drexel, etc.) but continuing to pick up wins and improve each game.
Who are your early favorites for the 2010 Tewaaraton Trophy?
Harrison: Another tough one! There are a few who have jumped out to me thus far. Midfielder Michael Kimmel from Hopkins has established himself as one of the best -- if not the best -- midfielders in the country. The kid plays both sides of the ball, wings on faceoffs and is the Blue Jays' go-to guy when they need a play. His teammate Steven Boyle is definitely in the conversation, as well. Virginia's Chris Bocklet and Rhamel Bratton, UNC's Bitter, and Duke's Max Quinzani have all had great starts to the season. It'll be interesting to see who stays hot for the next few weeks.
[+] Enlarge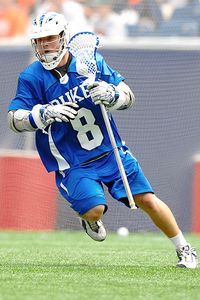 Jack Carroll/Icon SMIMax Quinzani is among the early favorites to bring home the Tewaaraton Trophy.
Hughes: Quinzani has played like the premier player in the country. Strong performances during the ACC regular-season schedule and the conference tournament could put him at the head of the class. Bratton is in the discussion right now because he is an established defensive midfielder who is just blowing up and showing his true potential. I also agree on Kimmel, but he needs a big game Saturday against Syracuse (ESPNU, 8 p.m. ET). Hopkins needs to put up big wins to have a place in this discussion. And I still believe Bitter is as good a player as there is. This could be a year where a D-man gets into the discussion, but it's too early to tell because the race has everything to do with body of work and big performances in big games.
Pop quiz
If you could grab a player to start a team with, who would it be? Pick a freshman or a sophomore.
Hughes: I'm taking John Greeley from Hopkins. He is not lighting the world on fire yet, but he absolutely is going to be that A.J. Haugen-style middie.
Harrison: No question about it -- I'm taking Chris LaPierre, and winning a a few championships. No contest.
Brett Hughes is the lacrosse editor of ESPNRISE.com, ESPN's high school sports site. Check out his blog.
SPONSORED HEADLINES
MORE COLLEGE SPORTS HEADLINES
MOST SENT STORIES ON ESPN.COM