Commentary
ACC tournament up for grabs
Updated:
April 22, 2010, 2:21 PM ET
By
Kyle Harrison
and
Brett Hughes
| Special to ESPN.com
Editor's note: Each week, 2005 Tewaaraton winner from Johns Hopkins and four-time Major League Lacrosse All-Star Kyle Harrison and former Virginia Cavaliers All-American and MLL All-Star Brett Hughes will use this space to debate college lacrosse's biggest storylines.
1. With 41 of 60 teams in contention for the tournament, is parity a good thing for the sport?
Hughes: Yes. I believe that we are seeing more parity in our sport for the tournament seedings; however, I do not believe we are at the point where anyone could be the NCAA champion. It is always nice to see a Cinderella story, but it's hard to surprise two powerhouses in one weekend. I think there are only about six teams that have a legitimate shot to win it all.
Harrison: I completely agree with you (weird, I know). I'm just as excited as the next guy to see some different teams in the top 10, and I think it's good for the sport. But those teams still don't know what it's like to perform in May on the big stage when everyone is watching. I think we're still a few years off from seeing some different teams cracking the final four, but for now, it'll be the usual suspects. Look for Virginia, Princeton, North Carolina and Syracuse come championship weekend. (It pains me to not have Johns Hopkins in that mix, but I've still got hope the Jays will make a run.)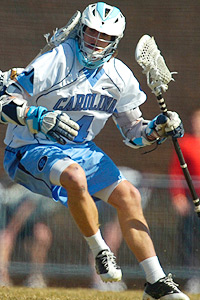 Jeffrey A. Camarti/UNC Athletic Communications Billy Bitter has North Carolina living up to its potential this season.
2. Which teams have surprised you so far?
Hughes: Hofstra and Hopkins. Both have just not been the teams I thought they were at the beginning of the season. Both could fall out of the Top 20 and miss the playoffs -- that's something you don't ever expect. The Blue Jays' record of 38 straight NCAA tournament appearances is on the line. For Hopkins, I don't think it's the fall of a dynasty; I think it's a crazy year with increased parity. The best are hard to touch, but if you are in that second tier after the top five, you have to scrap to stay in contention. Another surprise: Robert Morris has the most points per game -- about 17 goals a game. It's an impressive stat, even if the Colonials aren't playing elite teams every day. They have a chance to take down UVa in a couple weeks.
Harrison: For me, UNC has been the biggest surprise. I feel like year in and year out, people predict "this is the Tar Heels' year." And every year something went wrong or someone got hurt or they didn't live up to the hype. But this year, with a solid player of the year candidate in Billy Bitter and some serious players around him, they've stayed the course and have seemingly gotten better every week. I think it's great for our sport that UNC is seriously back in the mix of things, and it's definitely been a pleasant surprise for me.
3. Which teams have work to do before the NCAA tournament?
Hughes: All of them. If any team thinks it is ready, it will be out by the second round. Kyle, I'm not sure how you feel, but I think the Cavaliers are the best team in the country but if they are not getting better throughout the ACC tournament and in practice the last month, they will get upset. Frankly, for an ACC team to win the NCAA championship, it may have to play another ACC school for the third time in one year. Cuse has to sharpen up a little, but the Orange have the guns to do it, and obviously if any of the outside programs want to make a run, they better get in tourney shape. And prepare for a long May -- it's a hard tournament!
Harrison: Again, I agree with you (and I'm not happy about it). All teams have things to work on and need to get better on both sides of the ball. My boys over at Hop have to win some ballgames if they're even planning on having a shot at the tournament, but I trust the coaching staff will have them ready to go. Cuse will always be Cuse. Even if the Orange aren't at their sharpest when the season ends, come tourney time, they'll find a way to be there in the end. Unfortunately, yes, I agree, the Cavs are the best team in the country, despite what happened against Duke last weekend.
4. Which players have stepped up this season?
Hughes: The players we expected to step up in the beginning of the season have. UNC's Billy Bitter is just sick. Virginia's Ken Clausen was already amazing, but he calmed his defense down and is playing better than ever. With his athleticism, Clausen can be a game changer, but I think he is maturing and understanding how important it is to trust the guys around him and really focus on shutting down the other team's No. 1 guy. I think Duke's Ned Crotty is in the process of stepping up. He is one of the best attackmen I've seen in years, and with Zach Howell and Max Quinzani on the sides, that makes for a crazy week of scouting for any opponent. Every year, it takes awhile for certain teams to find their heart -- I think the Blue Devils have found theirs -- and in true Duke fashion, it's right before the ACC tournament, something the Blue Devils always perform well in.
Harrison: I know I talk about the kid all the time, but I've got to go with Billy Bitter. He had an absolutely monstrous season last year. This season, teams have built their defense around stopping him and he still puts up the big numbers and leads his team to W's. The kid gets beat up, hit late, plays injured and still gets it done. There are a bunch of players I could talk about, but for me Bitter has been the most impressive.
5. What are you looking forward to seeing this weekend?
Hughes: I hate to say this again but who is not looking forward to the ACC tournament? Four of the five best teams in the country are in one league, and they play in their own tournament with no fluff teams. There are so many stars on the field and because of the geography of the four schools, it attracts a ton of fans. The tournament is in College Park, Md., this year so the casual lacrosse fan will show up to this as well. I'm also looking forward to watching the bubble teams make a stand.
Harrison: Bizarre that we're agreeing so much this week, but I'm actually pretty fired up about the ACC tournament. All of the teams in the ACC this year are serious national championship contenders. On any given night, any team could beat any other, so I'm excited to see who comes out on top. There are a lot of interesting individual matchups to keep an eye on as well. And of course, I'm looking to see if my boys over at Hop can put it together and get things going in the right direction with a win at Navy on Saturday.
Brett Hughes is the lacrosse editor of ESPNRISE.com, ESPN's high school sports site.
SPONSORED HEADLINES
MORE COLLEGE SPORTS HEADLINES
MOST SENT STORIES ON ESPN.COM