Commentary
Tierney's arrival spurs Denver's success
Pioneers have a chance to lock down ECAC championship, NCAA tournament auto bid
Updated:
April 29, 2010, 9:06 AM ET
By
Lauren Reynolds
| ESPN.com
EAST HARTFORD, Conn. -- The most surprising aspect of Denver's 9-8 win over Fairfield at Saturday's ESPNU Warrior Classic opener wasn't the result of the game. It was the number of Pioneers fans in the stands at Rentschler Field in East Hartford.
Denver joined the ranks of Division I lacrosse in 1999 and has seen its profile rise slowly within the sport in the past decade. Under former coach Jamie Munro, the Pioneers put together seven winning seasons, including an NCAA tournament appearance in 2008. (Denver lost in the first round to Maryland, 10-7.)
But the move that garnered the Pioneers the most headlines took place off the field this past June, when Denver announced the hiring of Bill Tierney to replace Munro. Tierney, one of the game's most accomplished coaches, built Princeton from doormat to powerhouse, winning six national championships and 14 Ivy League titles.
[+] Enlarge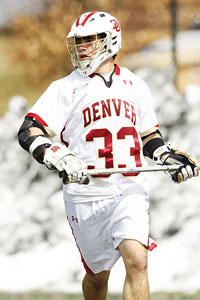 Rich Clarkson and AssociatesSophomore Alex Demopoulos leads Denver in goals (29) and points (46).
The move gave Denver -- and lacrosse west of the Mississippi -- instant credibility.
"I love Princeton lacrosse, Princeton University; those were 22 years that I'll always remember with great fondness," Tierney said after Saturday's win. "This change has just been good for me, and I hope Denver feels it's been good for them."
The feeling is mutual.
"He's great, we love having him here," sophomore attackman Alex Demopoulos said. "He's changed the culture -- the way we practice, prepare, everything."
The transition wasn't entirely smooth. Tierney and his staff, which includes his son Trevor, had to cobble together a roster and pull in a few late recruits and transfer students. He even persuaded a few players who had quit in previous seasons to return to the team.
The initial results were mixed. Denver lost its opener to defending national champ Syracuse, then fell to Division I newcomer Jacksonville 13-12 in triple overtime. The Pioneers regrouped to win their home opener against Albany before dropping another game to Penn.
Tierney attributed the early-season struggles to the time needed for the team and coaches to adjust to each other. But the growing pains are paying off, as the Pioneers are 9-1 since the loss to the Quakers -- their lone loss coming at the hands of then-No. 9 Notre Dame -- and are undefeated in ECAC play.
"From the start of the season, we've been playing with pressure -- playing for a new coach, playing for your spot," sophomore attackman Mark Matthews explained. "That experience is helping us now."
Denver is led by senior captain Dillon Roy (No. 20 in the nation in ground balls per game), Demopoulos (29 goals, 17 assists), and Matthews (28 goals, 7 assists).
The Pioneers' growth will be on display Sunday at Invesco Field in Denver when they host No. 6 Loyola. The inaugural ECAC championship is on the line, as is the conference's automatic bid to the NCAA tournament. And if that weren't enough, the game also will determine the host school for the inaugural ECAC tournament in 2011.
"It's going to be a difficult task. Loyola is clearly the best team in the league," Tierney said. "They bring it from the midfield, they bring it from the attack, they've got a great defense, they've got a fabulous goalie. They're just so well coached, and they know exactly what they're doing every minute of every game. It's going to be a challenge, but we're going to go out there and compete and try to play like we've been playing the last seven games and hope that we can find another way to win."
The Pioneers, ranked No. 16 in the latest Nike/Inside Lacrosse Media Poll, are clearly the underdog. But in a season that has seen Johns Hopkins drop out of the USILA Top 20 for the first time in the history of the poll -- a streak of 367 weeks -- it's clear anything can happen.
[+] Enlarge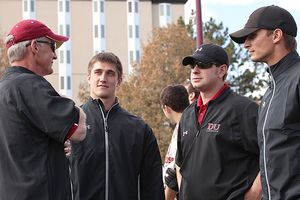 Tim Head/Mile-High PhotographyDenver's coaching staff has worked hard to prepare Denver for Sunday's ECAC showdown.
"A Denver win would give them a ticket to the NCAA tournament and thrust the program into the national spotlight for the earlier part of May," said ESPNU lacrosse analyst Quint Kessenich. "Many high school lacrosse players have no recollection of Bill Tierney's success at Princeton -- to them it's ancient history -- so a win over Loyola would send a flare to the entire lacrosse nation [and say] 'Denver lacrosse is here, we're good now and going to be great in a few years.'"
Sunday's game will provide a big stage for the Pioneers and Western lacrosse, but Tierney hopes it's just the beginning. He came to Denver to win championships.
Denver's -- and Tierney's -- success might be key for the sport's growth. Although Midwestern programs Notre Dame and Ohio State have made noise in the NCAA tournament (Notre Dame has played in a semifinal, and Ohio State made the quarterfinals), the sport's reach has yet to make inroads farther west.
But winning games is only part of the battle. Increasing the number of teams -- there are 60 Division I men's programs -- might be the much harder part.
"The sport could benefit from added attention and visibility that a successful Denver program may garner. But with the current Title IX climate, it'll be difficult to grow the game at Division I institutions who currently sanction a BCS football team," Kessenich explained. "To add a men's team, the [school] will also have to add a women's team. The estimated cost, according to a Big Ten athletics director, is $1.5 million for each, 3 million total per year."
Whether Tierney and the Pioneers can break new ground remains to be seen. For now, Denver can celebrate its growth this season and look forward to the opportunity on Sunday.
Lauren Reynolds is a college sports editor for ESPN.com. She can be reached at lauren.k.reynolds@espn.com.
SPONSORED HEADLINES
MORE COLLEGE SPORTS HEADLINES
MOST SENT STORIES ON ESPN.COM