Commentary
Confidence, composure key for scorers
Updated:
October 21, 2010, 6:16 AM ET
By
Sheldon Shealer
| ESPN.com
Although Corey Hertzog hails from Reading, Pa., and Phil Bannister calls Wallsend, England home, these college soccer players share one common skill -- deadly finishing.
[+] Enlarge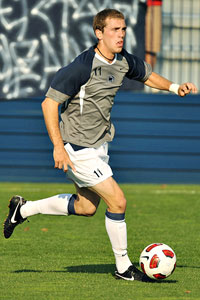 Mark Selders/Penn State Athletics Corey Hertzog has found the confidence he needed to become one of the nation's best scorers.
Between Hertzog, a junior at Penn State, and Bannister, a senior at Loyola University Maryland, they are No. 1 in all four goal-scoring categories among NCAA Division I players, and they go 1-2 in two categories.
Bannister leads the nation in goals per match (10 in nine contests, a 1.11 average) and points per match (21 in nine matches, 2.33 average). Hertzog is tops in goals (13) and points (26).
Bannister and Hertzog each entered college as prolific goal scorers. Hertzog scored 107 career goals at Antietam Middle Senior (Reading, Pa.). Bannister scored 39 goals in 35 games at soccer power Monkseaton in England, where his school team posted a 58-0-2 record in his final two years and six of his teammates earned U.S. soccer scholarships.
So what makes these forwards so dangerous?
According to them, it's composure, confidence and positioning.
"Confidence is a big thing and last season, at the start, I didn't score many goals," said Bannister, who added that his confidence waned with the slow start. After scoring 13 goals in each his freshman and sophomore seasons, Bannister scored only four goals last year. "This season, I'm scoring goals and gaining confidence."
Hertzog said the secret to his success is "being composed in the box and knowing what you want to do with the ball before you get it. Finding the back of the net came naturally, but being composed in the box … my coach [Bob Warming] has been helping me with that this year. Instead of rushing shots, he said to take my time."
The payoff is Hertzog has gone from 11 goals his sophomore season to 13 goals midway through his junior year.
Bannister, who has more than doubled his goal production over last year, said, "If you get in the right position it doesn't necessarily mean you'll score, but you are giving yourself the opportunity. Last year, I feel I was not really getting into [scoring] positions. [This year], I feel a lot more confident and I'm taking advantage of that."
Of course, being a finisher comes with added pressure.
[+] Enlarge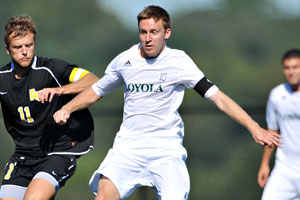 Larry French/Loyola Athletics Phil Bannister was at the top of the NCAA's offensive rankings before going down with a season-ending knee injury.
"There can be good pressure and bad pressure," Hertzog said. "Knowing you are the one who needs to score to get the team lifted, sometimes the pressure can be overwhelming -- especially when it comes down to the end of the game. But when you get that goal and the team's behind you that's good pressure."
"There's been more emphasis on me getting goals this season," Bannister said. "I'm playing a bit more forward up the field and I quite relish the role, to be honest. We're playing in a new formation this year and I feel a bit more dangerous up there than the past year."
Hertzog has a chance to finish as the nation's leading scorer, but in time Bannister's name will be removed from the per-game average lists due lack of matches played. Unfortunately for Bannister, his hot start and his season, for that matter, are now over. He tore his medial meniscus in a recent match against St. Peter's and said that he was undergoing surgery Wednesday that will end his season.
Around the nation
Milestones everywhere: What a season for the College of Charleston and in particular veteran head coach Ralph Lundy. The Cougars are 9-0-2 in their last 11 matches and debuted at No. 10 -- their highest position ever -- in the men's soccer RPI rankings this week. Along the way, Lundy, who is in his 24th season at the College of Charleston and 35th overall, collected career win No. 400. While the College of Charleston is routinely considered a Southern Conference contender, what is over often looked is the fact Lundy, some 20 years ago, oversaw the program's move from NAIA to NCAA Division I -- a leap in competition that few schools even attempt. All the accolades this year for Lundy are made even sweeter since one of his sons, Ralph Lundy III, is on the team.
Freshmen impact: An ongoing theme this college season has been the impact at freshmen on nationally prominent programs. One such player is Michigan's Soony Saad. Saad was a youth scoring machine and that has carried into the college game. He's scored 11 goals in 13 matches this year, the most of any freshman in NCAA Division I. In high school last fall, Saad netted a jaw-dropping 76 goals at Dearborn (Mich.) High School to lead all high school players in the country. He was also the top goal scorer in the U.S. Soccer Development Academy, proving that his high school performance was not just the byproduct of low-end competition.
Recruiting road: With few exceptions, college recruiting remains largely a regional game. One such exception is in the state of Texas. With few NCAA Division I programs in Texas, the state exports its recruits far and wide -- as evidenced by this week's list of recent verbals on ESPNRISE.com. Six Texas players who made recent Division I commitments are heading to universities stretching from Cal Poly and Oregon State in the West and Long Island University in East. Based on the reported verbal commitments, Texas is exporting players to no fewer than eight states for NCAA Division I play next fall.
For the latest verbal commitment information, visit ESPNRISE.com.
Sheldon Shealer is the soccer editor of ESPNRISE.com, ESPN's high school sports site.
MORE COLLEGE SPORTS HEADLINES
MOST SENT STORIES ON ESPN.COM