Commentary
Clock ticking for bubble teams
Originally Published:
February 18, 2011
By
Mike Eidelbes
| Inside College Hockey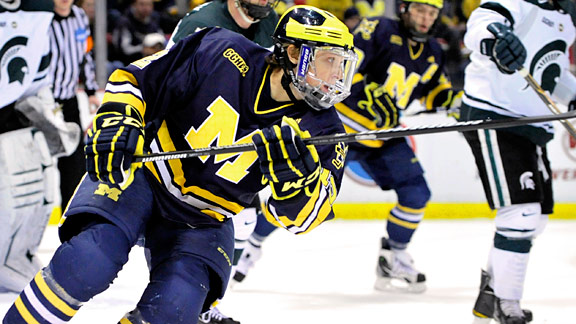 Steven King/Icon SMICarl Hagelin and Michigan are in the hunt for the top spot in the CCHA.
Depending on your league of interest, this weekend marks either the penultimate or antepenultimate weekend of play before the start of the conference postseason tournaments. And yeah, I told someone years ago I'd keep trying to squeeze those two adjectives into a story every season. Though the sands of time are rapidly falling in the regular-season hourglass, the intriguing head-to-head battles this weekend are few.
Western Michigan at Michigan (Friday-Saturday): Michigan is chasing Notre Dame for first place in the CCHA standings and Western Michigan would like to solidify its hold on one of the league's five first-round playoff byes. In the wider view, the Broncos are in the mix for an NCAA tournament berth, but currently stand on the wrong side of the velvet rope (they're 16th in the Pairwise Rankings as of Thursday). Last weekend's tie and loss at Miami didn't improve WMU's résumé; solid results at Michigan and next weekend against Notre Dame would, however.
Minnesota at Wisconsin (Friday-Saturday): The Badgers grabbed three of four points from the Gophers when the two teams met in Minneapolis in November and not much has changed since then. Minnesota is still inconsistent, capable of winning by four goals one night and losing 1-0 the next. Wisconsin has feasted on the .500-or-worse set this season, but Bucky has been surprisingly average at home against WCHA competition -- just 6-4-0 at the Kohl Center against league foes with the wins coming in series sweeps against 10th-place Minnesota State, 11th-place Bemidji State, and 12th-place Michigan Tech.
Boston College vs. Northeastern (Friday at Chestnut Hill, Saturday at Boston): This series would normally fly under the radar, but it merits watching in the wake of Monday's epic Beanpot finale. The Eagles appear headed for a showdown with New Hampshire in two weeks for the Hockey East regular-season title. Don't sleep on Northeastern, though. The Huskies, who were 2-8-4 after a Dec. 3 loss to Merrimack, are 8-4-2 since; two of those losses were in OT to top-five teams (BC and Merrimack) and one was a one-goal loss to Boston University.
Yale at Princeton (Sunday, 1 p.m. ET on ESPNU): 'Twas not long ago when Yale seemed like a mortal lock to win the ECAC Hockey regular-season championship. Well, here we are with four games left before the league playoffs start and the Bulldogs are one point behind Union in second place, the result of an untimely 5-4-0 record in their last nine games. Speaking of untimely losses, Princeton has three losses and one tie in its last four games. Still, the Tigers are just two points behind fourth-place Cornell in the chase for the final ECAC Hockey tournament first-round bye.
Also: As was mentioned above, Notre Dame leads Michigan and Miami in the race for the CCHA regular-season title by one point. The Fighting Irish travel to Big Rapids to face Ferris State; the Bulldogs are trying to sew up one of the league's five first-round playoff byes. … Saturday's Dartmouth-Cornell game at Lynah Rink is big, as Bigs Red and Green are among six teams jockying for one of the ECAC Hockey postseason first-round byes. … RIT has already clinched the Atlantic Hockey regular-season crown. Its opponent Saturday, second-place Robert Morris, holds a slim two-point edge over third-place Holy Cross and Niagara and has a three-point edge on fifth-place Air Force. … Is wearing the "C" in the WCHA an honor or a curse? Three captains -- Jay Barriball (Minnesota), Chay Genoway (North Dakota), and Kyle Ostrow (Denver) -- are expected to be sidelined this weekend for health reasons. Michigan Tech captain Brett Olson missed 11 games earlier this season due to injury.
For more from Inside College Hockey, check out insidecollegehockey.com.
SPONSORED HEADLINES
MORE COLLEGE SPORTS HEADLINES
MOST SENT STORIES ON ESPN.COM