Commentary
Taylor Jungmann goes deep
Longhorns pitcher has learned to maximize newfound stamina
Originally Published:
April 11, 2011
By
David Ubben
| ESPN.com
AUSTIN, Texas -- Early in Texas' season, Taylor Jungmann didn't have much room for error.
Against Brown and Maryland, the Longhorns put eight runs on the board each time, but in the Texas pitcher's other four starts to begin the season, the offense produced an average of just more than two runs a game.
Fortunately for Texas, the junior was at his best. Offseason tweaks to his body and philosophy meant a better Jungmann who could pitch for longer stretches.
[+] Enlarge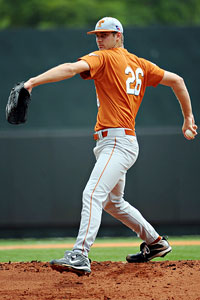 Brendan Maloney/US PresswireTaylor Jungmann worked on his stamina in the offseason, and the results have paid off for Texas.
In those four games, Jungmann was 3-0 with two shutouts and a pair of scoreless eight-inning outings. His only no-decision came after pitching nine innings without giving up a run in a game Texas eventually won 1-0 in 15 innings versus Oklahoma State.
"I worked all fall and spring on longevity and stamina," Jungmann said. "It was showing through those first few games."
An All-American as a sophomore in 2010, Jungmann chose to stay in Austin and work on his strength and conditioning rather than get more experience on the mound in summer leagues. Every weekday, he'd meet with strength coach Lance Sewell for two hours, usually spending the first 30 minutes doing running and agility and the next 90 minutes in the weight room.
Jungmann arrived at Texas at 180 pounds but is up to 220. "We've got a thing where we can look at a copy of his win against LSU in [the College World Series in] Omaha and then watch last night's start side by side and just look at the backside, and you can see his glutes down to his calf, how much he's matured," Sewell said. "Even in the shoulders, with as little amount of work as we've done in the upper body, how he's filled out."
It's shown this season for Jungmann, who grew up hearing about the work ethics of famed pitchers Roger Clemens and Nolan Ryan. The summer focused on adding lean muscle, and this season, the result has been longer stays on the mound.
"During Christmas break when we go on our own, I noticed my bullpens were getting a lot longer," Jungmann said. "I noticed that after 60 or 70 pitches, I was still feeling pretty good."
The difference on film was clear, and the camera won't lie.
"

My freshman and sophomore years, I'd try to strike 10 batters a game out, and I'd only go six innings. Just wasting a lot of pitches. If it was a 1-2 count, instead of stretching it to 3-2 trying to strike him out, I'll just go right after him this year.

"

-- Texas pitcher Taylor Jungmann
Jungmann still had to learn to maximize his newfound stamina. "My freshman and sophomore years, I'd try to strike 10 batters a game out and I'd only go six innings. Just wasting a lot of pitches," he said. "If it was a 1-2 count, instead of stretching it to 3-2 trying to strike him out, I'll just go right after him this year."
Skip Johnson, Texas' pitching coach, aims for his pitchers to get batters to put the ball in play within three pitches.
The Longhorns' talented infield can take care of the rest. "It's hard," Jungmann said of the mental shift to a less aggressive approach. "The new bats help, but if you just go at guys, they kind of get themselves out, and you don't really have to do anything. Just hit your spots."
This year, Jungmann has done that, developing a stronger off-speed pitch and trusting the gloves behind him. "When he starts something, he wants to finish it. He's old-school like that. That's who he is," Johnson said. "He doesn't go out there and try to strike everybody out; he goes out there and pitches. A strikeout for us is a ground ball, and pitch efficiency is what he really strives for."
Jungmann, Johnson says, has the best aptitude to learn of any player he's coached. "We can go down there and work on a piece of his delivery, whether it's effort, rhythm or timing, or mechanical or competitive, and he can make that adjustment," Johnson said.
But every night won't be like his hot start. It never is. Against Missouri on April 1, Jungmann and the Longhorns fell behind 4-0, and Jungmann left the mound after six innings. But as he carried the team in his starts early on, Texas' offense did the same for Jungmann, keeping Texas' record at home when Jungmann starts to a perfect 22-0 at Disch-Falk Field.
Texas lost to TCU at home in the super regionals last season, but to get back to Omaha, where Jungmann excelled in 2009, it'll take pitching and offense.
On Friday against Baylor, Texas got both. Jungmann pitched eight innings, struck out 10 batters and allowed just two runs on five hits while the offense racked up nine runs in the sixth inning. That's as many runs as the Longhorns scored in the entire four-game stretch of struggles during Jungmann starts.
The Longhorns, who are bent on getting back to the World Series, will need more of that. "A lot of things have to go your way for it to happen," he said.
David Ubben covers college sports for ESPN.com.
College Football
ESPN.com Big 12 blogger
Joined ESPN.com in 2010
Wrote for The Oklahoman
MORE COLLEGE SPORTS HEADLINES
MOST SENT STORIES ON ESPN.COM