Commentary
Arizona State's perseverance pays off
Updated:
June 8, 2011, 2:23 PM ET
By
Ted Miller
| ESPN.com
TEMPE, Ariz. -- Baseball is supposed to be a simple game. You hit. You pitch. You field. You run. But the past four years of Arizona State baseball have been anything but simple. Just ask senior outfielder Matt Newman.
He's seen just about everything a college baseball player can see.
He's twice played in the College World Series. He's seen the coach who recruited him, Pat Murphy, forced to resign. He's seen NCAA sanctions knock the Sun Devils out of the postseason. And he's seen those sanctions held in abeyance due to an appeal, which is why the Sun Devils will be at Texas on Friday to begin a best-of-three super regional series.
"It's been a roller coaster of emotions, on and off the field," Newman said. "I feel like the only thing I haven't done at Arizona State is win a national championship. That's what I've got my eyes on right now."
[+] Enlarge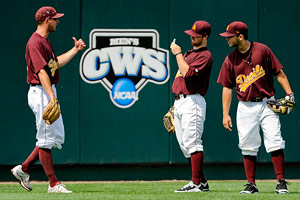 AP Photo/Eric FrancisReaching Omaha and the College World Series has become a habit for this crop of Sun Devils.
Arizona State is one of the country's pre-eminent baseball powers. But it hasn't won a national championship since 1981, a fact that gnaws at its dedicated fanbase. And Newman even knows about that better than most. His father, Randy Newman, was a pitcher on that championship team in 1981.
In 2008, the younger Newman was part of a team, ranked fourth in the nation, that was shocked by Fresno State in the super regional. The Bulldogs went on to win the CWS. In 2009, the Sun Devils were knocked out in the CWS semifinals by Texas. Last summer, as the top overall seed, the Sun Devils were upset in the first round by Clemson and then knocked out in the losers' bracket by eventual champion South Carolina.
Getting to the CWS, not to sound entitled, isn't that big of a deal for a program that's been there four out of the past six years. Winning one is.
"I can't really describe it," Newman said. "You work so hard and you're knocking on the door of a championship and then it gets taken away. It's always fun going to Omaha, but leaving Omaha without a trophy is a terrible feeling."
Of course, that feeling isn't as bad as having the postseason taken away from you before the season even begins. In mid-December, the NCAA handed down a dreaded lack of institutional control penalty that included a one-year postseason ban for violations that occurred under Murphy. That certainly cast a pall over the program.
"When we got the call in December saying they took away the postseason, we were furious," pitcher Brady Rodgers said.
Said Newman, who thought his last chance at a national title had been taken away, "We were just shocked to be honest with you. We never expected that to happen."
But the Sun Devils persevered. And kept winning.They finished tied for second in the Pac-10 and found out on the final day of the regular season -- during a 10-5 win over UCLA, no less -- that because the NCAA had yet to rule on the Sun Devils' appeal of sanctions, they were in the postseason.
"It was like we got another season," Newman said.
So far, that second season is going well. The Sun Devils head to Austin after dominating their regional.
Newman has seen it all. Almost.
Wouldn't it be interesting if this season -- of all seasons -- is the one in which the program again finishes No. 1?
Said Newman, "As far as I see it, we've just begun."
Ted Miller covers college sports for ESPN.com.
College Football
ESPN.com Pac-12 reporter
Covered college football since 1997
Graduate of the University of Richmond
SPONSORED HEADLINES
MORE COLLEGE SPORTS HEADLINES
MOST SENT STORIES ON ESPN.COM