North Carolina's Mr. Clutch comes through in eighth
AP Photo/Nati Harnik
Flack Attack
By Curt McKeever, Special to ESPN.com
OMAHA, Neb. -- Show-off.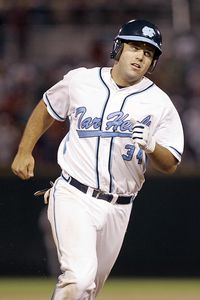 AP Photo/Dave Weaver
Chad Flack was asked to bunt -- he went one better, with a two-run homer in the eighth.
Chad Flack couldn't get down a bunt trying to move the tying baserunner 90 feet from home plate in the eighth inning here against Fresno State on Saturday night.
Turns out it was the break of the College World Series for North Carolina.
"I don't know what to say," coach Mike Fox said after his senior third baseman smashed a 3-2 pitch from Justin Miller to left field for a two-run homer that later gave the Tar Heels a 4-3 victory and forced a rematch Sunday night (ESPN Classic, 7 p.m. ET) for a spot in the championship series. "I know Chad Flack's the clutchest player I'll ever be fortunate enough to coach. He's proven that time and time again."
Two years ago, Flack hit a three-run homer in the eighth inning and a two-run shot in the ninth to wrap up Carolina's super regional sweep of Alabama.
Last year, his two-run homer in the seventh inning against South Carolina was the difference in that super regional series.
It almost makes one wonder whether Flack intentionally fouled off his bunt attempt Saturday night.
"My job was to get [Kyle] Seager to third," Flack said of his teammate who had led off the inning with a double.
But the bunt was off with Flack ahead in the count three balls to one strike, and after he fouled off a pitch he added another dramatic homer to his list. Before launching his seventh of the season, Flack was 2-for-10 at the Series and just 5-for-34 in eight NCAA tournament games.
"It has to be No. 1 right now," Flack said. "I just missed the 3-1 pitch, then was looking 3-2 just to make sure I did my job to get Seager over, and [Miller] just happened to leave one over the plate for me."
Fresno State, the only No. 4 seed from a regional to make the College World Series, had scored twice in the top of the fourth to take a 3-0 lead, but in the bottom half Flack doubled with one out to start a two-run rally.
After the third baseman put the Tar Heels ahead, right-handed sophomore Alex White, the ACC Pitcher of the Year, notched a win in relief for the second straight night by retiring the Bulldogs in order.
White, the winning pitcher in all three Carolina victories here, had bailed out his team in the seventh by striking out Gavin Hedstrom and Erik Wetzel with the bases loaded.
Positive Reinforcement
By Curt McKeever, Special to ESPN.com

OMAHA, Neb. -- To get to his tiny hometown of Grovetown, Ga., Rich Poythress recommends looking for the signs to a much-more-coveted destination.
"Grovetown is right next to Augusta," says Georgia's gregarious sophomore first baseman. "I'm a Masters kid."
For the complete story, click here.
Postgame Extra: Georgia
STOCK UP/stock down
SATURDAY
PLAYER
TEAM
POS
STOCK
Jeremy Bleich
Stanford
LHP
The six earned runs allowed by the Stanford ace on Saturday was more than he had allowed the entire season (44 IP entering Saturday).
Matt Cerione
Georgia
OF
Cerione struck out five times -- the first time a player had struck out five times in a CWS game since Texas' Drew Stubbs on June 26, 2004.
Chad Flack
UNC
3B
Flack again came up big for North Carolina, driving in the winning run on an eighth-inning home run.
Justin Miller
Fresno State
RHP
Miller is a large reason that Fresno State is still playing baseball, but his outing against UNC, which was supposed to seal the win, went sour quickly.
Rich Poythress
Georgia
1B
Georgia's first baseman finished the day with four hits and four RBIs. Saturday was the second time in the NCAA tournament he has driven in at least four runs.
Alex White
UNC
RHP
White keeps adding to his postseason résumé, picking up his third win at the CWS and making a strong case for the MVP award.
By The Numbers
By ESPN Research
1 Stanford committed only one error in its four games in Omaha (CWS-best .992 fielding pct.)
2 The Tar Heels have hit only two home runs in Omaha, but both have proven to be game winners the past two nights. Tim Federowicz's grand slam in the top of the ninth Friday eliminated LSU, and Chad Flack answered with a two-run shot in the eighth Saturday to beat Fresno State.
3 Rich Poythress' three doubles against Stanford tied a single-game CWS record, set seven other times.
Postgame Extra: North Carolina
On Tap At The CWS
All times Eastern
Sunday, June 22
Game 14 -- Fresno State (44-30) vs. No. 2 North Carolina (54-14), 7 p.m. (ESPN Classic/ESPN360)

For the full schedule, click here.